Investigation: Wersut Seguni Indonesia (WSI)

LOCATION: WERSUT SEGUNI INDONESIA (WSI)
COUNTRY: INDONESIA
DATE OF VISIT: 22 JULY 2018
Born Free sent an investigator, environmental photojournalist Aaron Gekoski, to visit the notorious WSI travelling animal show, in Indonesia.
OUR REPORT: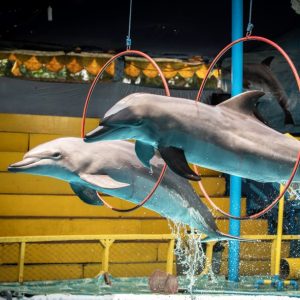 In these shows, bottlenose dolphins were forced to perform demeaning tricks in small, barren, makeshift pools. They were trained to jump through hoops and spin rings on their noses, do backflips, and pose with spectators for souvenir photos. 
Other animals also exploited in these shows were sun bears who were trained to catch hoops and footballs and swing from wooden bars. Asian short-clawed otters had been trained to fetch balls and drop them into nets. 
The dolphins and all the other animals were regularly packed up and shipped to locations around the country. Shockingly, WSI was operating legally under permit from the Indonesian government.
Photographic evidence obtained during the visit can be viewed in the photo gallery below.
---
ACTION:
Born Free, along with other animal protection groups, call on the government of Indonesia to end these shows once and for all. 
UPDATE: On 5th February 2020, the decision was reportedly made by the Ministry of Environment and Forestry in Indonesia not to renew the permits of the travelling show. These animals can now still be used in shows, but are not permitted to be transported around the country. 
WERSUT SEGUNI INDONESIA GALLERY