Investigation: Marineland, Antibes

LOCATION: MARINELAND, ANTIBES
COUNTRY: FRANCE
DATE OF VISIT: 27 MARCH 2018
Born Free visited Marineland, the biggest marine park in Europe, to investigate the situation for the numerous animals they hold and use for shows and public display. 
OUR REPORT: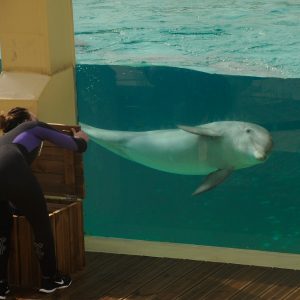 There were four bottlenose dolphins used in a show that took place twice a day. The dolphins had been trained to leap from the water in unison, do backflips and tail walk. Loud music was used throughout the show, with some commentary. There appeared to be a much smaller separate pool in the corner, possibly where the dolphins are held when not performing.
The orcas were used in twice daily shows. The pool was surrounded by a large viewing arena with a huge TV screen, showing close up video clips of the four orcas as well as ocean scenes accompanied with messaging about the dangers and threats orcas face in the wild. The 'educational' show still saw choreographed leaping and jumping from the orca, as well as requiring individual orca to beach themselves onto a concrete ledge at the side of pool. There were two trainers in the show, giving commands to the orca and rewarding them with food and patting.
We observed a polar bear repeatedly swimming in circles in its small pool. Another polar bear, covered in dirt and his fur almost brown, was observed pacing up and down the same path on a rocky area in his enclosure. This seemingly stereotypic pacing was also observed by Born Free during a previous visit to this zoo.
The Penguins were observed in a dark and dingy indoor enclosure, comprising of a barren structure surrounded by a very shallow moat of water.
Photographic evidence obtained during the visit can be viewed in the photo gallery below.
---
ACTION:
Born Free continues to raise awareness about animals in zoos and dolphinaria throughout Europe. We work with other individuals and NGOs, and campaign for policy change and improved conditions.