Investigation: Saigon Zoo & Botanical Gardens

LOCATION: SAIGON ZOO & BOTANICAL GARDENS,
HO CHI MINH CITY
COUNTRY: VIETNAM
DATE OF VISIT: 1 AUGUST 2018
Born Free sent an investigator, environmental photojournalist Aaron Gekoski, to visit Saigon Zoo following concerns raised by tourists about the treatment of animals at this zoo.  
OUR REPORT: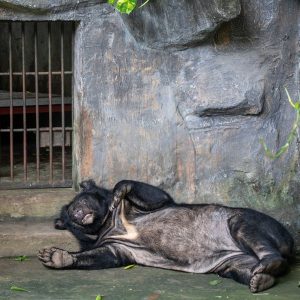 During the visit three of the elephants were being held individually in small, caged sections of their enclosure. It was not clear how long these elephants stayed confined in these areas or whether this was where the elephants are kept overnight. A male elephant was being kept in an adjacent enclosure.
Despite the backdrop of trees and greenery outside the elephant enclosure, the area for the animals was quite stark. There appeared to be circus-style podiums in the enclosure, but it was not clear on the exact purpose of these. Many of the elephants appeared to display stereotypic behaviours, such as repeatedly swaying back and forth.
The sun bears had very little shade and no trees that they could climb in their concrete, pit-like enclosure. They appeared to have just a couple of tyre swings to play with. The bears were seen begging for food as visitors threw crisps and biscuits to them. No staff appeared to be monitoring the enclosure, and the public shouting at the bears and taunting went on for the couple of hours they were observed.
The water pools in many of the enclosures looked as though they hadn't been cleaned or the water changed in a while, such as the hippos and the crocodiles. The big cats, such as the lions and tigers were seen pacing around their concrete-floored enclosures. The tiger enclosure was situated right next to a noisy fairground with bright, flashing lights.
The chimpanzee cage was also concrete with dirty, glass windows for public-viewing. There was a tall, metal pole, presumably supposed to replicate a tree, with a couple of hanging tyres. The back wall of the cage had been crudely painted with pictures of green trees and blue sky. The giraffe enclosure was fairly small and was towered over by skyscrapers and numerous other buildings in the surrounding city.
NB Saigon Zoo is a member of the World Association of Zoos and Aquariums (WAZA), which claims its members are 'dedicated to providing the highest standards of care'.
Photographic evidence obtained during the visit can be viewed in the photo gallery below.
---
ACTION:
Born Free continues to raise awareness of poor conditions in zoos. We are calling on the Vietnamese authorities and zoo industry associations to take action to improve the conditions and treatment of animals at Saigon Zoo. 
SAIGON ZOO & BOTANICAL GARDENS GALLERY