SIMAO
Orphaned, taken from the wild and sold as a pet, Simao lived alone in a barren cage with only a football for company until we were alerted to his plight by a concerned supporter. 
---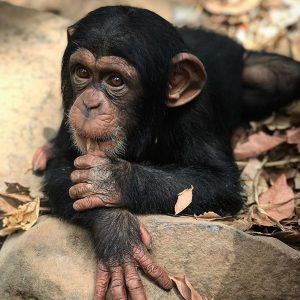 Simao (formerly known as Simon) first came to the attention of Born Free in 2018 via our Raise the Red Flag platform, when a supporter alerted us to a baby chimpanzee being kept alone in a small and barren cage – sending us a report and photos.
We think Simao, a western chimpanzee, was born in a national park in southern Guinea Bissau and was taken from the wild by poachers to be sold as a pet – his family probably killed for meat.
Born Free launched a fundraising appeal and worked with our colleagues at the Pan African Sanctuary Alliance (PASA) to rehome Simao, together with the three other orphan chimpanzees also in desperate need of help. After several years of delays – not least due to covid, and a pooling of resources between Born Free, PASA, Jane Goodall Institute and DHL, in July 2022 all four chimpanzees safely arrived at their forever home with Liberia Chimpanzee Rescue and Protection (LCPR), to begin their lengthy rehabilitation.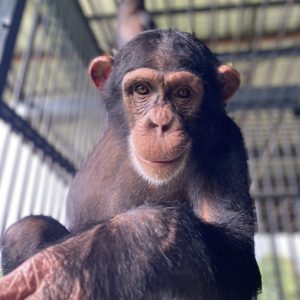 Shortly afterwards, we received amazing footage of Simao being carefully introduced by his new carers at LCRP to Sampson – another rescued chimp. Sampson was the first chimpanzee Simao had been with since losing his family and, after a few moments of being unsure, they reached out to embrace each other. Now living happily at the sanctuary, Simao loves all kinds of good food and enjoys the freedom of being able to climb – not least when the LCRP team take the group of rescued chimps for regular visits to the nearby forest to explore.
Born Free is grateful to the dedicated team at LCRP – Liberia's only chimpanzee sanctuary and conservation centre for their excellent care of Simao, and proud to be associated with this remarkable facility.
We are also grateful to the supporter who alerted us to Simao's plight.  Our work continues to end the cruel and heartbreaking trade in chimpanzees for meat and as pets.
YOUR REPORTS SAVE LIVES
Sadly, not every captive animal is able to be rescued or returned to the wild. Although Born Free can't take direct action for every animal we hear about, every single report we receive provides vital information and evidence to assist our work to secure policy change and effective legislation, supports our call for improved animal welfare, and ultimately, helps end the suffering of wild animals in captivity.
Every one of us can give captive wild animals a voice. Born Free's Raise the Red Flag campaign highlights problems, shares information with other travellers and provides guidance so YOU can take action. Please look out for wild animals in captivity, in your home country or travelling internationally, report your concerns about animal suffering and exploitation, and speak out.
YOUR report, letter, email or photo will help change lives, so never give up and keep speaking out for captive animals like Simao.
FIND OUT MORE & RAISE A RED FLAG
---
Further information: