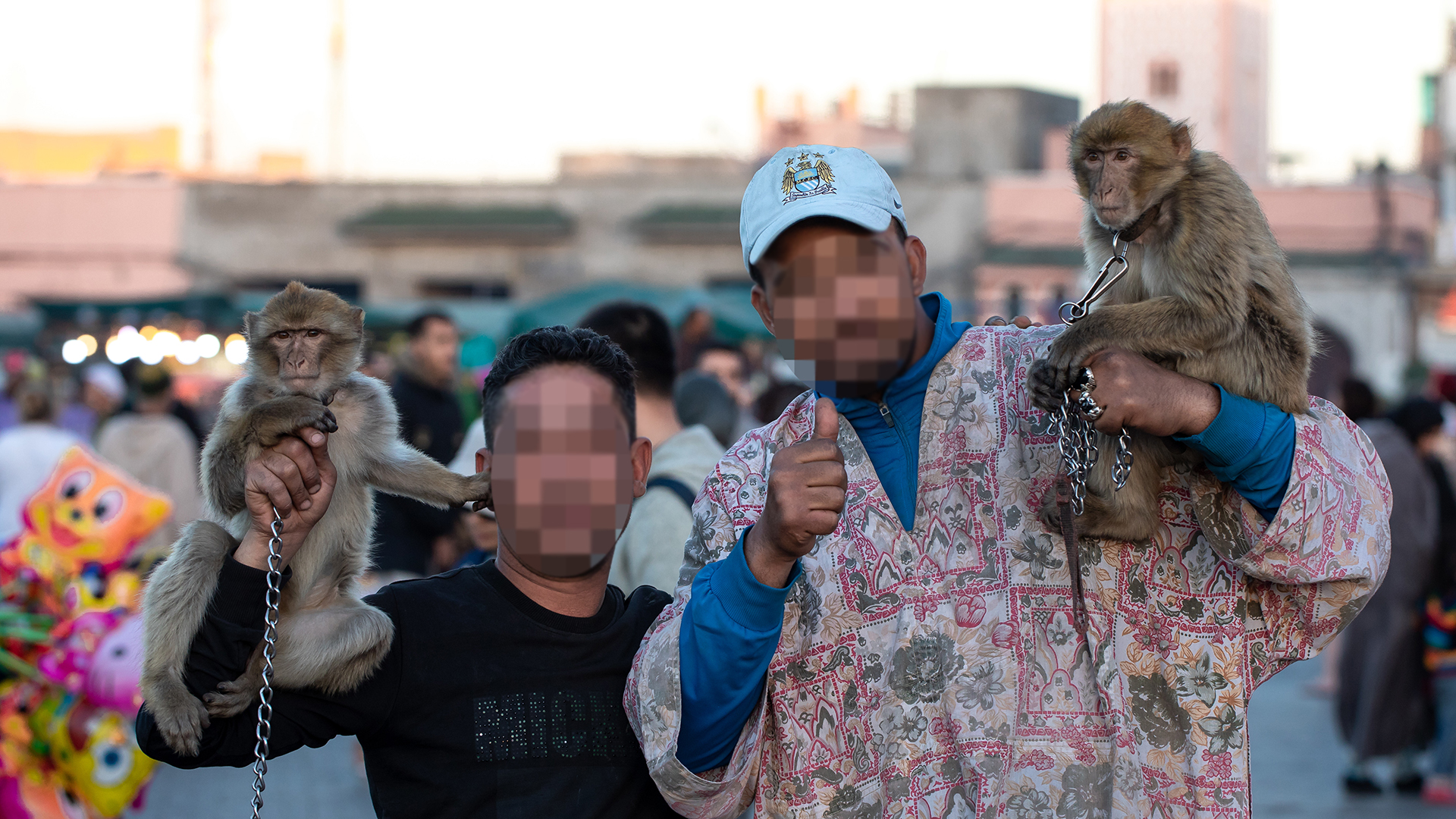 Stop Selfish Selfies
Is your selfie worth their suffering?
Stop Selfish Selfies
Manipulated, manhandled and mutilated; all over the world, captive wild animals are being exploited as souvenir photo props, and Born Free is campaigning to put an end to these Selfish Selfies.
What are Selfish Selfies?
Our love of animals, particularly our fascination with wild and exotic species, means that the chance to get as close as possible, perhaps even touch and hold them, is often a strong temptation.
This temptation is exploited by those wanting to profit at the expense of the animals involved. Sadly, it has become common for captive wild animals to be used as living props for souvenir photos and selfie opportunities at popular tourist destinations, attractions, zoos, and other facilities. Many thousands of captive animals are being exploited around the world and are suffering for our amusement.
The desire for that souvenir photo with a cute or scary animal, perfect for the mantlepiece or as a social media selfie, often overrides our moral conscience, and we act without a second thought for the individual animal's welfare, the impacts on its wild counterparts, or the potential dangers involved.
Put simply, the desire for a wild animal selfie is just plain selfish.
This is why Born Free is campaigning to Stop Selfish Selfies. You can be part of the change by pledging never to take a Selfish Selfie again.
WHY ARE SELFISH SELFIES SO HARMFUL?
Many people who truly love animals have posed with an animal for a photo or selfie in the past because they are simply not aware of the harm they can cause.
While the animals being offered as photo props don't always appear to be in poor health, there are often a multitude of cruel practices taking place behind the scenes, including:
Manipulation by being dressed up, chained, tethered or even sedated by drugs often concealed in feeding bottles
Mutilation with their teeth or claws removed, wings pinioned or cut
Extreme distress caused by constant handling, noise, sun exposure, camera flashes and crowds
Poor housing and care, cramped conditions, malnutrition, and lack of medical treatment
When no longer useful, animals can be abandoned, sold, or even killed
The history of these animals often reveals further suffering – many are innocent victims of the illegal wildlife trade and are taken from the wild, often through cruel trapping methods, or torn from their family groups with mothers and other family members injured or killed while trying to defend their babies. These terrified captured animals are stuffed into sacks or cages and taken away to be sold and exploited. This horrific trade directly impacts the worrying decrease in populations of threatened species.
TAKE ACTION
DO:
Do sign our Stop Selfish Selfies Pledge.
Do your research on your holiday destination country, region or excursion and check Born Free's 'Raise the Red Flag' interactive map for any reports about the use of animals as photo props.
Do express your disapproval directly to your tour guide or rep if you see animals being used as photo props during an excursion. If a hotel, restaurant or other business is involved, complain to the management.
Do make a note of the location where photo prop animals were seen. If possible, take a quick photo or video of the scene without drawing too much attention to yourself. Submit a report via Born Free's 'Raise the Red Flag' online form.
Do speak out further for the captive animals you have seen. Raise your concerns in writing to the tour operator or travel agent you booked an excursion with, to any zoo or facility involved, and to the relevant tourism authorities in the country you are visiting.
Do report animal cruelty content you have seen posted online to the social media platform involved.
DON'T:
Don't have your photo taken with or pose for selfies with captive wild animals.
Don't book excursions that include close contact or photo opportunities with captive wild animals.
Don't like or share social media posts showing your friends or celebrities posing with captive wild animals for photos.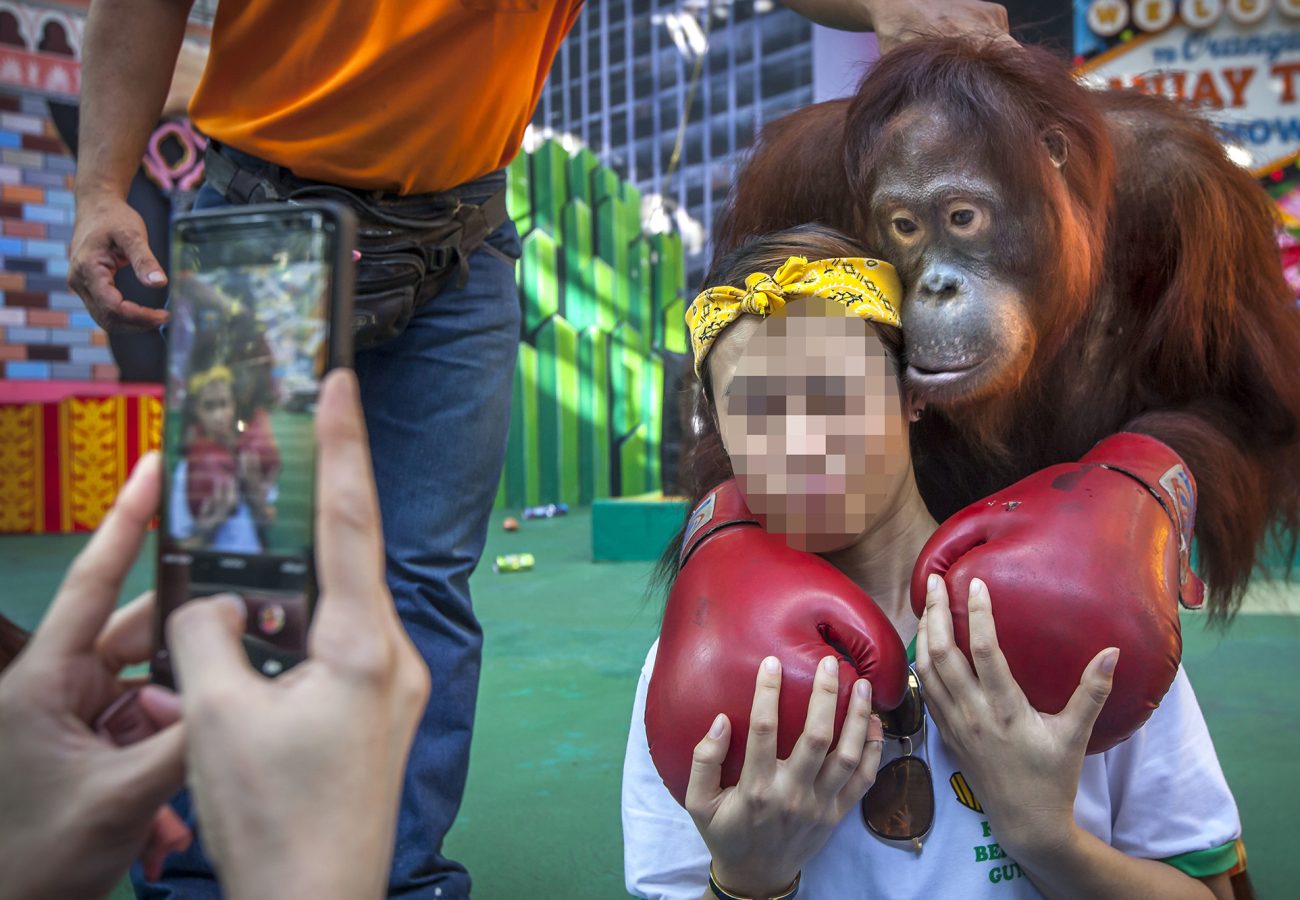 Sign The Pledge
By signing our Stop Selfish Selfies Pledge, you are committing to refuse to be a part of the exploitation of captive wild animals as photo props. Without well-enforced legislation to outlaw this practice and better regulation of the tourism industry, the only way to make it stop is to take away the demand.

Signing the pledge also means you are amplifying your voice, and our voice, into a collective voice that will become too loud to be ignored. With your support, Born Free will be able to pressure travel companies, tour operators, industry bodies and governments to implement measures to prevent the exploitation of innocent animals.

So please, sign the pledge today – together, we can make a difference.
Sign The Pledge
---
TELL YOUR FRIENDS
If you've signed the pledge to Stop Selfish Selfies, now you can tell your friends and ask them to take the pledge too. Use our shareable images below, and either use our suggested caption or write one of your own – remember to use #SelfishSelfies in your post!
Facebook, Twitter & Instagram Posts
Save this image to your camera roll, or save to your images on desktop, and share on your feed.
Suggested caption:
"Using wild animals as photo props is cruel and must stop – that's why I've pledged to never take #SelfishSelfies. You can sign the pledge too, at www.bornfree.org.uk/selfish-selfies."
You can also tag Born Free in your posts – @BornFreeFoundation on Facebook & Instagram, @BornFreeFDN on Twitter.
Instagram Stories & TikTok
Save this image to your camera roll.
Customise to share to your stories, using the hashtag #SelfishSelfies and encouraging others to share and sign the pledge.
You can also tag Born Free in your stories – @BornFreeFoundation
Gallery of Suffering
WARNING: You may find some of the following images distressing.

Below are just a few examples of the Selfish Selfies that have been taken, with little or no consideration for the health and wellbeing of the animals involved. In some cases, the tight chains around their necks and expressions of pain and fear on their faces make their suffering apparent; in others the suffering may be masked by the drugs the animals have been given to keep them tranquil. In all cases, these selfies are selfish, and must stop.