Namibia determined to export live elephants despite outcry
17 February 2022
NAMIBIA DETERMINED TO EXPORT LIVE ELEPHANTS DESPITE OUTCRY
Born Free comment: "The capture of wild elephants for sale to zoos condemns the animals to a lifetime of suffering."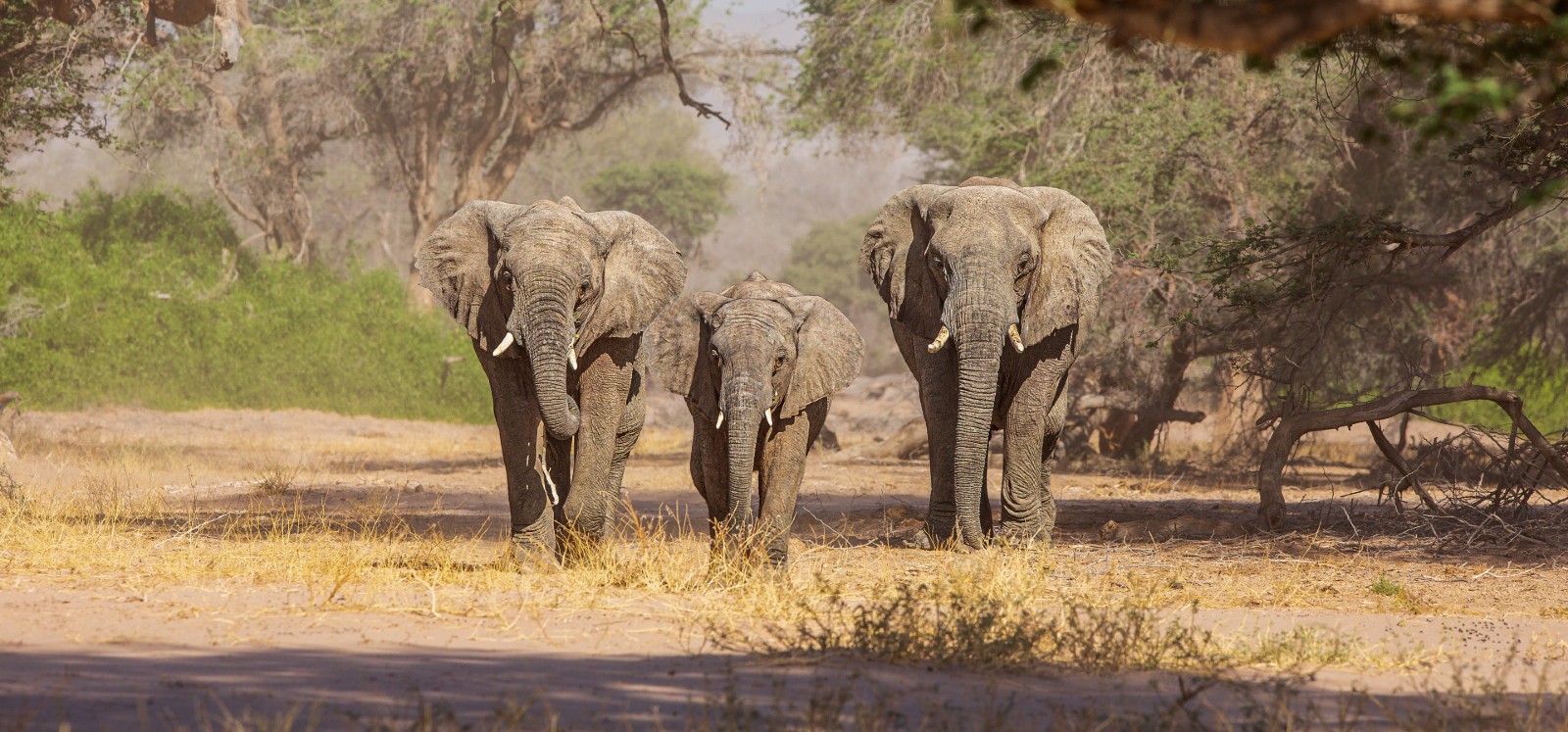 The Namibian authorities look set to ignore widespread international condemnation and legal opinion, and forge ahead with the export of live wild-caught elephants for captive use.
Alongside our partner NGOs, Born Free has repeatedly offered to enter into dialogue with the authorities in Namibia to discuss the conservation of Namibia's unique desert-adapted elephants, and to offer humane solutions to human-elephant conflict. However, Namibia's authorities seem determined to ignore such offers in the name of profit.
In December 2020, Namibia's Ministry of Environment, Forestry and Tourism (MEFT) offered up to 170 live elephants from fragile populations in the north-east of the country for auction, claiming that the sales would ease problems associated with overpopulation, drought, and increasing human-elephant conflict. At the time, Born Free led a coalition of 60 organisations urging the Namibian authorities to desist.
Namibia's elephants are listed on Appendix II of CITES, the international wildlife trade regulator, with a restriction on live exports to in situ conservation programmes. In an attempt to circumvent this restriction, Namibia is claiming that it can use the rules which would apply to Appendix I-listed populations, however this would still prohibit exports for 'primarily commercial purposes.' The legality of Namibia's actions is due to be debated at a CITES meeting in March 2022.
In August 2021, MEFT announced that they had received and accepted bids for 57 elephants, 42 of whom would be exported. On 15th February 2022, MEFT issued a further statement confirming that 37 elephants had been captured, 22 of whom are awaiting export, and that a further 20 elephants 'remain to be captured.' Until then the Namibian authorities had refused to release information about the captures and likely destinations for these elephants despite many attempts by wildlife organisations to open a dialogue, and recently arrested an investigative journalist who tried to obtain footage of the captured elephants using a drone.
It is widely believed that some if not all of the 22 elephants destined for export are due to be shipped to a zoo in the United Arab Emirates. They are believed to have been captured in October 2021 and are currently being held on a farm in Eastern Namibia which also a trophy hunting business. According to reports, two of the elephants have given birth to calves since their capture, and others may be pregnant.
MEFT claims the auction and sale of live elephants will generate N$5.9 million (just under £300,000), revealing the clearly commercial nature of the sales. It is believed that significantly more money will be pocketed by wildlife dealers and 'middle-men.'
Born Free's Head of Policy Dr Mark Jones commented: "The capture of wild elephants for sale to zoos condemns the animals to a lifetime of suffering. While doing nothing to address claimed 'overpopulation', the captures will also disrupt fragile populations from which these elephants have been taken, which could have serious consequences for their future, and could even make conflict between elephants and people more likely. By exporting these animals, Namibia is, in our view, flouting international law and ignoring the views of elephant experts, and the shipment of pregnant and/or newly born animals could contravene international wildlife transport regulations. We implore the authorities in Namibia to think again and return these elephants to their wild herds."
Ian Redmond OBE, Born Free's Senior Wildlife Consultant and a co-founder of Rebalance Earth, added, "Namibia would be wise to seek technical assistance from the IMF to calculate the value of ecosystem services provided by each elephant in their natural habitat. Forest elephants have been calculated to be responsible for the additional sequestration and storage of $1.75 million worth of carbon each in the Congo Basin; similar calculations have yet to be made for desert and savannah elephants, though research indicates they increase the level of soil carbon in those ecosystems. Namibia may be selling valuable natural assets for a handful of beans!"
Born Free will continue to expose and oppose the capture of wild elephants for captive use.
Send your elephant letter and adopt an elephant to help us put a stop to their capture.
SHARE ON FACEBOOK SHARE ON TWITTER