A future for wildlife in meru
A FUTURE FOR WILDLIFE IN MERU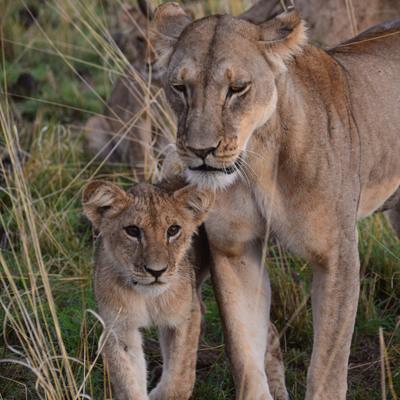 Thank you! Three months ago, we kicked off our campaign to raise awareness of our work in Meru National Park, Kenya, where we monitor and protect the 60-80 lions who live there.
Meru is a very special place with a very special connection for Born Free – it was where Elsa, the lioness made famous by the book and film Born Free, was released back into the wild by conservationists George and Joy Adamson. It's where Elsa reared her cubs, and is also her final resting place. She's still very much remembered 60 years on.
During our campaign, we've introduced you to our field conservation team who venture into the park every day to monitor lion activity. We've also told you all about the fascinating individual lions that live there, and how we collar and monitor lions so we can understand more about them. We've also told you about our other work in Meru – with local schools, Kenya Wildlife Service, and the other wildlife that calls Meru home.
Thanks to your generosity and support, we can continue our work to protect this precious lion population. The lions who live in Meru are Elsa's legacy. We want them to continue to live their lives wild and free, and safe from harm.
We will continue to update you on our work in Meru, so please follow us on Instagram, Facebook and Twitter!
There's still time to support our Last Lions of Meru? campaign to monitor and protect the lion population of Meru.
LAST LIONS OF MERU? SHARE ON FACEBOOK SHARE ON TWITTER