Wildlife Heroes: Glen Vena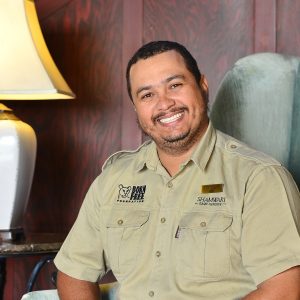 GLEN VENA
ANIMAL CARE MANAGER, BORN FREE SOUTH AFRICA
"Education is the most powerful weapon which you can use to change the world."
Those words, by the late Nelson Mandela, are a mantra for Glen Vena in his work as Animal Care Manager at Born Free's two big cat sanctuaries in Shamwari Private Game Reserve, South Africa.
Bright and bubbly, Glen is a firm favourite with Shamwari's visitors. He joined the team 18 years ago as a volunteer on a student programme and now oversees the long-term care of the rescued big cats at Born Free's Jean Byrd and Julie Ward centres.
"Glen's passion for life is evident from the moment you meet him," believes Born Free's Centre Manager Catherine Gillson. "His understanding of our big cats, their personalities, their behaviour, and what is best for them, comes from an innate knowledge that is very rare. He has a heart of gold and smile that can win over any sceptic."
Born Free's Co-Founder & Trustee, Virginia McKenna DBE, added: "Glen has been a part of Shamwari for over 20 years, 18 of those working with Born Free in our big cat rescue centres. My admiration of him, my gratitude for his selfless devotion to the animals, and his sensitive understanding of their different natures and needs, grows as each year passes. I hope he stays with us forever."
Glen has always loved animals. He was raised on a farm working with sheep and cattle, and his father used to tell him stories about South African rhino conservationists Ian Player and Magqubu Ntombela – Glen's own wildlife heroes. "Little did I know that one day I would be introduced to their work and fall in love with the bush through Peter Willis who used to run the education programme at our Julie Ward Centre," Glen says.
All the lions and leopards that live at Born Free's sanctuaries were rescued from appalling captive conditions. Their individual stories are heart-breaking, but Glen knows those stories need to be told to highlight why wildlife belongs in the wild.
"I am lucky to be in a position to make sure the world hears their stories," Glen says. "We have so many people from different parts of the world visiting Shamwari, so that message can be spread to many people."
Glen is especially keen to reach out to local children and communities to involve them from an early age, and to educate them to protect wild animals in the wild. "Before I leave this earth, I would like to see the next wildlife conservationist or vet coming out of our local communities," he says. "This is a dream I hope will come true one day, which is why I get up every day and do my bit."
With Glen as inspiration, you wouldn't bet against it.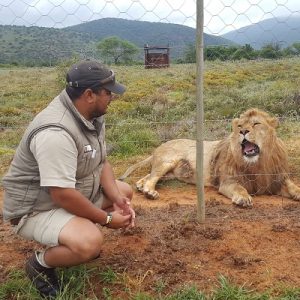 SHAMWARI PRIVATE GAME RESERVE