Wildlife Heroes: Anna Tolan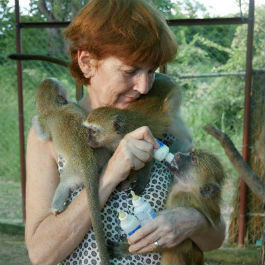 ANNA TOLAN
CO-FOUNDER AND DIRECTOR, CHIPEMBELE WILDLIFE EDUCATION TRUST
Chipembele Wildlife Education Trust, in eastern Zambia, focuses on 'giving children hope and wildlife a chance'. Established by husband and wife team Anna and Steve Tolan in 1998, the Trust teaches Zambian children the value of wildlife and their environment.
Since founding Chipembele, Anna and Steve's lives have been very different from their time as police officers in Oxford, UK, with Thames Valley Police.
"My husband Steve and I set up Chipembele with no experience of teaching or running an organisation, but we had buckets of passion and determination to make a difference in educating children and communities living close to South Luangwa National Park," Anna explains. "I am motivated by the continuing threats to our wildlife and habitats that I so desperately want to help conserve, and the passion and commitment of the youth in our conservation programmes that inspire and energise me."
With this inspiration and energy, and her deep-rooted love of Africa, Anna has set up pupil sponsorship schemes for orphaned or vulnerable children, managed a large number of school improvement schemes, established a highly successful conservation education outreach programme at 17 local schools, as well as numerous community environmental campaigns, tree planting schemes and field excursions.
Two days a week, you'll find Anna in the classroom where she teaches conservation. "This is something I love deeply and as Director it helps keep me in touch with everything that's happening on the ground," she says. "It's difficult to gauge success, but watching children go through our programme and finding careers in the world of conservation because we have inspired them – and I am very proud to say there are now plenty – is the best accolade I could ever have."
Anna also practises what she preaches. As well as educating local children, Chipembele also raises and rehabilitates orphaned animals. "These can take priority over everything," Anna says. "Steve and I haven't been away anywhere together for 10 years as one of us always has to remain to look after the animals!"
Education, Anna believes, is crucial for the future of wildlife in Africa. "We are never going to stop or even halt population growth or development in Zambia in the next 20 years, so my realistic vision is for people and wildlife to live together in harmony," she says.
"If we can educate communities that there is huge value in, and benefit to, conserving wildlife, and offer practical solutions to the conflict they are suffering, then I believe wildlife and people can live in harmony."
CHIPEMBELE WILDLIFE EDUCATION TRUST