Wildlife Heroes: Cosmas Mumba

COSMAS MUMBA
PROJECT MANAGER, ZAMBIA PRIMATE PROJECT
"It is the best feeling in the world to see an animal that you have rescued from the pit get its freedom," says Cosmas Mumba, Project Manager for the Born Free-supported Zambia Primate Project (ZPP).
ZPP has rescued, rehabilitated and released more than 700 injured, orphaned or illegally-held vervet monkeys and yellow baboons back to the wild. It is one of Africa's most established and successful primate release programmes, with a survival rate 12 months post-release of 96%.
Cosmas is at the very heart of ZPP. Having rescued and released monkeys that had been trapped or stoned by villagers since he was a child, he left secondary school to work at Munda Wanga Zoo, in Lusaka, as a casual worker.
"It was one of the few places in Zambia where I could try and work with primates, as I had a passion for primates which God placed in me as a young boy growing up in the village," Cosmas explains. "I worked so hard that in 2002 I was contracted onto a release project for rescued primates that were being rehabilitated at Munda Wanga, set up and supported by Born Free, which developed into ZPP. I have been working on this project since then, starting as a cook and working my way up through most roles to my current position as Project Manager."
From those humble beginnings, Cosmas and ZPP have come a long way. As well as rescuing more than 700 monkeys and baboons, in 2015 Cosmas even got to meet HRH William, Prince of Wales, when he was a finalist for the prestigious Tusk Conservation Awards.
"Cosmas' passion and commitment for rescuing and returning to the wild injured, orphaned and illegally held primates, all victims of the bushmeat and illegal pet trades in Zambia, is extraordinary," says Cheryl Mvula MBE, Special Advisor to the CEO at Born Free. "Whilst having no formal qualifications, Cosmas has rare spark, passion and an uncompromising, unwavering drive to be the human voice for primate conservation and welfare in Zambia."
Cosmas adds: "I'm a person with a deep-seated passion to see that every one of God's creatures is free. So, when I see wild animals that have been taken from the wild and chained up with no hope of freedom again, it pains me a lot. And that pain motivates me to do something about it. It is my dream that in 20 years' time, ZPP is no longer needed to do these rescues because people respect primates and don't want to harm them or exploit them."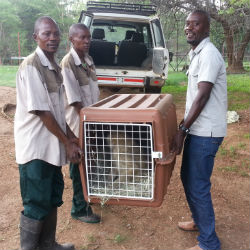 ZAMBIA PRIMATE PROJECT    RESCUE AND CARE