08 March 2023
WOMEN ON A MISSION
On International Women's Day, our Editor Celia Nicholls salutes the superwomen devoted to wild animal care and conservation, both on the frontline and behind the scenes.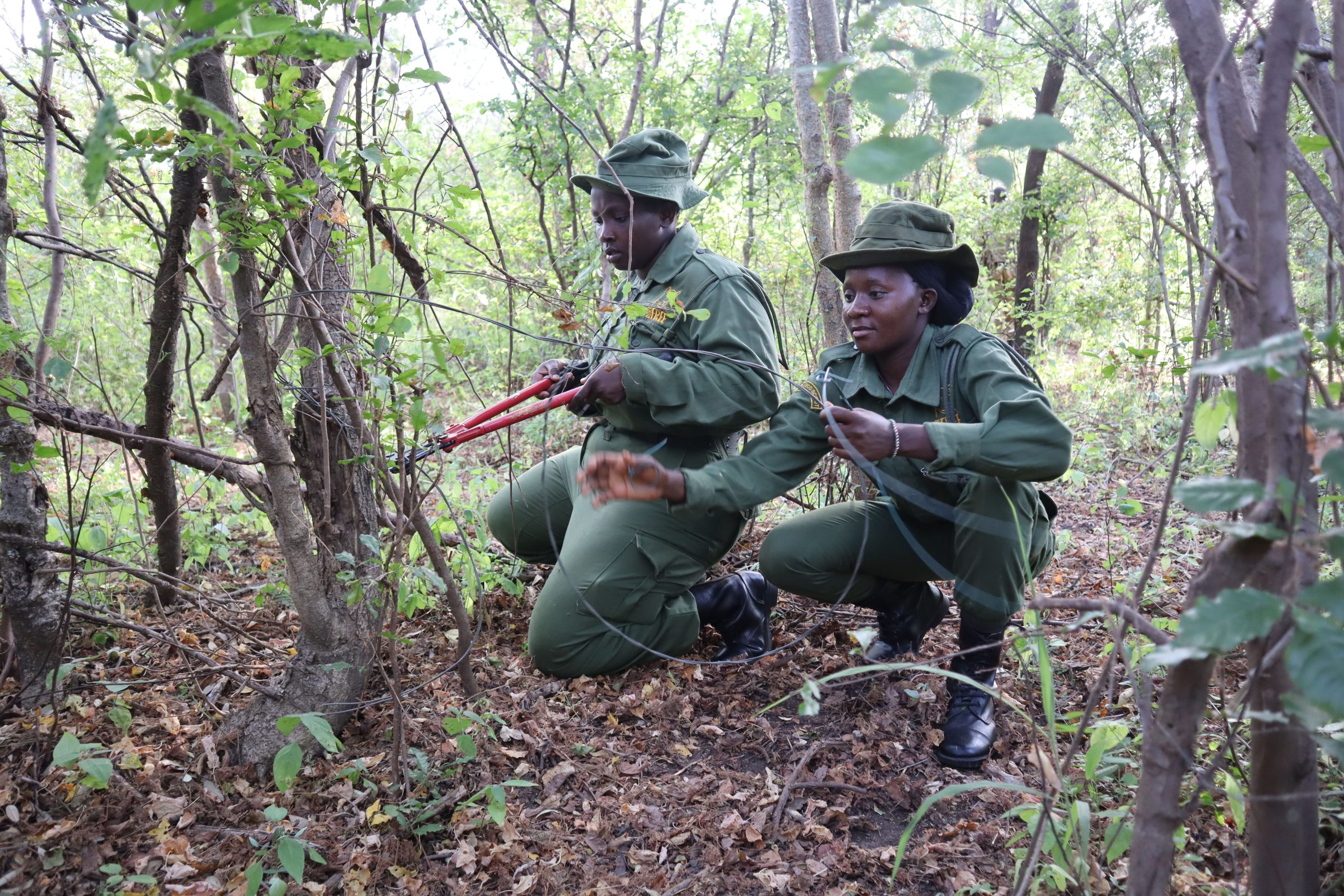 Amina (right) and Jacquiline from our Twiga* Team remove deadly wire snares.
I never take it for granted but, today – International Women's Day – is the perfect opportunity to thank the women who make my world go round.
With three sisters, three daughters and ten nieces, strong women light my soul. But, here at Born Free, I'm surrounded by another outstanding team of dedicated and hard-working women, who encourage and inspire me every day.
From our own queen of compassion, Co-Founder Dame Virginia McKenna, to my colleagues in Comms – not least our remarkable Graphics & Brand Manager Claire Stanford – it's an honour to work with each of them.
Claire is a world-class designer and together we've collaborated on a huge range of projects for over 20 years. "I'm lucky to work with the most beautiful subject matter," Claire explains. "Knowing I can play my part helping keep wild animals safe makes all the hard work so worthwhile!" 
Incredibly, I've worked with Tarnya Knight for 27 years now, first at wildlife charity Care for the Wild, then together at Born Free since 2015 – the year our organisations merged. Part of our Rescue & Care team and supporting rescue centres across the UK, Tarnya is herself a rescuer, taking in UK casualties and over-wintering dozens of juvenile hedgehogs. She helped our team of experts develop an online vet hub, a new video series helping vets and nurses give species-specific treatment to a wide range of UK species.
"Treating and caring for wildlife can be very different to looking after a domestic animal. This series of videos is aimed primarily at veterinary students, recent graduates and nurses, giving them a better understanding of how to treat and care for wildlife casualties," says Tarnya.
Perhaps my bravest colleague of all is Sarah Jefferson, a member of our Policy team and Captivity Campaigns Information Coordinator. Sarah is a long-term campaigner and oversees our Raise the Red Flag online platform, which exposes and investigates captive wild animal exploitation. Every day, she is confronted with the most appalling images and reports of animal suffering.
Encouraging the public to be our extra eyes and ears, Sarah painstakingly catalogues your reports and photos, and helps you take further action. "In my sixteen years at Born Free, I've received thousands of shocking eyewitness reports, which all provide vital evidence to support our work campaigning for an end to the global exploitation and abuse of wild animals in captivity." 
Catherine Gillson is Born Free Manager at our two big cat sanctuaries at Shamwari Primate Game Reserve, and part of our Shamwari team for 20 years, providing lifetime care for rescued lions and leopards.
"To work with these big cats is a bittersweet privilege. I wish they had all had the life of freedom a wild animal should be born into, but love the deeper understanding they've given me that all creatures are individuals and should be protected in the wild." 
Meanwhile in Kenya, locally-employed Amina Wajua is one of our intrepid new Twiga* Team, dedicated to protecting rare reticulated giraffe in our spiritual homeland of Meru National Park, where Elsa the lioness returned to the wild.
"We do foot patrols to remove snares set by poachers to trap animals," she explains. "I love being close to animals and have a deep passion to conserve wildlife. We need more women to engage in protecting wildlife!" 
Also based in Meru, Samim Kaari is one of our committed new team of five Elephant Guardians. Trained as a teacher, she taught young students in an area where human-elephant conflict is rife and illegal trade of bushmeat high. But, Samim knew she could influence her community to embrace conservation. With support from Born Free, she helps local people in Meru humanely tackle human-elephant conflict and flies the flag for elephants.
These are just a handful of the glorious, world-changing women I'm privileged to work with every day at Born Free. Ladies, you make my heart sing on International Women's Day and every day! Thanks for all you do. Thanks for sharing Born Free's vision of a kinder world for all. Stay strong, for we have much work to do.
Find out more about Born Free's Work:
Rescue & Care SHamwarI RESERVE   Conservation   SAVING MERU'S GIANTS
*Swahili for giraffe