Let's hear it for the girls!
LET'S HEAR IT FOR THE GIRLS!
Born Free is delighted to announce the two female cubs from the Lions of Lyon pride have been given new names! Previously unnamed, the cub known as 'Girl' will now be called Thea, and the cub who had been known as 'Kuuma' has been re-named Cersei.
The name Thea is of Greek origin and means 'goddess'. Thea is the youngest of the four Lions of Lyon, and is now thriving after suffering the worst possible start to life. When she was first rescued, she was very unwell. She was underdeveloped and underweight, was suffering with glaucoma and diarrhoea, and had severe hair loss. With proper care, her fur has now grown back and she is improving by the day. Thea was the last of the cubs to move away from a milk diet, but now eats about 1.2kg of meat daily.
Rescued from a garage in Marseille, Cersei was suffering with skin irritation, gastrointestinal problems and corneal ulcers, but thankfully she has made an excellent recovery and is now almost the same size as Dadou – one of the male cubs! Cersei shares her new name with the character from George R. R. Martin's Game of Thrones. In the popular HBO series, Cersei is known as Queen of the Seven Kingdoms, and played by British actress Lena Headey.
Thea and Cersei are currently staying at a temporary home in France, before they, and the two other rescued cubs that form the Lions of Lyon pride – Horus and Dadou – can complete their journey to Born Free's big cat sanctuary at Shamwari Private Game Reserve in South Africa. Final preparations are being made ahead of the relocation later this summer, which has been made possible thanks to the overwhelming generosity of supporters and members of the public.
Two incredibly generous supporters each gave significant donations for the honour of picking Thea and Cersei's new names, and these funds will help cover travel expenses as well as provide lifetime care for the four cubs at their new home. We are currently waiting for paperwork to be completed before the move can take place.
'Girl' is now Thea © Born Free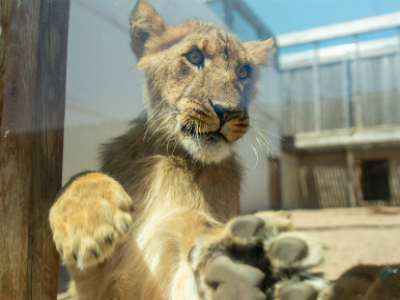 'Kuuma' is now Cersei © Born Free