KING'S STORY
King is thriving. Last July, thanks to your generous support, we were able to give him a lifetime home at our big cat sanctuary at Shamwari Private Game Reserve in South Africa.
He has since grown into a confident young lion and his mane is beginning to darken in colour.
But poor King had a terrible start in life. As a cub, he was kept illegally as a pet in France and beaten and kicked by his owner, who posted images of the abuse on social media. Fortunately, he was rescued by charities, Fondation 30 Million d'Amis and Refuge de l'Arche, and rehabilitated at Natuurhulpcentrum, a wildlife rescue centre in Belgium, before Born Free relocated him to his permanent home at Shamwari.
Maggie Balaskas, Born Free's Animal Rescue & Care Manager says: "It is staggering that lion cubs are still finding their way into the pet trade in Europe. Tragically, millions of wild animals around the world, including reptiles, birds and mammals are kept as exotic 'pets', many illegally – like King. Wild animals, whether wild-caught or bred in captivity, have complex behavioural, social and psychological needs and can suffer greatly when kept as pets.
"Born Free is working hard to tackle the wildlife trade and were delighted we could give King a lifetime home at Shamwari. It was an incredible moment when King bounded out of his travel crate at Shamwari – the whole team were elated and relieved to see him so relaxed despite his long journey and new surroundings."
Safe from harm in his spacious, natural bush enclosure, King is often found high up on his platform surveying the African landscape.
He is curious, full of energy and very much intrigued by his surroundings. At the sanctuary there are many strangers, from impala and warthog to the animal care team, so he has plenty to keep him occupied.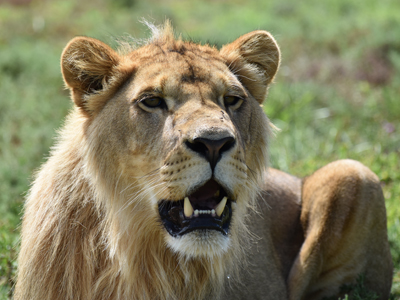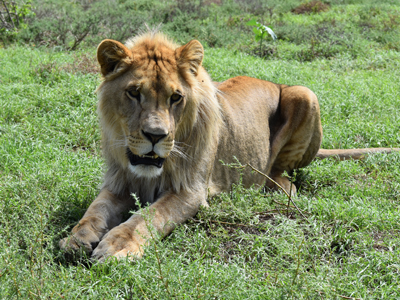 Every day is filled with different challenges, like how to respond to the small mice under his deck, the noisy Hadada Ibis that fly into his enclosure, or the crows that try to pick off the last bits of meat from the bones they find.
Once he mischievously removed the pipes by his water trough and got covered in red mud as the water escaped. Despite such antics, it's so good to see King enjoying life.
VIDEO SHAMWARI BIG CAT SANCTUARY LIONS OF LYON