ADOPTION DIARY
Updating YOU on some of the animals in our care.
Thank you for helping look after our glorious, adopted animals. Here's the latest on a few of the animals you help keep safe.

'Happy International Me Day!'
It's such a special day for our adopted orphan as we celebrate the awesome orange ape on International Orangutan Day.
Aided by extra vitamins to boost her immune system, Timtom is the most active of the rescued youngsters and already such a confident climber.
Orangutans are THE best gymnasts, even though many trees in Borneo's Lamandau Wildlife Reserve are over 100 feet tall.
Super immune booster!
Talking of strengthening ape immune systems… young chimps separated from their mothers are susceptible to illness. So, thanks to adopters, the team at Limbe Wildlife Centre in Cameroon boost the health of Sara and the other orphan chimps with ginger and turmeric tea. The chimps love the tasty tea, which makes their systems stronger to fight covid. Yes, sadly chimps can catch the virus too.
Developing a close bond
Introduced last September, King and Thea are now inseparable at our sanctuary in South Africa. Both rescued from France's illegal pet trade, their natural instincts are kicking in and King patrols their 'territory', scent-marking as he goes to proclaim his presence. It warms your heart to see the affectionate pair together, exchanging head-rubs, grooming one another and vocalising their fondness with gentle purrs.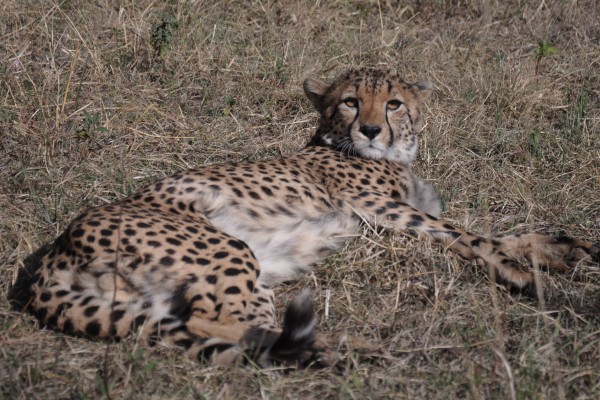 Update: I've got a new name!
Following a hugely popular public poll, we are delighted to announce that Covi the cheetah cub has been renamed 'Barega', in honour of Ethiopian long-distance runner Selemon Barega. The youngster was rescued last year with his sister Pollyanna from the illegal pet trade. He lives at our Enssessa Kotteh rescue centre in Ethiopia and, thanks to adopters, the one-year-old will receive expert care for life in the spacious enclosure he shares with his sister.
Caring AND saving
Adopters help provide wonderful lifetime care for rescued tiger Gopal in India, including a big range of food enrichments. Frozen blood popsicles anyone?! But that's just for starters. Adopters also help fund vital conservation, not least training local villagers as Tiger Ambassadors. They help monitor wild tigers, resolve any conflict between people and tigers, and raise awareness to their protection.
SHARE ON FACEBOOK SHARE ON TWITTER
Images © Lilongwe Wildlife Trust, B Girma, Kannan Wildlife SOS, Borneo Orangutan Society