Two turtles get a second chance at freedom
11 October 2021
COWABUNGA! TWO TURTLES GET A SECOND CHANCE OF FREEDOM
Two sea turtles held in captivity for 15 and 30 years are getting a second chance of freedom, following their release back into the wild.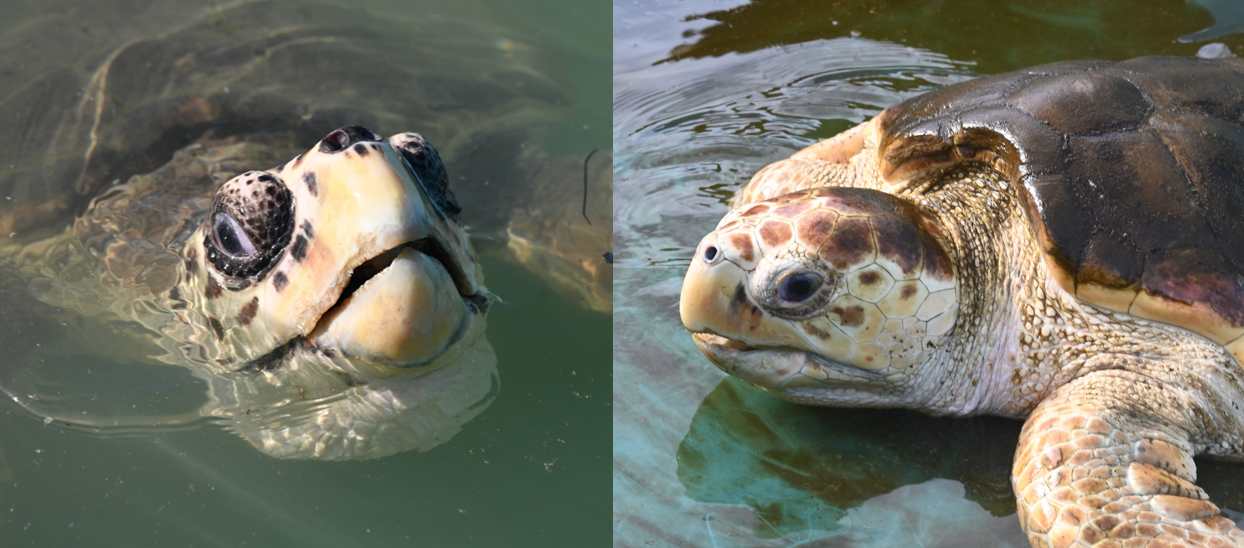 Kept at an aquarium in Sardinia in very poor conditions, loggerhead turtles Genoveffa and Gavino were the focus of many concerned and anxious tourist reports sent to Born Free since 2001. Our efforts and those of many others led to the two ultimately being seized by the Italian authorities.
Thanks to the relentless efforts of Centro di Recupero del Sinis (CReS), a marine rescue centre in Sardinia, that has nursed and cared for them for the last 10 years, Genoveffa and Gavino have just taken a massive next step in their incredible journey, which we hope will see them back to the wild – where they belong.
On Saturday, CReS were finally able to release them off the coast of Western Sardinia. The exciting spectacle, extensively covered by Italian media outlets, saw Genoveffa and Gavino swim off into the Mediterranean Sea.
Importantly, both turtles were satellite tagged to enable post-release monitoring via GPS, and their movements will be tracked over the coming days and months to confirm whether they have been able to locate wild feeding grounds and can look after themselves, independent of any human intervention. Loggerhead turtles have powerful jaws and eat a range of molluscs, crabs, jellyfish, sponges, fish, and seaweed.
Although Genoveffa and Gavino have spent many years in captivity, they were both wild-caught, and returning such turtles back to the wild has reportedly been successful in the past. Unlike baby mammals, wild sea turtles do not receive parental care and hatch fully equipped to cope on their own. These innate abilities mean turtles that have spent long periods in captivity are still able to adapt to life in the wild, even following complex migration routes.
It's still early days for Genoveffa and Gavino, but we've got everything crossed for them and will be following their progress as they embark on a wild and free life.

Images © Paolo Briguglio

REPORT YOUR CONCERNS & SPEAK OUT
If YOU witness exploitation or have concerns about a captive wild animal, please make a report via Born Free's Raise the Red Flag online report form and visit our speak out page to find out how you can help further by raising your concerns with various points of contact.