Turtle power: one year on
9 October 2022
TURTLE POWER: ONE YEAR ON
Amazingly, it's now been a year since loggerhead turtles Genoveffa and Gavino were released back to the wild off the coast of Western Sardinia, after many years held in poor conditions at an aquarium.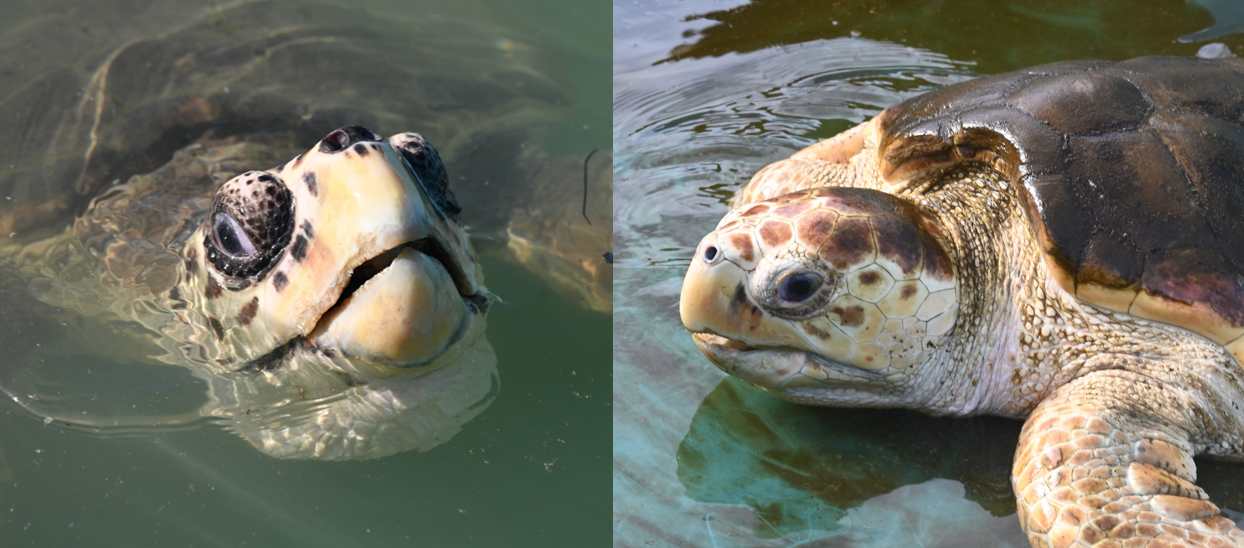 Born Free has been following updates on their progress since release and we are so happy that they both appear to still be doing well.
Both turtles were satellite-tagged to enable post-release monitoring via GPS, and allow their movements to be tracked to confirm whether they have been able to locate wild feeding grounds and look after themselves, independent of any human intervention.
Data from their satellite tags has shown that both turtles have now travelled thousands of kilometres since their release last year.
Gavino appears to have been the most adventurous, swimming over 5500 km. Not long after release, he travelled to the Balearic Islands of Mallorca and Ibiza. Then through the busy Strait of Gibraltar, alternating between the coasts of Spain and Africa, before venturing into the Atlantic Ocean. The last satellite data showed that Gavino had moved away from the coast of Africa and was headed towards America.
For the first six months after release, Genoveffa appeared to be more reserved and didn't venture far from the southern coast of Sardinia. However, her wild instincts kicked up a gear when she was drawn to a large number of jellyfish about 50 miles to the west. Genoveffa now appears to be exploring more and the last satellite data showed that she had spent a few weeks in the stretch of sea between Sardinia, Tunisia, and Algeria, approaching towards the coast of North Africa.
The satellite data also records that both turtles regularly dive to depths of at least 60 metres. Diving is important to sea turtles as it enables them to to find food deep below the water's surface.
Latest map (August 2022) tracking the movements of Genoveffa (blue) and Gavino (yellow).
Satellite data tracked by Centro di Recupero del Sinis (CReS).
Born Free's Captivity Campaigns Information Coordinator, Sarah Jefferson said: "I am so happy that Genoveffa and Gavino appear to have adapted well to life back in the wild. After receiving so many Red Flag tourist reports about the terrible conditions in which they were held at the aquarium, to be able to follow their journey back to freedom is just amazing. We thank Centro di Recupero del Sinis, the marine rescue centre in Sardinia that nursed and cared for Genoveffa and Gavino for 10 years, rehabilitated them back to the wild, and whom have been providing updates on their movements post-release."
You can follow Genoveffa and Gavino's progress, and track their movements in the wild via our Turtle Tracker page.

GENOVEFFA & GAVINO: THEIR STORY
Images © Paolo Briguglio / Centro di Recupero del Sinis

REPORT YOUR CONCERNS & SPEAK OUT
If YOU witness exploitation or have concerns about a captive wild animal, please make a report via Born Free's Raise the Red Flag online report form and visit our speak out page to find out how you can help further by raising your concerns with various points of contact.