Team Twiga takes action to save giraffes
1 December 2022
TEAM TWIGA TAKES ACTION TO SAVE GIRAFFES
Thanks to your donations, Born Free has made HUGE progress as we work with local people to protect rare giraffes in Kenya.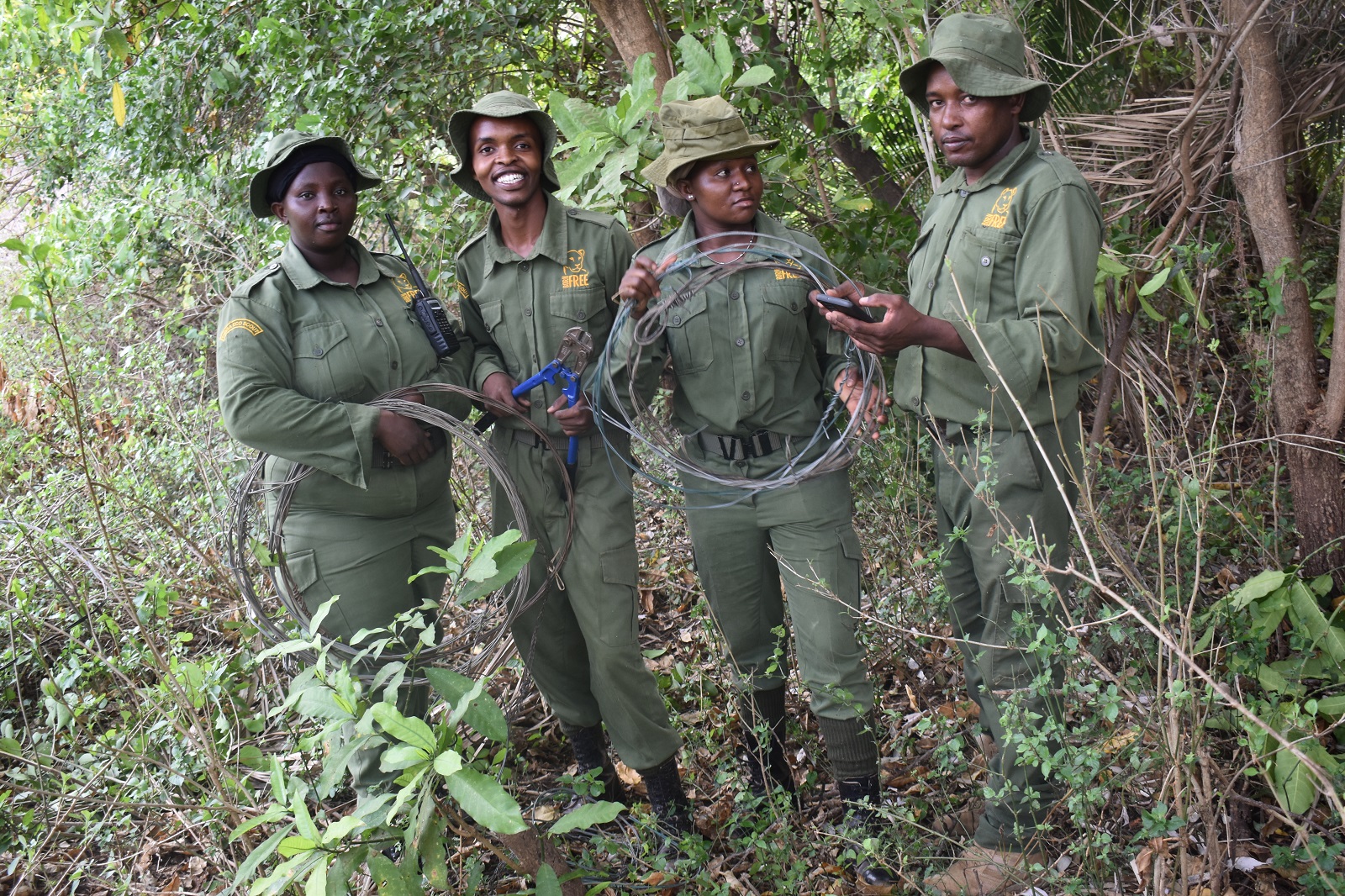 A year after Born Free's Saving Meru's Giants programme was launched, aided by supporters' donations to our Save Africa's Giants Christmas appeal, there is fantastic news to report from Meru National Park in Kenya. 
Saving Meru's Giants is Born Free's newest conservation programme in Kenya and focusses on protecting two of Meru's largest species – giraffes and elephants. A year since the project's inception, the team have already conducted an astonishing amount of work, going a long way to contributing to the conservation of these iconic species.
Over the last year, monitoring of the giraffe and elephant populations has got off to a great start. Already, 159 elephants have been individually identified and added to the database, over half the number of elephants sighted in the Meru National Park in the last survey. Moreover, 152 individual giraffes have also been identified and added to the database.
These databases will provide critical information on the demographics and structure of the populations, to help us understand the movements and habitat utilisation of the two species and to monitor the health and condition of individuals. This information will be critical to inform future conservation action, so it is wonderful to see that such a large amount of progress has been made in such a short time.
Another aim of the Saving Meru's Giants programme is to reduce the threats to these herbivores, as well as other wildlife species in Meru. One of the biggest threats to wildlife in Meru are snares laid by poachers. Snares pose great threats to herbivores such as giraffes and elephants, as well as to carnivores such as lions.
Our Twiga* Team has been working hard conducting de-snaring patrols to remove snares and monitor for evidence of illegal activity. Concerningly, they have been finding an average of one snare every 0.6mi (1km), in some parts of Meru. Considering the Meru Conservation Area (MCA) is over 1,930 mi2 (5,000km2), this could sadly mean there are thousands of snares throughout Meru. Thankfully, our Twiga Team have been removing around 100 snares a month, preventing these snares from harming any animals.
The Twiga Team comprise of five individuals recruited from the local community: Jacquiline Ntinyiri, Amina Nyaga, Bernhard Njoroge and Morris Mwandiki, who are under the supervision of Twiga Team Coordinator Shadrack Kimeu. They are all passionate about protecting wildlife and are highly motivated to mitigate the threat of snares in Meru. They have immediately taken up the challenge and have become integral contributors to the impact of Saving Meru's Giants.
"I carry out de-snaring activities and monitor elephants and giraffes to help us know their population status and trends, and the threats they face. I became a ranger because I had the passion for conservation. I am very proud of my position because it has given me a chance to conserve and to know that what men can do, women can also do!" – Jacquiline Ntinyiri, Twiga Team Member, Saving Meru's Giants
"I come from a community that borders Meru National Park, hence have lived with these animals since my childhood. My main responsibility as a community ranger in the Twiga Team is de-snaring activities, as well as elephant and giraffe monitoring. We do foot patrols to remove snares set by poachers to trap animals. I love being close to animals and have a deep passion to conserve wildlife. I am proud to be an Eco Scout because it has helped me to multitask duties and become more flexible to walk long distances and long hours. It was a challenge for me to leave my family behind and go for training, but we need more women to engage in protecting wildlife!"– Amina Nyaga, Twiga Team Member, Saving Meru's Giants
You can support the Twiga Team to continue their inspiring conservation work in preventing the cruelty of snares by donating to our Saving Meru's Giants Appeal.
*Twiga means giraffe in Swahili