16 June 2022
SIMBA: A SYMBOL OF HOPE
Simba starts new life at Italian sanctuary after being rescued as tiny cub in Russia. Now we need to build his forever home!
BUILD SIMBA A HOME: URGENT APPEAL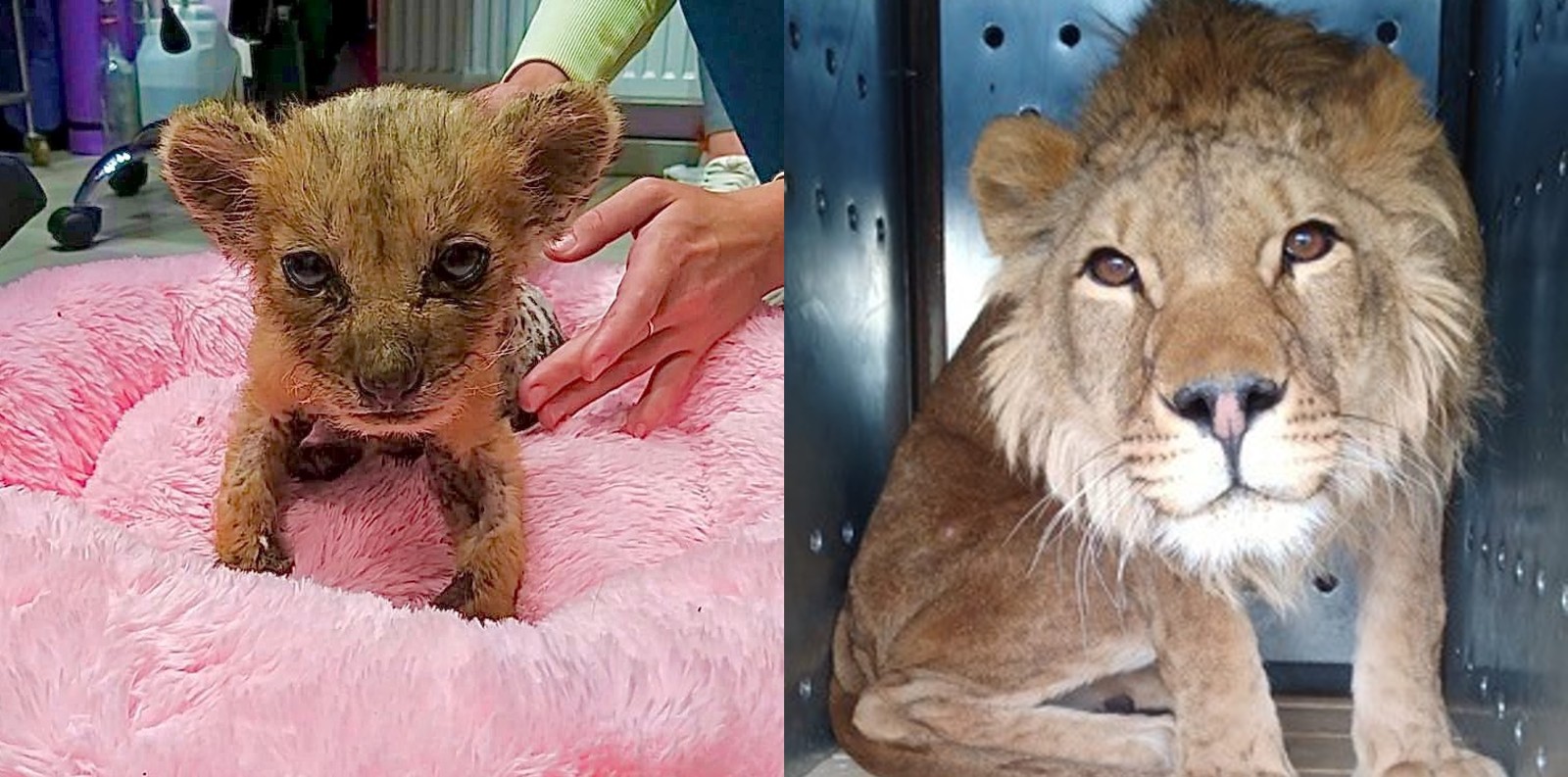 At just a little over a year and a half old, Simba the lion has experienced a lot of suffering in his short life. But today, that misery becomes a memory as he starts a new chapter in his forever home at a wildlife sanctuary in Tuscany, Italy.
As a tiny cub, Simba was found, abandoned and emaciated, in a cardboard box in a deserted garage, near Moscow. As distressing images and footage from his rescue show, he was just weeks old, missing most of his fur due to a skin condition, mewling in distress and so weak he could barely stand. While little is known about how Simba ended up in such desperate circumstances, it is likely he is an innocent victim of the cruel wildlife trade and was discarded due to his poor condition.
Thankfully, Simba was taken in by the experts at Wild Nature Hospital in Russia, and the dedicated and caring team there nursed him back to health. However, due to lack of sufficient enclosure space, they knew they needed to find Simba a lifetime home. So, when Born Free were contacted and told of Simba's tragic start in life, the charity promised to ensure his safety and provide sanctuary for the rest of his days.
That promise from Born Free was just the start of an incredible journey, which this week sees Simba's rehoming. In December 2021, a matter of months before restrictions and sanctions on were imposed on Russia due to the outbreak of war with Ukraine, Simba was transported to Natuurhulpcentrum Wildlife Rescue Centre in Belgium.
Whilst Simba was being looked after by the specialised team there, Born Free were able to organise a home for him at Animanatura Wild Sanctuary in Italy. This Monday, Simba's journey from Belgium to Italy began, a remarkable 800-miles overland.
A journey like this, and the vital new start for Simba, has not been simple. It has required hours of planning, evaluation and care undertaken by Born Free's experts and specialists, together with valued partners at Wild Nature Hospital, Natuurhulpcentrum and Animanatura.
Born Free would like to officially thank them, and the many, many generous people involved at every level, who've ensured the success of this incredible relocation, and made it a reality.
It is thanks to a generous donation from a Born Free supporter that funds to transport Simba overland to Italy were available. And, although he has now made it to the safety of his new home, he is starting his new life in a temporary enclosure, whilst a brand-new, purpose-built area is constructed.

"From emaciated, abandoned cub, rescued from Russia's wildlife trade and relocated just months before the outbreak of war, to young lion starting a new life in the safety of an Italian sanctuary. Born Free ensures the wheel of fortune is finally turned in favour of a fresh start for Simba."
Will Travers OBE, Executive President & Co-Founder, Born Free stated "Since our inception, Born Free has always championed the importance of every individual wild animal. Simba is a symbol of that. He is an example of why saving lions from the worst forms of human exploitation – from the wildlife trade, circuses, zoos, or from canned hunting facilities – is so important to us all at the Born Free family. It was our mission to help Simba as it defines who we are. And there has never been a more important time for this work. In memory of my late father, Bill, a lion of a man, 2022 is Born Free's Year of the Lion. It is our chance to help as many individual lions in need as we can and protect a species in shocking decline in the wild. Giving Simba a new start in life demonstrates our ongoing compassion for and commitment to these magnificent creatures."
BUILD SIMBA A HOME
Our urgent new appeal will is to create a forever home for Simba, giving him the space and life-enriching environment he so deserves and provide him with lifetime care.
Money raised will transform Simba's life. Your gift today could make a real difference:
£5 could buy Simba health-enhancing vitamins
£14 could buy Simba two days' nutritious food
£26 could buy enticing essences, hidden in a pumpkin as enrichment
£64 could buy a giant ball for Simba to play with and chase
£195 could buy one week's food and expert care
£430 could buy a raised bed for Simba to sleep and eat on
£3,500 could build Simba a climbing platform
£11,400 could look after Simba for one year including food and care
£45,000 would contribute towards Simba's spacious new enclosure