Orphan cub rescue in greece
23 May 2022
ORPHAN CUB RESCUE
Thanks to eagle-eyed local residents, a tiny brown bear has been rescued and is receiving expert care with Born Free's long-term partners in Greece.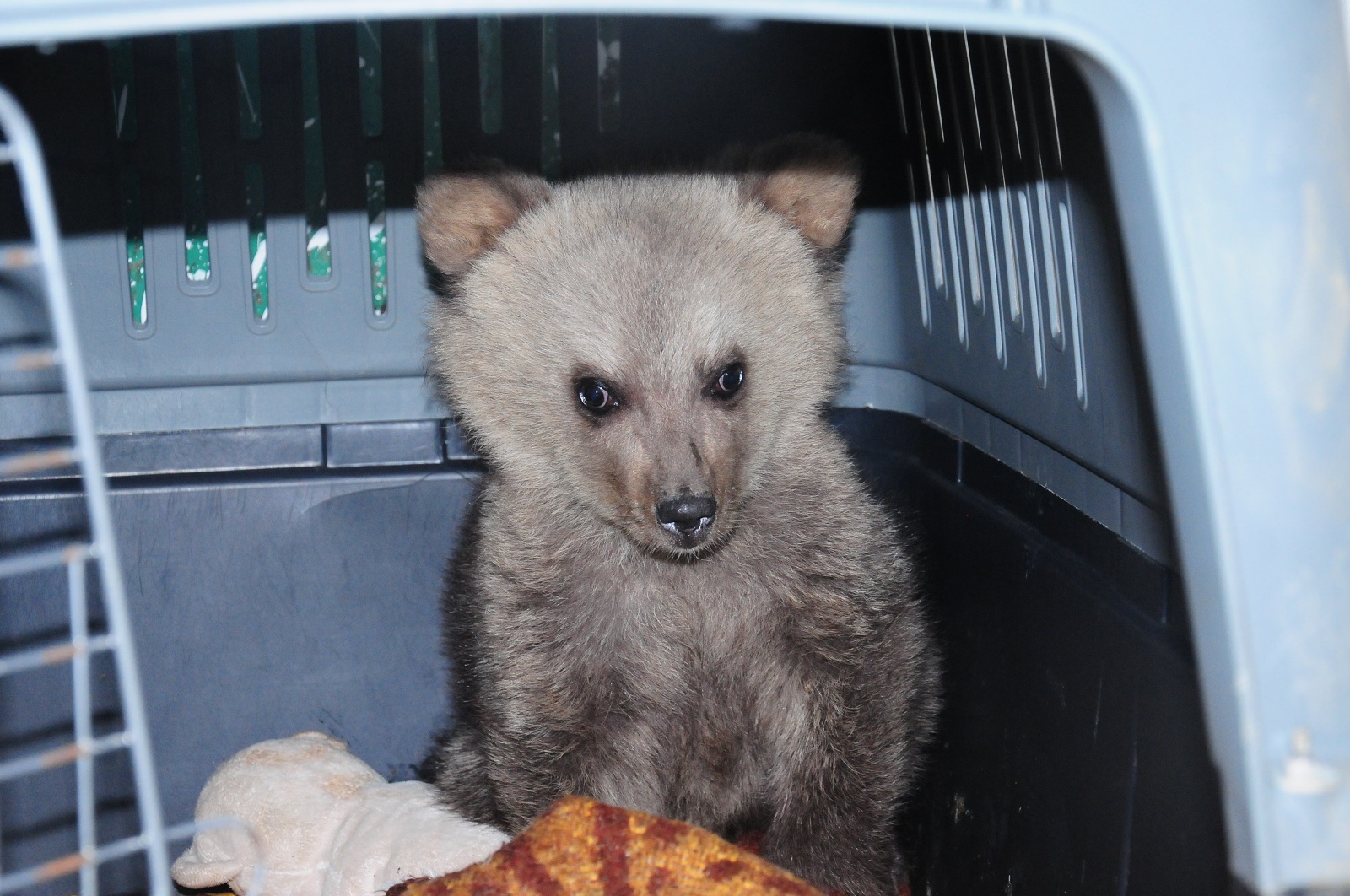 Supported by Born Free adopters, our Arcturos colleagues in Greece have undertaken a dramatic emergency rescue of Thomas, an orphan brown bear cub. Found on St Thomas Day, first of May, in the village of Polypotamos in the mountainous Florina region of northwest Macedonia, the three-month-old was discovered by villagers. For reasons unknown he was alone, but had somehow managed to survive for two or three days on his own by eating nuts and grass. Cubs his age would mostly still be nursing and relying on their mother's milk and protection.
"Thomas weighed only three kilos and obviously hadn't fed properly for days," explained Nikos Grammenopoulos, Manager at Arcturos. "Our Emergency Response Team transferred him in a crate to our facility and after assessment he has entered our rehabilitation programme, so he can have a chance to return to the wild when he is old enough. He is very shy and prefers the safety of his artificial den. He is now fed with special milk formula, honey, yoghurt and pieces of apple. He is soon going to be living in a fenced forest area, with no contact with humans, until the day of his release, next spring."
A big thank you to all Born Free Kyriakos adopters for supporting this rescue. Rescued as a four-month-old cub with his twin brother Manolis when their mother was killed in northern Greece in 2004, for nearly 20 years adopters have supported his lifetime care in a spacious beech forest enclosure at Arcturos. But over the years Arctoros have refined their rehabilitation techniques and now return rescued bears to the wild whenever possible.
"We are so pleased to hear that Arcturos has taken in this poor bear and are giving Thomas the best care so he can thrive and we hope be released next year," said Born Free's Rescue & Care Officer Flo Blackbourn. "We are eternally grateful to our wonderful adopters who help Arcturos by contributing to Kyriakos the brown bear's care. When you adopt Kyriakos you not only help him to live a peaceful life, you also help an organisation caring for many wild animals including those able to return to the wild, where they belong."