Jora & black: what a difference
WHAT A DIFFERENCE BORN FREE MAKES
Jora And Black Are Thriving!
We wanted to share this wonderful new photo from our sanctuary in Shamwari, South Africa. As you can see, the 13-year-old lion brothers Jora and Black are clearly flourishing in their ancestral homeland.
What a contrast to life in a rusty circus trailer in Bulgaria, where they languished for months, their muscles growing weak. There was nowhere else for them to go after the Bulgarian government, thankfully, banned wild mammals in circuses. We couldn't let Jora and Black suffer so in 2015, aided by supporters, Born Free rescued the two lions and brought them 'home' to Africa.
Lavished with loving, expert care, the brothers have transformed at our sanctuary, recovering their strength and dignity. The flashing lights and blaring music of the big top are a distant memory as their awesome roars echo across Shamwari's hills and valleys. It does your heart good to see them chase and play in the expanse of their spacious bush enclosure.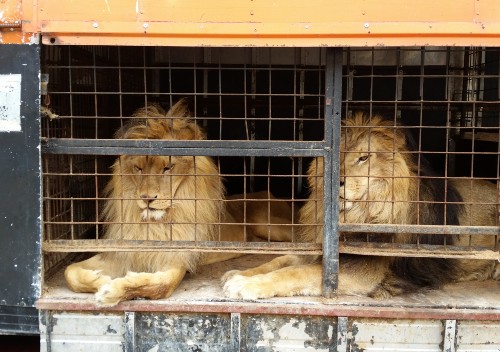 Now, Born Free is raising funds to give four more lions, also rescued from a circus, a new life at Shamwari. Could you help? Like the lion brothers, Angela, Bellone, Louga and Saida were forced to perform outdated tricks in front of noisy crowds in a circus ring, this time in France. Currently at a halfway house with our friends at Tonga Terre d'Accueil, we long to give them a new life in the tranquillity of our sanctuary.
Friday 19th March 2021 is Born Free's 37th Anniversary and we're raising funds to take the four lions home to Africa. "We'd love you to join us for a very special evening," said Joanne Bartholomew, our Events and Relationships Manager. "Hosted by Will Travers and Gaby Roslin, special quests include Virginia McKenna OBE and Joanna Lumley OBE, with music by Eliza Marshall."
Celebrate our 37th Birthday in style with real actions that help real animals!
Images © Peter Delaney / Tony Wiles