It's world chimpanzee and world orca day!
IT'S WORLD CHIMPANZEE AND WORLD ORCA DAY!
Let's Celebrate These Born Free Species And Pledge To Keep Them Safe.
Today, Wednesday 14 July, is a double diamond of a celebration for Born Free with TWO of our key species in the spotlight.
At first glimpse, the chimpanzee and the orca – creatures of the tropical forest and ocean respectively – have little in common. But, take a closer look at these sentient mammals. There are many similarities! Both are deeply intelligent, sensitive family animals. Both are keystone species and 'ecosystem engineers' – they help sustain the stability and health of their habitats, so countless thousands of other species can thrive.
As guardians of the forest and the ocean, chimps and orca provide vital services to human society. They help mitigate climate change because these green and blue lungs of the world store carbon and generate oxygen so we can all thrive.
These big-brained species spend their lives in close-knit and richly nuanced communities, surrounded by family members. Each complex population is unique, with an intricate, unparalleled culture, and skills and languages passing on through generations.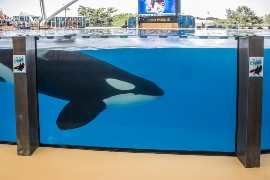 But, both species are facing a crisis, their habitats cut down or polluted. Individuals are captured from the wild, and kept in inadequate captive facilities and forced to perform pointless tricks for our outmoded entertainment.
On this special day, please pledge never to visit a facility exploiting captive chimps or orca AND support their conservation in the wild.

ORCA CONSERVATION CHIMPANZEE CONSERVATION
SHARE ON FACEBOOK SHARE ON TWITTER
Images © A Gekoski Caters News, www.georgelogan.co.uk, JGI