Cheetah rescued from illegal wildlife trade in ethiopia
20 December 2021
CHEETAH RESCUED FROM ILLEGAL WILDLIFE TRADE IN ETHIOPIA
Born Free team bring injured cheetah to safety at sanctuary.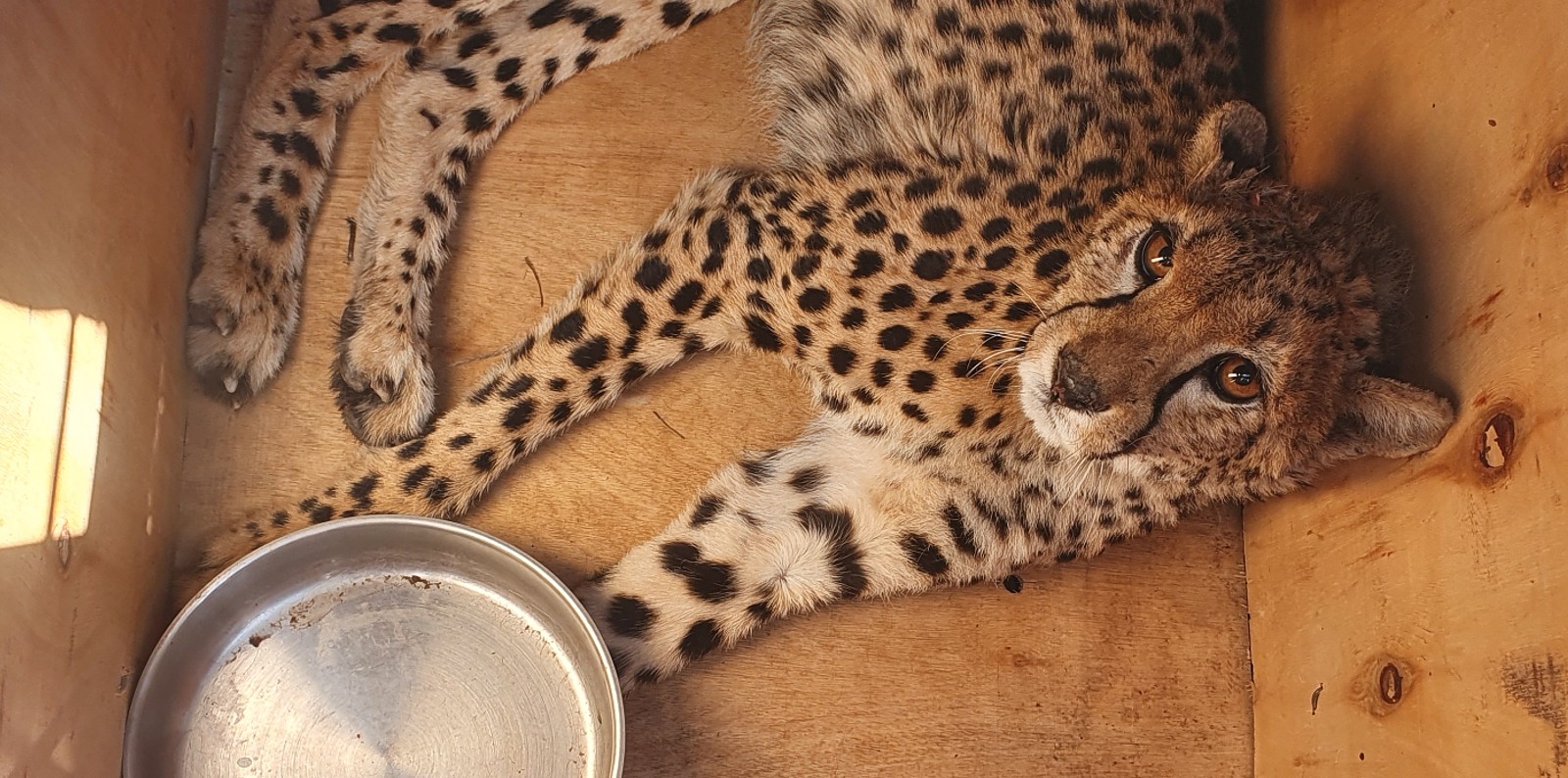 Earlier this month, the Born Free team at Ensessa Kotteh, our Ethiopian Wildlife Rescue Centre, were alerted to the plight of a young female cheetah being held by an illegal wildlife trader in the city of Jijiga – a four-day round trip by road from the rescue centre, which is based just outside the Ethiopian capital, Addis Ababa.
The cheetah had been acquired by the trader around two years ago, but due to the COVID-19 pandemic, he had been unable to sell her, and she had been kept in very poor conditions – tethered by a short leash and fed a substandard diet. In recent weeks, the cheetah had escaped and caused chaos in the streets of the city. She was recaptured but sustained head wounds during the process, and a chain was put round her neck. She was taken to the local police station and tied up in their grounds while the authorities arranged for more appropriate long-term care.
Due to the current curfews in place as a result of Ethiopia's State of Emergency, our rescue team could only travel during the day, night-time travel is currently prohibited, and the numerous check points made the journey time longer than normal.
When the Born Free team arrived at the local police station, they found the cheetah chained to a post surrounded by rubbish. She had a wound around her neck from the chain, an infected wound on her head and was extremely aggressive.
Bereket Girma, Head of Born Free's Ensessa Kotteh Rescue Centre, said: "Once our Vet Dr Sisay was able to anaesthetise the cheetah, he removed the chain from around her neck, and carried out a preliminary health check to make sure she was well enough for the journey. Despite being severally malnourished and dehydrated, she was fortunately fit to travel, and when we arrived back at the centre, we were able to check her over thoroughly and treat her wounds."
"Unsurprisingly, she is exceptionally nervous of people and hisses whenever a human is in sight. To minimise her stress she is currently being held in the night room of the quarantine facility while she adjusts to her new surroundings and safe lifetime home. She will be given outdoor access in the coming days."
Dr Andrea Donaldson, Born Free's Acting Head of Rescue and Care, added: "I would like to say a huge thank you to the Ensessa Kotteh team in Ethiopia who worked so hard to make this possible, as well as The Ethiopian Wildlife Conservation Authority (EWCA) for alerting us to the cheetah's plight, and ensuring all the logistics of this operation ran smoothly. Special thanks to EWCA Law Enforcement Directorate officer Kumala Derirsa who accompanied our team on the long journey. We are also grateful to the Federal Police, Regional Special Force, Somali Region Police Commission and Somali Region Nature Resource Bureau for their invaluable co-operation which ensured the rescue operation ran smoothly during such an uncertain time in Ethiopia."
We will keep you posted with updates as and when we can.