24 March 2022
CARING FOR SIMBA
Simba's story is heartbreaking, full of deprivation and suffering but, with your help, we can give this orphan lion cub the loving care and forever home he deserves.
Simba the lion cub was just a sickly infant when found abandoned in a garage near Moscow in Russia, in a cardboard box. Just a few weeks' old, the traumatised youngster should have been safe, nestled close against his mother's side. But, tiny Simba was alone and terrified. A victim of the illegal wild pet trade, he was emaciated and in terrible condition, missing half his fur. Mewling frantically in distress, he was so weak he could barely stand.
Thankfully, Simba was rescued by the expert veterinary team at Wild Nature Hospital, a sanctuary in Russia. They nursed him back to health and contacted Born Free to see if we could offer him a lifetime home. How could we say no?!
Unfortunately, we don't have any space at our African sanctuaries but, knew our colleagues at Animanatura Wild Sanctuary in Tuscany, Italy could give him a wonderful lifetime home instead. Our partner rescue centre is already home to two rescued Born Free big cats – Elsa Italia, the lioness from a circus in Sardinia, and Sandro the tiger, from a Spanish zoo.
Animanatura is currently building a new enclosure for Sandro and as soon as this is complete, his temporary enclosure will be available for Simba, while we build him his own, brand new permanent space. So, in the meantime, we arranged for Simba to be go to our friends at Natuurehulpcentrum in Belgium. Just before Christmas, he was loaded into a special crate and moved from Russia to this halfway house. We are currently finalising paperwork and aim to move Simba from Belgium to Italy this summer.
We will keep you updated! As you can see, rescuing and looking after Simba has already been a real team effort. But we think he's worth it and that every lion, however small, is precious. If you agree and would like to join Simba's team, you can support his care and housing:
Relocation to Animanatura: £2,000
New enclosure: £117,000
Annual food and care: £11,400/year (£31 per day)

Thank you so much!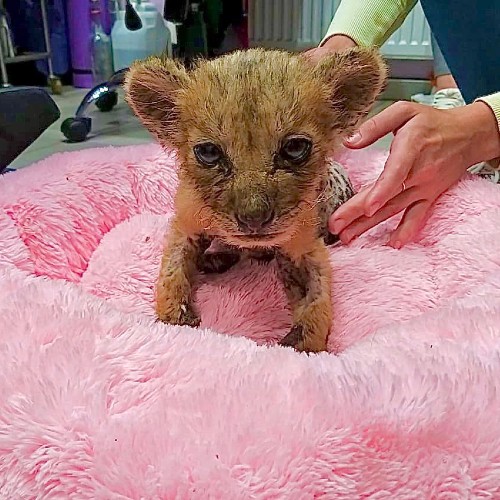 Simba when he was first rescued (c) Wild Nature Hospital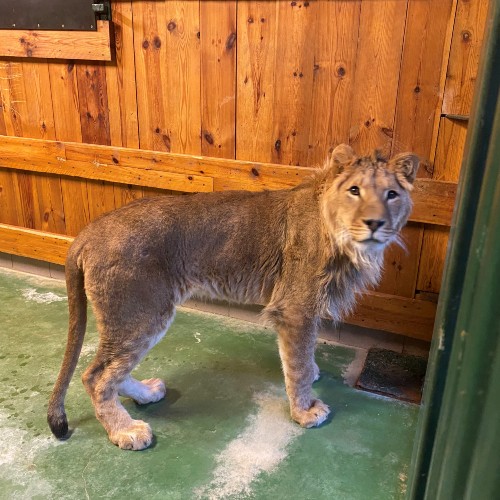 Simba is now healthy thanks to expert care (c) NHC