Canned hunting – what can you do?
CANNED HUNTING – WHAT CAN YOU DO?
How you can get involved and take action against this barbaric industry.
Many people are not aware of what canned hunting is or what it involves.
Volunteering to raise orphaned lion cubs, or visiting a cub petting facility, are popular holiday activities, however, this is where the tragic circle of life begins for cubs born into the intensive lion breeding industry, many of which are destined to end their days as the victim of canned hunts and the cruel and cynical lion bone trade.
Unwittingly, people are paying to support the very industry we want to end, either because they hadn't been told the truth, or didn't realise the consequences of their actions. This is why we need your support in spreading the word about this cruel industry.
In South Africa, there are more than 8,000 captive-bred lions kept in around 250 lion breeding facilities. These animals are exploited for profit at every stage of their miserable lives.
We want to ensure the captive breeding of lions – and other predators – used for canned hunting and other commercial purposes is brought to an end. With your help, we can put pressure on the South African government to stop this appalling industry, but we must act now.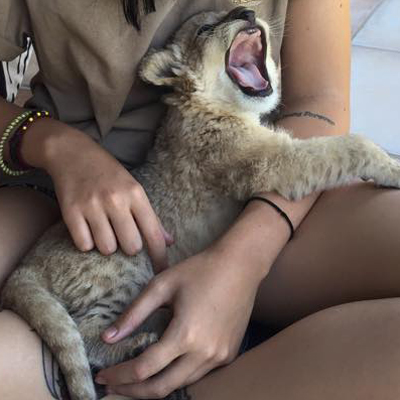 © Beth Jennings
HOW YOU CAN HELP:
TAKE ACTION
Our campaign to end canned hunting aims to generate as much exposure as possible, change attitudes, inform and persuade decision-makers, and get results. It's vital we get the message out and engage with people so they are aware of the issues involved and the consequences of their actions. The more that people know about this industry, the more support we can garner to help end it.
PETITION
Sign our petition. This is a quick and easy way to show your support, and will demonstrate to the South African government just how serious we are about this issue.
SOCIAL MEDIA
If you agree canned hunting should be brought to an end, please share our video, The Bitter Bond, along with the petition and stories with your family and friends. To date, our video has received over two million views, and our petition has been signed by over 200,000 people, which is fantastic! But with your help, we can get to a million!
DONATE
Help us with our work to protect lions, and other threatened species, from the cruel practice of canned hunting by making a donation. 'Hilts' has been fortunate, he has been saved from this awful industry and now deserves the best possible life we can give him. With your help we can provide a future for this lucky lion.
WRITE A LETTER
Write a letter to the South African High Commission or your local MP, voicing your concerns about the canned hunting industry and why you would like it to end. MPs can then help escalate concerns to the UK government.
Her Excellency Ms Nomatemba "Thembi" Tambo
High Commissioner
South Africa House
Trafalgar Square
London WC2N 5DP
Email: london.info@dirco.gov.za
Please support us and take action now! Thank you.
BAN CANNED HUNTING PETITION TAKE ACTION 10 FACTS ABOUT CANNED HUNTING