Big wins for rare bonobos, spider monkeys and more!
17 October 2021
BIG WINS FOR RARE BONOBOS, SPIDER MONKEYS AND MORE!
Born Free announces winners of our prestigious McKenna-Travers Award for Compassionate Conservation 2021.

Born Free is delighted to announce six recipients of grants as part of our coveted McKenna-Travers Award for Compassionate Conservation 2021, including our new People's Choice Award, voted for by you.
McKenna-Travers Award winner
Fanny Minesi, General Director of Friends of Bonobos of the Congo, has been declared the overall winner (£10,000) for her work to protect bonobos and their rainforest home in the Democratic Republic of Congo. The award will greatly benefit this endangered great ape, supporting the Lola ya Bonobo rescue centre and 120,000-acre Ekolo ya Bonobo Community Reserve release site, and allowing the team to purchase an island to provide a natural habitat sanctuary for rescued bonobos that cannot be returned to the wild.
Led by Fanny Minesi, Friends of Bonobos are on a mission to save bonobos and their rainforest home. They do this through rescue, sanctuary, and rewilding, and working with local people to tackle root issues that threaten bonobos' survival. Friends of Bonobos rescue individual bonobos orphaned by the illegal trade in wildlife. They give these rare apes essential care and sanctuary, releasing them back to the rainforest when possible.
Friends of Bonobos partners with and supports Congolese communities near bonobo habitat to save rainforests. They manage the forest reserve, ensuring wildlife and their rainforest home are protected for the long term. They also raise global and local awareness of the plight of bonobos, working with local and international authorities to uphold and strengthen the laws supporting endangered wildlife. Born Free is proud to support their mission – some of the most effective and comprehensive bonobo conservation work on the planet.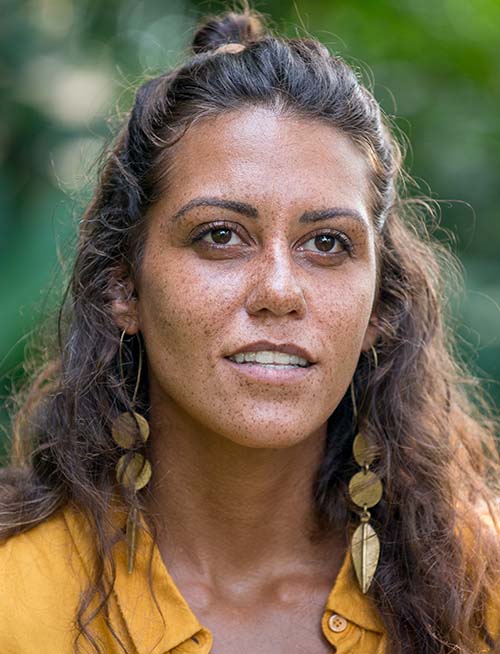 People's Choice Award winner
Fernanda Abra, a Brazilian ecologist and Founder of ViaFauna, was the resounding winner of the People's Choice prize (£5,000), rewarding her work to help vulnerable arboreal species such as spider monkeys to safely crossroads in the Amazon. Launched this year, the People's Choice Award received a total of 17,750 votes, with almost a quarter of voters choosing Fernanda.
Conducting research on the threats roads pose to wildlife welfare and creating innovative ways to protect canopy species, she is a postdoctoral fellow at the Smithsonian Institution. The mighty Amazon – its biodiversity and ecosystem services, are threatened by a rapidly expanding road network, which create barriers for many canopy species and drive habitat fragmentation, kills wildlife, and increases poaching. Fernanda is developing interventions to protect vulnerable species such as spider monkeys by helping increase canopy connectivity across roads. Born Free's award will help her to install artificial canopy bridges, along a key stretch of highway in Amazonas and Roraima states in Brazil, which will enable animals to cross highways safely.
Runners up
Our Awards Committee were so impressed by the quality of the entrants, they decided to award each of the four worthy runners up with an extra £1,000 grant. These were awarded to Pei Su for conservation education for children in China, to Julie Vanassche for sooty mangabey rescue and release in Liberia, Mariani Ramli for gibbon rehabilitation in Malaysia and to Peggy Motsch for rescue and post-release monitoring of rehabilitated African grey parrots in Cameroon. You can read more about these remarkable conservationists and their vital work here: https://www.bornfree.org.uk/news/mt-people-choice-finalists-2021
The £19,000 awards – with the largest fund ever made available this year – provide support and recognition for outstanding individual conservationists and carers who place a high priority on individual animal welfare, while carrying out their conservation work, supported by environmental education and conservation policy. The awards are named in honour of our charity's Co-Founders, Virginia McKenna OBE, her late husband Bill Travers OBE, and their eldest son Will.
Penny Banham, Born Free's Conservation Officer, said: "Despite the many challenges faced in conservation over the last two years, we were blown away by the dedication and outstanding achievements of this year's applicants. Fanny Minesi has been doing remarkable work to secure the future of bonobos and we were particularly impressed by her application. We are also thrilled to offer a secondary award to Fernanda Abra, whose visionary project to make roads safer places for wildlife in Brazil, clearly struck a chord with the public for our first ever People's Choice Award. It is a huge privilege to be able to support the work of these dedicated individuals."
On winning the award, Fanny Minesi said: "We plan to use the award funds to acquire and island near our protected area Ekolo ya Bonobo Community Reserve, dedicated to reintroduction of rescued bonobos. This island will be for bonobos that cannot be returned to the wild for various reasons such as injury or behaviours. They will be monitored and protected by our staff hired from the local community. We want to see local communities receiving direct benefit from the protection of bonobos as we think this is how we can have conservation success. On behalf of the whole team at Friends of Bonobos of the Congo I want to thank you for this wonderful honour."
A call for the McKenna-Travers Award for Compassionate Conservation 2022 will be announced in the New Year.