Creative Nature Programme
Nurturing creativity to support wildlife conservation and welfare
Born Free strives to enable and support engagement with wildlife conservation and welfare discussions in a way that empowers the learner, no matter their background or ability.
Delving into issues such as the global biodiversity crisis and the issues surrounding wild animals kept as pets can be intense and often complex, making it challenging or overwhelming for learners to fully engage. It can also contribute to feelings of helplessness or eco-anxiety.
By using art, drama and other forms of creative expression students can engage with a science-based discipline in a way that suits their different learning styles. This can lead to greater understanding of the threats faced by wildlife, the importance of animal welfare and compassion, as well as the potential solutions we can all feed into.
For more information about any of the projects detailed below, please contact the Education Team.
Born Free's Creative partnerships
LAST CHANCE TO PAINT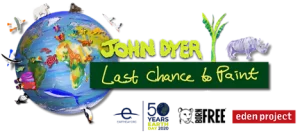 Last Chance to Paint, a partnership between artist John Dyer and Born Free, in collaboration with the Eden Project, encourages children to create their own piece of art, inspired by the journeys of the team.
This cross-curricular project offers a range of classroom or homebased interactive learning experiences to bring the vibrant sights and sounds of the different habitats and ecosystems to life, highlighting the threats faced by the people, plants and animals that live there.
Classes or individuals can also interact with the Last Chance to Paint team LIVE from the field during their expeditions.
---
Find out more:
DOWNLOAD TEACHING RESOURCES     ABOUT LAST CHANCE TO PAINT     ABOUT JOHN DYER
We also host regular live webinars for teachers wishing to run art and wildlife related lessons with their pupils:
Alternatively, you can watch past events here:
DRAWING FOR THE PLANET
With drawing, one of the oldest forms of communication, at their core, the Did All The Animals Go? and Chimpanzee Community 2 environmental art projects offer young people the opportunity to learn about endangered and iconic species, whilst connecting with individuals animals through creating biro drawings. In collaboration with non-profit Drawing for the Planet, these projects foster a love for the natural world, increase awareness of the threats facing wildlife and encourage young people to take action.
Direct outreach for these projects are limited to schools in north east England, as well as a few partner schools overseas, please get in touch if your school would like to engage in the project through the legacy of resources created.
---
Find out more:
You can visit the WDATAG? exhibition at the Great North Museum, Newcastle-upon-Tyne.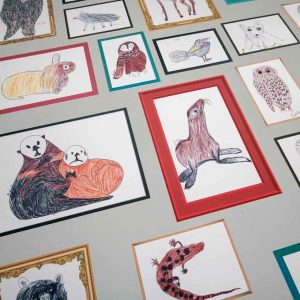 DREAMS OF THE WILD
Dreams of the Wild, a collaboration between Haus of Conservation and Born Free, brings education to life by combining drama, movement and wellbeing with education – focusing on the impact of captivity on individual wild animals.
Full-day workshops were held across venues in West Sussex and Surrey in June and July 2023 and legacy resources will be created to help students across the country to benefit from this unique experience.
---
Find out more:
GET IN TOUCH     HAUS OF CONSERVATION