Cheetah Cub SOS
Can you help care for these innocent cubs?
Donate
Sick, hungry and afraid, Ramadan and Fasika were saved just in time...
In April this year, our team at Ensessa Kotteh in Ethiopia, were contacted by the Ethiopian Wildlife Conservation Authority (EWCA) to assist with an urgent rescue. Two tiny cheetah cubs – far too young to be away from their mother – had been confiscated and urgently needed Born Free's specialist care. We had to act quickly and get to them as soon as possible – but now we need your help to fund their lifesaving care.
These cheetah cubs are little fighters!
Male cub Ramadan and female Fasika, who are both thought to be between three and four months old, were underweight, dehydrated and suffering with internal and external parasites, when our team – led by Ensessa Kotteh's Head of Centre Bereket Girma, arrived in Jijiga following a treacherous two-day drive from Addis Ababa. Despite their fragile condition, the little cubs were relatively alert, and our Centre's vet felt they would be fit to undertake the long journey back to the safety of Ensessa Kotteh, where they could be given round-the-clock care.
Mercifully, both Ramadan and Fasika have now arrived safely at Ensessa Kotteh, where they will eventually be able to live alongside other members of Born Free's Cheetah Family. But their road to rehabilitation following their appalling start to life is only just beginning.
Over the coming months, our expert, loving team will monitor the cubs closely to ensure they receive the best medical care and nutritious food to help them thrive. In time, they will be moved to a spacious enclosure filled with natural plants and vegetation, next to where the eight other members of Born Free's Cheetah Family live. All the cheetahs in our care were victims of the wildlife trade, many being kept illegally as pets and likely to have been taken from the wild, before being rescued by our team.
Please give what you can to help our rescued cheetah, by donating below.
A long road to safety…
In order to rescue Ramadan and Fasika, the Born Free team undertook a potentially dangerous 1300km round trip from Addis Ababa, passing through five Regional States before arriving in Jijiga. Here, the cubs had been housed temporarily by the Somali Region Environment, Wildlife and Climate Change Bureau, after they were confiscated from local farmers.
Civil unrest within the region, and treacherous road conditions, meant that Bereket and Ensessa Kotteh's Veterinarian, Dr Sisay Guta, were accompanied by one of EWCA's Law Enforcement Officer's and their driver (in a separate car) during the four-day journey.
Bereket Girma, Head of Centre at Ensessa Kotteh, said: "Terrible road conditions and an unexpected detour due to roadworks meant the journey took a little longer than anticipated, but the Bureau staff were caring for the cubs as best they could, while they waited for us to arrive."
Will you help care for these cheetah, now that Bereket and his team have brought them to safety?

could pay for an essential vitamin booster powder to supplement our cheetah's diets

could pay for three meals every month for one cheetah cub

could fund a cheetah carer for one week

could cover the veterinary expenses for a future cheetah rescue
What next for Ramadan and Fasika?
Ramadan and Fasika will now join Born Free's Cheetah Family – a group of eight cheetahs aged between nineteen months and 13 years old, who were all victims of the illegal wildlife trade. Today, thanks to their adopters, they now live peacefully at Ensessa Kotteh, our sanctuary in Ethiopia.
Sadly, it isn't possible for the members of our Cheetah Family to return to the wild, because they never had the chance to acquire the skills they would need to survive – they were all either orphaned or snatched from their mothers at a very young age. However, at Ensessa Kotteh, we provide them with the space and natural enrichment they need, cater for their specific dietary needs, and give them specialist care.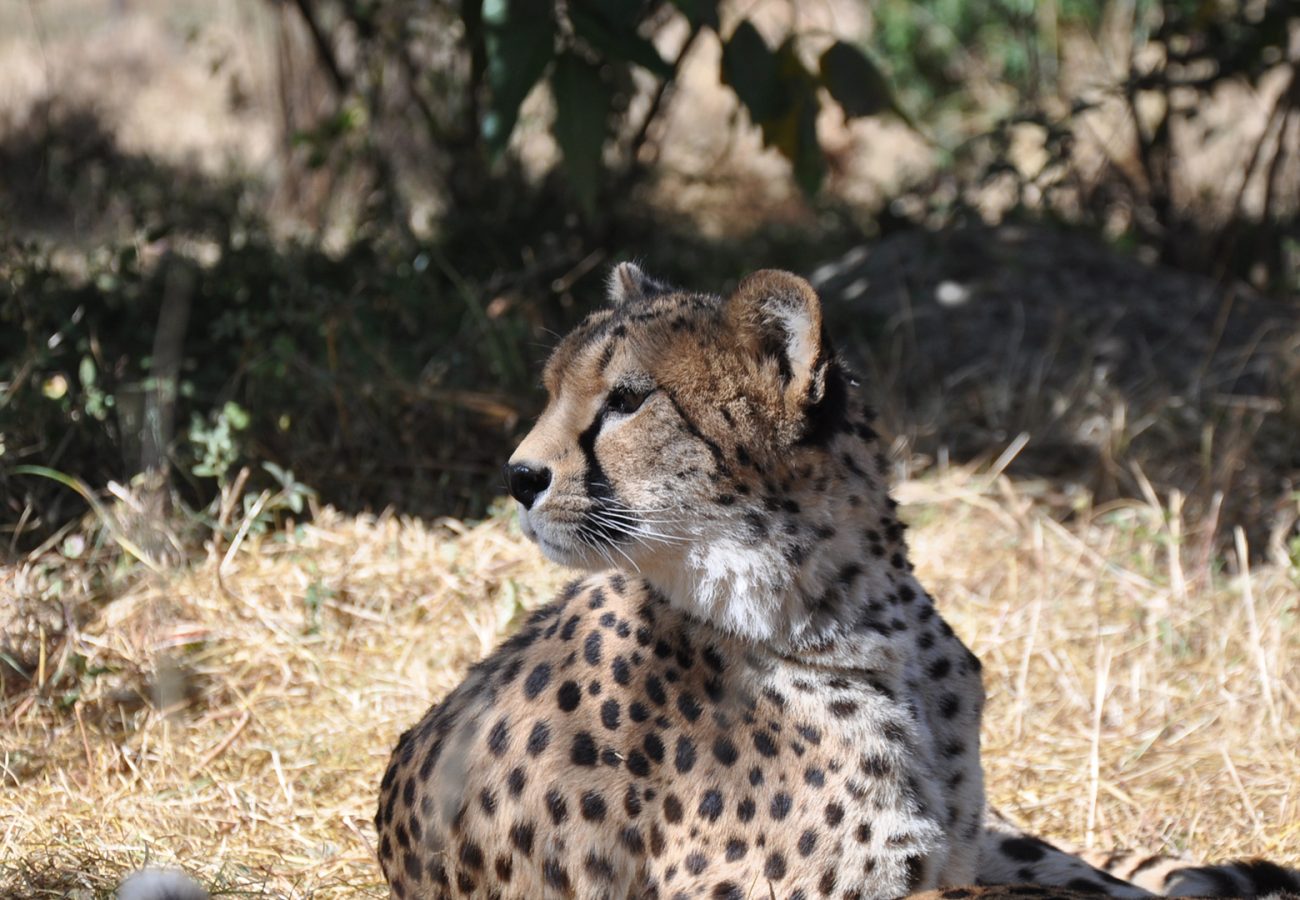 Adopt the Cheetah Family
If you would like to help provide lifetime care for Ramadan and Fasika, why not adopt The Cheetah Family today?

By adopting The Cheetah Family, you'll also receive regular updates on how all our rescued cheetah are getting on!
Adopt the Cheetah Family