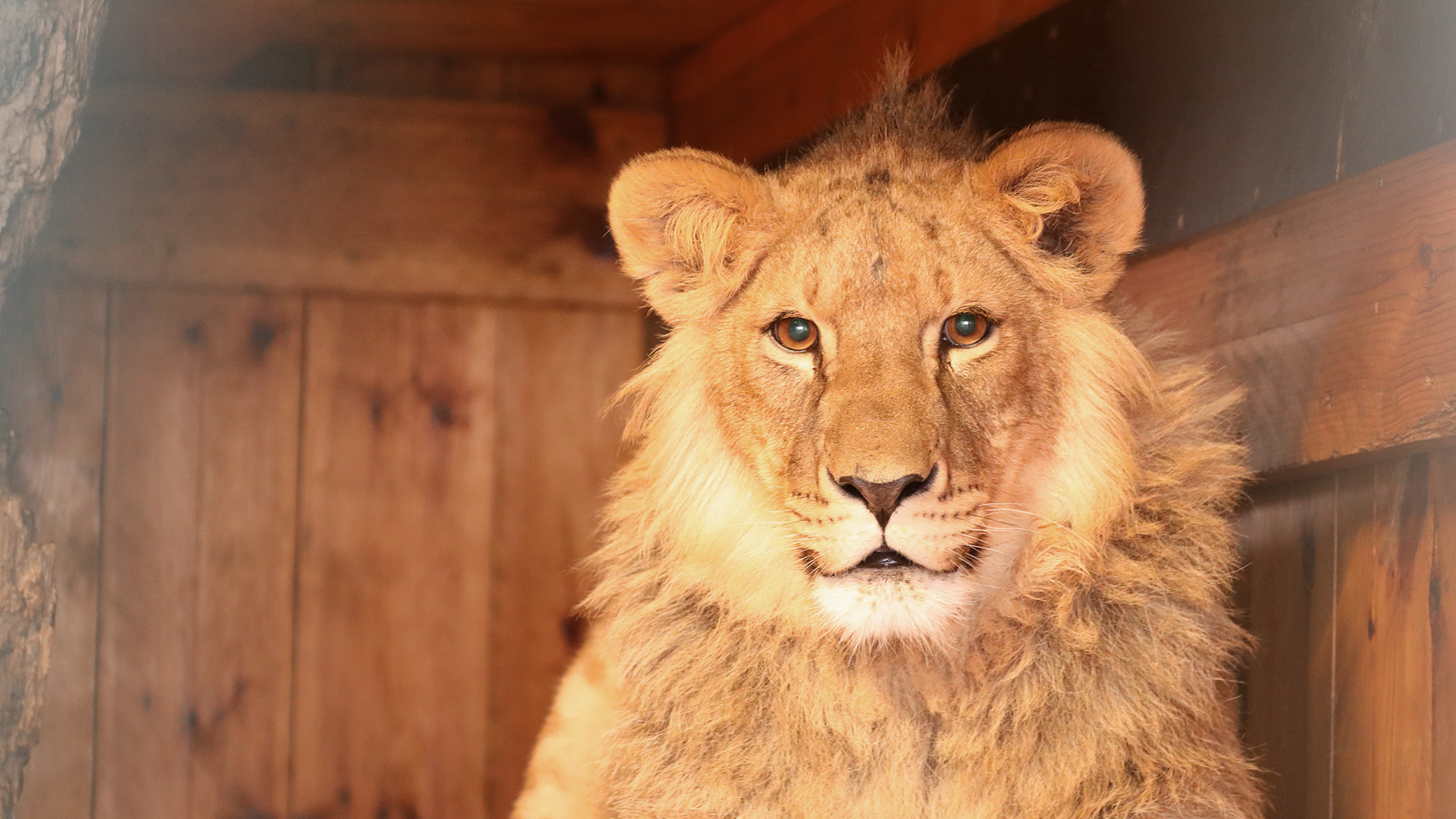 Ukraine Lion Appeal
Will you help give these brothers a home?
Donate
Tsar and Jamil have faced unimaginable turmoil in their short lives. Will you help give these brothers a home?
Taken as cubs from their mother and exploited for entertainment, then vulnerable in war-torn Ukraine, thankfully, they are now safe at a half-way house. With your help, we now urgently need to bring these beautiful lions 'home' to Africa, to experience peace, tranquillity and care for life at last.
Tsar & Jamil – A survival story
Born at a zoo in Kharkiv, in January 2021, Tsar and Jamil may be just two and a half years' old, but they have experienced enough suffering and upheaval to last a lifetime.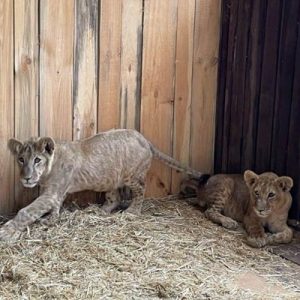 These young brothers have escaped a war-zone, and have already had FIVE different homes. As young cubs, they were sold by the zoo where they were born, to an ostrich farm to 'attract visitors'. Terrified, and far too young to be away from their mother's care, the cubs were exploited by their new owners, fed a poor diet of out of date meat, and quickly became sick, malnourished and undersized. Animal welfare groups in Ukraine successfully pushed for the farm to hand over the cubs to a rescue centre in Kyiv, where vet checks showed both had calcium deficiencies and, horrifyingly, that Tsar had tibia bone fractures.
With proper care, Tsar and Jamil began to recover from their ordeal. But in February 2022 war broke out in Ukraine and Russian troops invaded. Deafening shelling caused the stressed lions to panic and injure themselves on the bars of their cage.
But despite appalling human heartbreak and hardship in Ukraine, the incredible rescue centre prioritised Tsar and Jamil's well-being and plans were made to evacuate the lions to a temporary new home. After a long, dangerous journey, then time at a zoo in Poland, the brothers eventually arrived in Belgium, where they are being temporarily cared for by our friends at Natuurhulpcentrum (Nature Help Centre) – a wonderful half-way house.
Now we need to get Tsar and Jamil 'home' to Africa.
Please give what you can to help the brothers, by donating below.
The long journey home…

Transporting two lions over 8,000 miles (13,000km) across Europe and down through Africa is a complex operation.
First, we'll finalise paperwork, secure permits and have special travel crates prepared. On the day (we hope this autumn if the complex logistics are in place) the lions will be gently encouraged to walk into the crates, loaded onto a lorry and driven to the airport. Our precious cargo would then be flown to South Africa, where a second lorry would drive them to Shamwari.
Rest assured, our expert, experienced team will carefully monitor the brothers at every stage of the journey. Once safely at Shamwari, their crates will be opened and they'll be settled into a spacious 2.5 acre enclosure, full of grassy plains, shady trees and dense undergrowth to explore.
Because of their appalling start to life, they haven't developed the skills they would need to survive in the wild, but at Shamwari they will experience the next best thing.

could buy a health-enhancing vitamin boost for one lion

could pay for one meal for Tsar and Jamil

could buy one day's expert care for one lion at Shamwari

could cover a routine heath check for one lion at Shamwari

could help prepare the enclosure for the two youngsters*

could build a climbing frame & viewing platform**

could build a travel crate for one lion for the move

could cover vet expenses for their move to South Africa

could provide one year's expert care for one lion
Give today to secure these brothers a home
---
*To prepare the enclosure will include vegetation clearing, maintenance on the existing night house and gates. **Lions love a good view of their surroundings.
If we are fortunate enough to raise more funds than needed for the lions' relocation and lifetime care, any surplus will support our work to rescue wild animals in need and keep wildlife safe in the wild.
As soon as I heard Tsar and Jamil's story, I knew Born Free had to help. Their anxious eyes tell me the pain of their past, but here at Shamwari, Born Free has an awesome sanctuary, giving loving, expert care to 14 rescued lions, in natural surroundings in the African bush. It fills me with joy to see each lion transform under our care… I long to give Tsar and Jamil the same opportunity. Together, let's transform two lives and show the world that every single lion deserves a life of respect and compassion.
Catherine Gillson, Born Free Manager, Shamwari Private Game Reserve
Paradise Awaits
We are urgently raising funds to give Tsar and Jamil the home they deserve at our Big Cat Rescue centre at Shamwari Private Game Reserve, in South Africa.

Here, the brothers will feel African soil under their paws and enjoy the sights and sounds of their ancestral home for the first time. The sanctuary's spacious natural enclosures filled with native flora and fauna await, as does lifetime loving care, and expert nutrition and veterinary treatment.
Please give what you can today