03 April 2023
YOU'RE A LIONHEART!
Our Editor Celia Nicholls looks back over our 2022 Year of the Lion – raising vital funds and awareness for the care and conservation of the symbol of Born Free.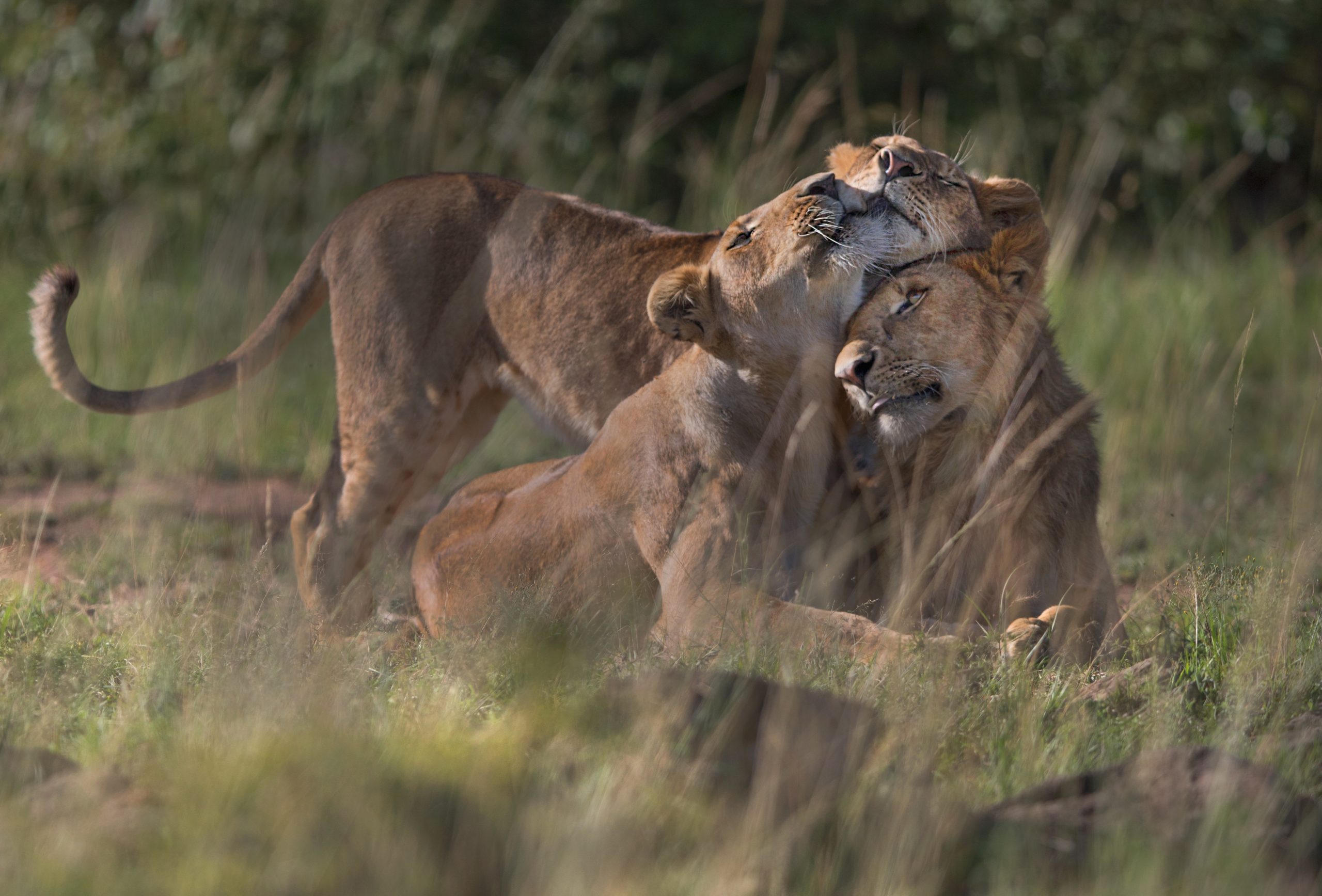 Thanks to your generosity, our 2022 Year of the Lion was a smash, raising nearly £420,000 for lion rescue and conservation from appeals and fundraising efforts. This included £62,000 from our Saving Lions Together appeal before Christmas 2022, plus a further £101,900 from lion adoptions over the year.  
The year was launched on 3 January 2022, in loving memory of our inspirational Co-Founder Bill Travers, who would have been 100 on that day.
It got off to a roaring start with the opening of our Born Free Forever exhibition of 25 life-size lions cast in bronze, in London's Waterloo, in January. Created by world-famous artists Gillie and Marc, each lion has a special affinity with our charity, not least Elsa – our original inspiration.
The exhibit toured to Newcastle, Bristol, then Edinburgh, before taking up a year's residency at Chewton Manor Hotel, in Hampshire. They were unveiled at a launch party on 30 March 2023, hosted by Will Travers and Patron Kirsty Gallacher. Now we encourage everyone to come, to marvel – and maybe even take one home! Our dazzling lion sculptures are on sale from £18,000. To invest in a masterpiece by these award-winning artists visit our Born Free Forever page!
In March 2022, hundreds of supporters worldwide joined us for an online event marking Born Free's anniversary and 38 years of action for lions. With inspiring films and uplifting stories, including a whirlwind tour of every lion ever rescued (56 and counting!), the glorious evening raised £28,161 for lions.
Over the year, thanks to your generous donations, we rehomed five rescued lions and gave them lifetime homes at two wonderful sanctuaries. First, in February, Angela, Louga, Bellone and Saida – the four Lions of Lockdown, rescued from a circus in France and waiting in a halfway house due to covid – were at last flown to our Big Cat Rescue Centre at Shamwari, South Africa. A year on they are clearly flourishing!
Then in June, we moved young Simba the lion cub rescued from the illegal wildlife trade moved from a halfway house in Belgium to a temporary enclosure at Animanatura Wild Sanctuary in Italy. Based in the rolling hills of Tuscany, the sanctuary was already home to Sandro the Born Free tiger, rescued from a terrible zoo in Spain. Born Free is continuing to raise funds to complete a permanent, purpose-built expansive enclosure for Simba, to include climbing platforms, scratching trees and private wooded areas. Construction is due to begin soon and we will report back!
On World Lion Day on 10 August, hundreds of supporters and staff took to the streets to raise funds for lions. People of all ages put their best foot forward and walked or ran 20,000 steps to honour the world's 20,000 wild lions. Other fundraising efforts including a team of 13 conquering Mount Kenya in October, led by our Patron Sally Gunnell OBE and Born Free Kenya's Newton Simiyu. Also in October our team of eight runners completed the London Marathon in aid of Born Free.
Our first in-person gathering for three years raised over £85,000 for lions, as friends and supporters flocked to our Mane Event at Denbies Wine Estate near Dorking, in September. Hosted by Patrons Dan Richardson and Gaby Roslin, special guests included Sir Michael Morpurgo and lyricist Don Black, while Catherine Gillson and Glen Vena flew in from our sanctuary at Shamwari – who kindly sponsored the event. Audiences enjoyed a West End Kids' medley, celebrity auctioneer James Lewis hosted a spectacular auction and Will Travers OBE spoke passionately. But, the highlight was our very own lioness, Virginia McKenna OBE, reminding us why we're proud to be part of Born Free's family.
In December, supporters, industry professionals and press joined Born Free and a panel of experts, both in person and online, to discuss a future Beyond Trophy Hunting, at London's Royal Geographical Society, before Christmas. A follow up event is planned at the end of 2023, so keep an eye on Born Free's events page to find out more.
Summing up our Year of the Lion Will Travers said, "My late father, Bill, would have been delighted so many of you have commemorated and celebrated his life by helping lions and other wild animals. With your help, my Born Free colleagues and I will do everything possible to protect and save our natural world. Thank you for being part of our Born Free family."
Image © www.georgelogan.co.uk