17 February 2022
WORLD PANGOLIN DAY 2022
Find out about our big plans to raise awareness of the issues faced by pangolins this year!
In honour of World Pangolin Day (Saturday 19th February) we've joined forces with David Shepherd Wildlife Foundation (DSWF) and London-based communications agency Pangolin PR, to pen an open letter to all major tech players with one very specific goal in mind – creating the first ever pangolin emoji.
The open letter (which you can read below), and has bbeen shared on our social media channels, urges tech giants including Emoji, Meta, Twitter and Snapchat, to add a pangolin to the emoji keyboard and other major apps, and explains the everyday survival challenges pangolins face, which includes the shocking figure that over one million of these prehistoric-looking creatures have been poached in the last 10 years – that's over 300 being trafficked each day.
We are encouraging our social media followers to support this call to action by resharing the open letter across their own channels using #PangolinEmoji
The main aim of the pangolin emoji is to give this critically at-risk mammal more global visibility and help turn the world's most trafficked animal into the world's most shared and cared for instead.
Since 2019, six of the eight pangolin species have been classified as 'Endangered or Critically Endangered' which means time is running out to save these unique creatures.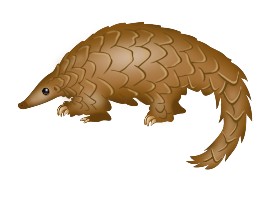 The distinct protective scales of the pangolin, which are made of keratin, the same protein that makes up human hair and nails, are used in some overseas medicinal products, resulting in the illegal trafficking and slaughter of the mammal on a catastrophic scale.
Speaking on the issue, Will Travers, Co-Founder of Born Free said: "We are excited to join forces with DSWF and Pangolin PR to share our public appeal for there to be a pangolin added to the emoji keyboard. Pangolins are the most trafficked animal in the world and are facing the very real threat of extinction – much more needs to be done to raise awareness, and we believe the introduction of the pangolin emoji will help do just that."
Georgina Lamb, CEO of DSWF also commented: "We are extremely determined to have our voice heard by some of the major players in the tech industry and introduce the first pangolin emoji. We strongly believe this will help to raise awareness of the plight of the pangolin and help people to understand the issues these trafficked mammals face each day."
You can also adopt our Pangolin Family to support pangolin care and conservation!


© SPP
READ THE OPEN LETTER BY BORN FREE, DSWF AND PANGOLIN PR:
To whom it may concern,
As you are probably aware, Saturday the 19th February is World Pangolin Day. A day which should be a celebration of an amazing creature but is currently one of sadness.
The pangolin's unique scales and characteristics make them very popular, too popular. Pangolins are the world's most trafficked mammals, and are under serious threat in the wild, with 6 of the 8 species now 'Endangered or Critically Endangered'.
Over 300 pangolins are trafficked illegally every day, with more than a million poached in the last decade.
But why are we telling you this? We believe greater awareness will improve the level of protection they currently receive. Despite the pangolin's unfortunate trafficking claim to fame, they aren't all that famous. We think we can change that with your help.
We are asking for your help to get a pangolin emoji created so people worldwide can share their appreciation of this terrific little creature safely. Don't get us wrong, we all love sharing a fun character of a snowman, a snail, even a laughing cat, but 🕒 is⏳ for… well, pangolins, you get the picture.
By driving awareness of pangolins and their plight, we could help save them from extinction. It's time for people's fingertips to do the talking and turn the most trafficked mammal into the most shared and cared for.
With thanks,