Tigers on the up in India!
13 April 2023
TIGERS ON THE UP IN INDIA!
After nearly 20 years devoted to tiger conservation in India, Born Free is delighted by the release of the latest population estimate for this endangered species.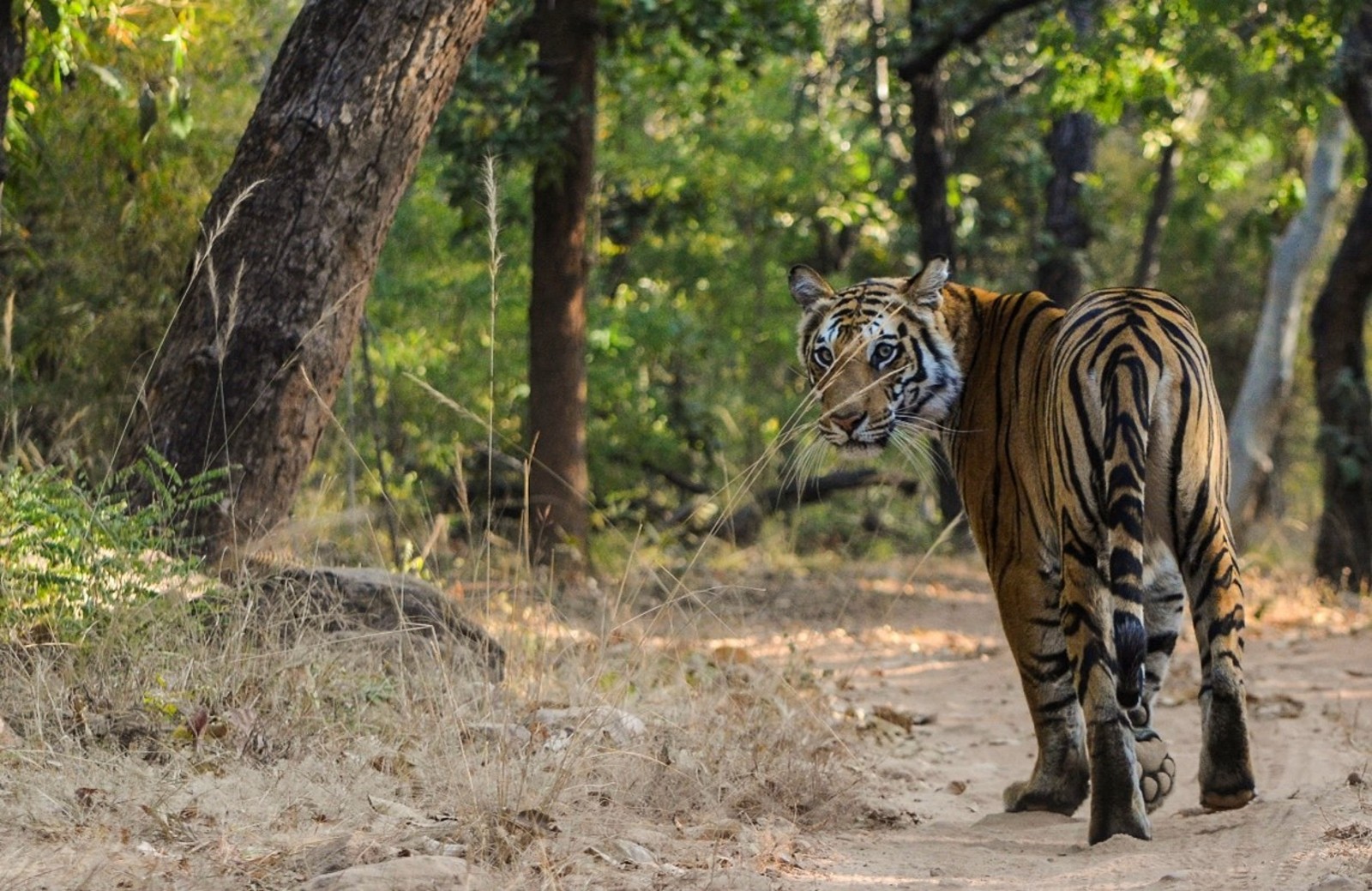 Partners of the Satpuda Landscape Tiger Partnership (SLTP), a network of local conservation organisations founded by Born Free in 2004, have shared their expert views on the recently released tiger number estimates for India. The estimation adds up to 3,167 tigers, an increase of around 6.7% compared to 2018 figures, and is more than double the number recorded in 2006.
While partners celebrate the success and the hard work of all the green guardians devoted to tiger conservation, they also stress the continued need to mitigate some existing challenges.
"This new estimate is according to the 2022 national tiger census," explains Born Free's SLTP Network Support Officer Yashvardhan Dalmia. "The summary report from the census was released by Prime Minister Narendra Modi on Sunday 9 April during an event marking 50 years of the tiger conservation programme 'Project Tiger' at Bandipur Tiger Reserve in Karnataka. The figure of 3,167 is 200 higher than the 2,967 estimate from the last national tiger census four years ago in 2018 – an increase of 6.7%."
This is the fifth census since national tiger monitoring began in 2006, with India estimating the national population every four years. The estimate is calculated from data collected from various monitoring methods including camera-trap footage and surveys utilising physical signs such as pawprint tracks. This increase is the result of a nationwide effort to preserve India's tigers, in a government-led initiative called Project Tiger. Project Tiger was established in 1973 in response to a decline in tiger populations to an alarmingly low number. Since then, the stabilisation and increase in the tiger population has resulted from several strategies including the government implementing a ban on hunting tigers. Initiatives such as Born Free's Satpuda Landscape Tiger Partnership have been key to this population trend.
SLTP is a network of eight local organisations which, with support from Born Free, aims to protect wild tiger populations ensure connectivity between tiger reserves, reduce human-wildlife conflict with local communities and to aid rural development.
Kishor Rithe, founder of SLTP partner Satpuda Foundation, said, "The report is realistic and shows the tough path ahead to increase this population further. Tiger conservation in the corridors will be the most difficult challenge ahead to retain and increase this population further."
The Satpuda Foundation is undertaking a range of initiatives for the local communities such as providing basic healthcare, offering sustainable livelihood opportunities as well as conducting awareness and education programmes to encourage people to conserve their surrounding tiger habitats.
Prime Minister Narendra Modi, speaking at an event celebrating 50 years of 'Project Tiger' on Sunday 9th April in Bandipur Tiger Reserve, Karnataka
Anish Andheria is president of SLTP partner Wildlife Conservation Trust, which undertakes a host of programmes for the capacity building of frontline forest staff, research, and welfare of local communities shared his thoughts and decoded the numbers. He said, "We can't categorise the number as good or bad, it's an upward trend. The numbers from central India and Shivaliks are as expected but the increase in population is muffled because of the reduction of tiger occupancy in the Western Ghats. Maharashtra and Madhya Pradesh in Central India have done well as far as tiger numbers go. Though the forest cover has gone up in some regions, the good-quality forests are getting degraded and becoming poor-quality forests. This is worrisome."
Speaking about the challenges and opportunities, Andheria added, "Challenges like linear infrastructure projects, forest fires, human-wildlife conflict, dependency on fuelwood, cattle grazing, and poaching of prey continue to exist. As a country, we must feel proud as we have 75% of all wild tigers on earth, keeping in mind that we also have 1.4 billion people. However, we have to become better and the solutions are within the country. Other Indian states can learn from the states which are doing well for tiger conservation."
Shedding light on what the next few decades should ideally look like for tiger conservation in India, and speaking about the need to tune actions with commitment, Kedar Gore, Director of SLTP partner The Corbett Foundation said, "With the latest estimate of a minimum 3,167 wild tigers, India is the undisputed global leader in tiger conservation and we must leave no stone unturned to live up to the raised expectations of other tiger range countries and rest of the world.
"Our actions must be in tune with our commitment to protecting tigers and maintaining the integrity of their habitat for posterity. With a huge human population, India faces intense pressure to implement ambitious projects of linear infrastructure, mining, dams, urban development at the cost of the precious forests that are not just home to tigers but also provide ecosystem services that are essential for the survival of humankind. India's economic policies and development for the next 50 years should be built on strong ecological foundations that ensure a secure future for tigers, their prey, and their forests. If this happens, it would be the real success of Project Tiger."
Supported by Born Free, SLTP will continue to fight to protect tiger populations and secure critical habitat by mitigating human-tiger conflict and increasing awareness and sensitisation towards tiger conservation. Through these initiatives, coexistence between people and wildlife will be promoted throughout the Satpuda Landscape – and in particular in key corridor areas between tiger reserves – allowing the tiger population to continue to prosper.
Thank you to all SLTP partner teams, frontline forest staff, local organisations and the local community, concerned government authorities, and funders, for their consistent dedication and commitment towards conserving tigers and their habitats.
You can show your support by donating to Born Free's End Wildlife Conflict appeal, and contribute to this ongoing work to save India's tigers.
©Yashvardhan Dalmia, SLTP