Ten terrifying tiger facts
TEN TERRIFYING TIGER FACTS
Tigers are the largest cat on earth. They are agile, with flexible bodies designed for running, jumping and climbing. Heavily-muscled forelimbs, retractable claws, powerful jaws, sharp teeth and acute senses make them awesome hunters.
Their distinctive markings blend in to the colours and shadows of their habitat.
Generally solitary, tigers live and alone; the size of their territory varies with prey abundance.
Tigers use scent to communicate – they spray urine and rub scent on trees and bushes to inform other cats of their whereabouts.
But this supreme hunter is in extreme crisis in the wild.

The next ten tiger facts are truly terrifying…
96% of tigers have been wiped out in the past 100 years

Today, fewer than 4,000 tigers remain in the wild

More tigers are kept captive in the USA than live in the wild

Wild tigers' range has shrunk by 93% in 150 years

Tigers exist in 11 Asian countries but have become extinct in 10

The tiger is the closest to extinction of all big cats

Three out of eight sub-species have gone extinct in 50 years

Just 350 Indochinese tigers remain

8,000 tigers farmed in China, Thailand, Vietnam & Laos

Over 320 tigers and other wild cats are kept as pets in the UK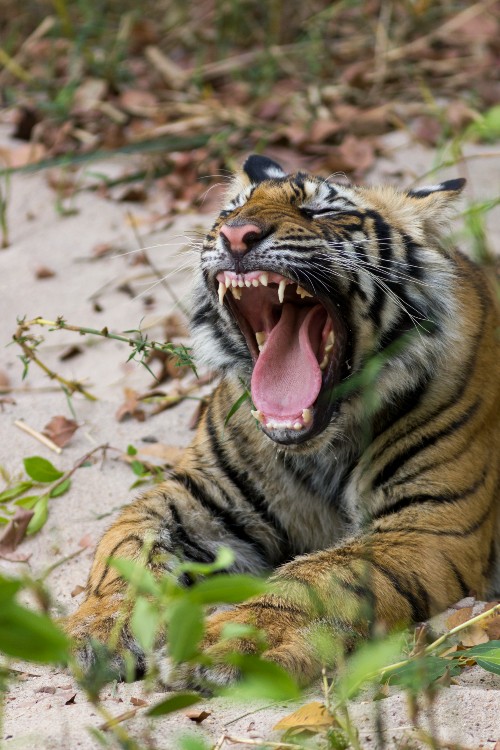 Born Free works for tigers both in the wild and in captivity. In the wild, we are working globally to provide a unified, focused and co-ordinated programme for conservation initiatives to stop tiger poaching, put an end to tiger trade, and ensure their survival. We also work to highlight the plight of tigers in captivity by encouraging improvements to animal welfare legislation and supporting improved care.
We need to protect tigers. We MUST do more.
YOUR help will make the difference to conserving this magnificent species for generations to come.

SHARE ON FACEBOOK SHARE ON TWITTER
Images © Michael Vickers / www.tigersinthe forest.co.uk, Richard Hurrell / www.richardhurrell.com