22 July 2022
SIMBA: ONE MONTH ON
With the help of supporters, Born Free has a given a new life to a rescued young lion and is now raising funds for his lifetime care and to build him a purpose-built permanent home.
Do you remember the young lion, just weeks old when found abandoned in a cardboard box in Moscow and desperately crying for his lost mother? Simba was taken in by the Russian Wild Nature Hospital and, when they asked if we could give him a forever home, we couldn't say no!
But now Born Free is urgently raising funds to pay for Simba's lifetime care and to build him a purpose-built home – can you help?!
In June, Born Free moved the youngster, now aged around two, to a wonderful home for life with our friends at Animanatura Wild Sanctuary in Italy. Unfortunately, we didn't have space to take Simba to one of our sanctuaries in South Africa but, here in the warmth of the Tuscan hills, he can have the next best home to Africa. At the sanctuary, Simba has happily settled into his temporary enclosure.
"Simba has been here now for about one month," explains Lisa Russo at Animanatura. "He's enjoying his temporary enclosure. He scratches his claws on tree trunks, is sleeping and eating really well. We usually give him about four kilos of meat per day, one day inside his shelter and one day hanging from a tree, so he can play and get a bit curious with his food.
"Simba had such a sad beginning to life. Abandoned, crying… He hasn't had his mother's love, but I can guarantee he's got a lot of love now! We now want to build Simba a brand new area, so if anyone wants to help they can be part of this fantastic project and build an even better and bigger home for Simba in the future."
Born Free is now urgently raising funds for Simba's lifetime care and to build him a spacious, purpose-built grassy enclosure on the hillside. Can you help?
With your support, Simba's new home will be filled with trees, have extensive climbing structures, a viewing platform (a good view of their surroundings is really important for big cats' mental wellbeing) and a bathing lake. There will also be a special indoor area and shelter zone with wooden platform beds, with the entire area enclosure surrounded by trees and shrubs to maximise privacy for this remarkable young lion.
How your gift could help
£14 could buy Simba two days' nutritious food
£25 could buy Simba health-enhancing vitamins
£195 could buy one week's food and expert care
£430 could buy a raised bed for Simba to sleep and eat on
£3,500 could build Simba a climbing platform
£11,400 could look after Simba for one year including food and care
£45,000 would contribute towards Simba's spacious new enclosure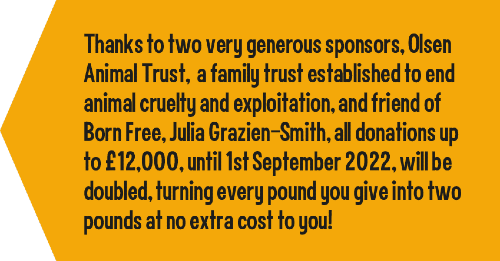 SHARE ON FACEBOOK SHARE ON TWITTER