SANDRO SETTLES IN
Thanks To Your Support, Born Free's Newly Rehomed Tiger Sandro Is Settling In Nicely At His New Lifetime Home.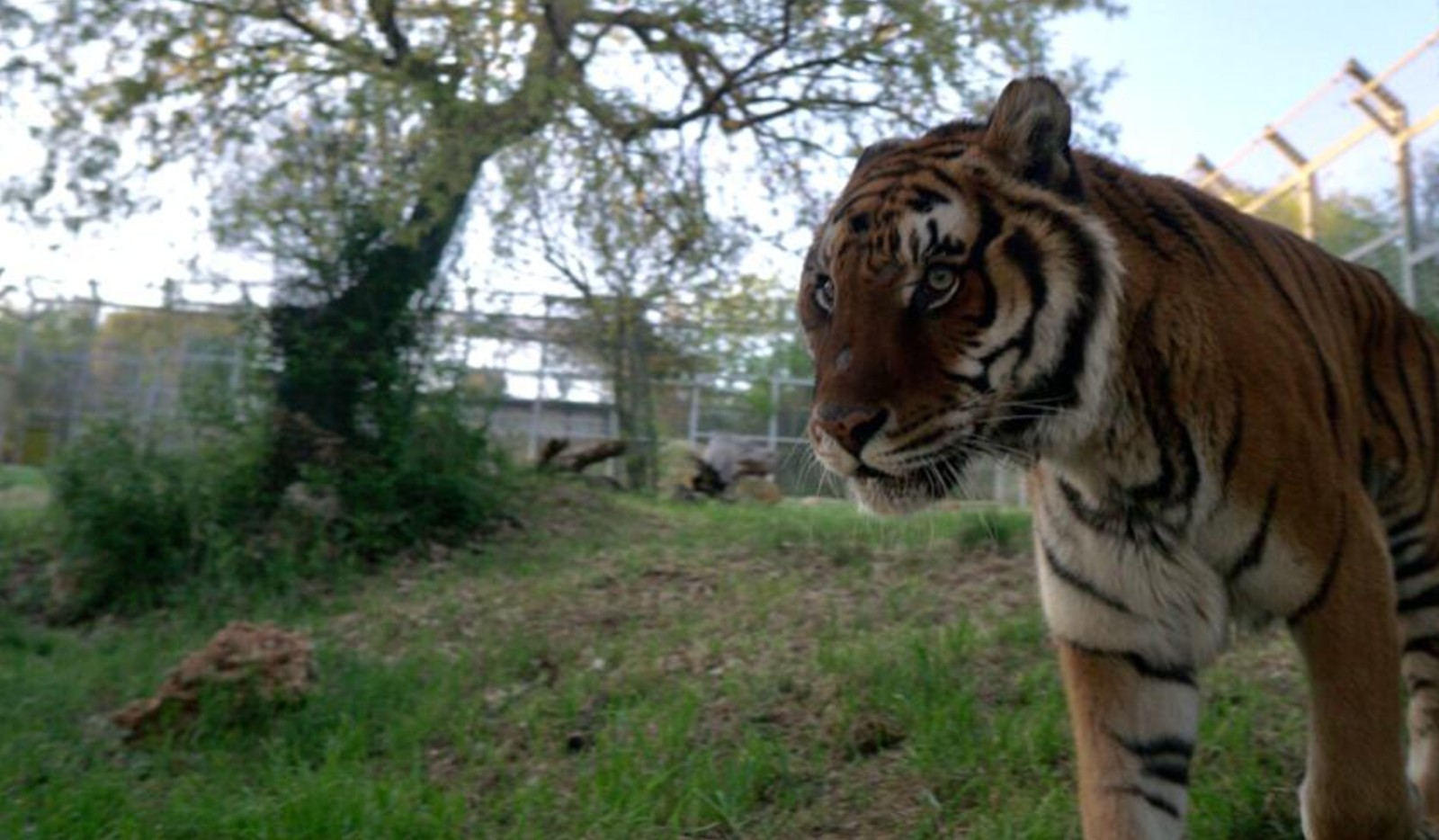 Wondered what you've achieved this week? Well, with YOUR help, Sandro the Real Tiger King is taking it easy in his spacious temporary enclosure at his new forever home – a tranquil sanctuary in northern Italy.
The only sound, apart from birdsong, is the water splashing into his swimming pond (did you know tigers love water?!) and Sandro takes a leisurely dip before sauntering (or is it swaggering?) across the grass, patrolling through the trees before returning to the pond and a quick shower under the fountain.
"What a contrast to his years living in a rundown zoo in Spain, noisy visitors banging on the glass of his cramped and barren pen," said a delighted Maggie Balaskas, our acting Head of Rescue & Care. "Working together with you, THIS is what Born Free is all about. Now your gift today could help us provide Sandro with the good food and loving care for life he deserves in his peaceful new home AND help build him a vast permanent enclosure, over an acre in size!"
How your gift will help:
£5 could buy health-enhancing vitamins
£14 could buy two day's nutritious food
£195 could buy one week's loving and expert care
£3,500 could build a climbing platform (tigers love a good view of their surroundings!)
£10,130 could look after Sandro for one year including food and care
£45,000 would help develop an even more spacious new enclosure
Born in captivity, Sandro endured many years in a small and barren pound in Ayamonte, a ghastly zoo in Spain. Thankfully, after years of Born Free campaigning with our Spanish colleagues, Ayamonte Zoo was closed down in 2019. Homes were found for the other animals, but Sandro had been waiting at a halfway house with our colleagues at Natuurhulpcentrum in Belgium. With your help, he can now live the rest of his life free from harm in a spacious, natural enclosure at Animanatura Wild Sanctuary. Please help Born Free provide his lifetime care.
SHARE ON FACEBOOK SHARE ON TWITTER
Image: © Centro Recupero Animali Selvatici della Maremma