People, elephants and bees
9 February 2023
PEOPLE, ELEPHANTS, AND BEES
Born Free is helping farmers and elephants live together without conflict, thanks to innovative and cost-effective natural solutions.
At Born Free, we are always looking for novel strategies to reduce conflicts between humans and wildlife so both can thrive. In Meru, Kenya, our Saving Meru's Giants team has constructed beehive fences – elephants avoid bees, so this is a simple, effective, nature-based strategy to reduce conflict between elephants and farmers. Using such techniques will promote real benefits for elephants and the people living alongside them.
Subsistence and small-scale farmers in the Meru Conservation Area are constantly wary that elephants will raid their crops if they venture outside the park's boundaries. Crop raiding results in significant losses for local farmers, as well as generating widespread hostility toward elephants as they're viewed as a threat to their livelihoods.
Many farmers already face extreme economic challenges and each crop-raiding event threatens to push them into severe poverty, while the negative perception of elephants makes them extremely vulnerable to retaliatory harm and even killings. Such conflict is a significant threat to elephant populations in Meru and throughout Africa, representing a barrier to conservation efforts for elephants and wildlife in general.
The use of 'beehive fences' to enclose farms is already one of the most effective solutions we are testing to reduce elephant crop-raiding behaviour. The strategy makes use of a long-standing natural relationship between elephants and bees – elephants are afraid of honeybees – and has been proven to be highly successful.
Through the harvesting and sale of honey, this technique also provides farmers with an alternative source of income, further showing them the benefits of conservation and promoting peaceful coexistence. Additionally, since a greater variety of plants will increase the bee population, we hope this will inspire locals to increase the variety of plants and even reforest their farms.
The innovative method was developed by Dr Lucy King of Save the Elephants, who observed that elephants naturally avoid bees – imagine the risk of bees flying into an elephant's trunk!
T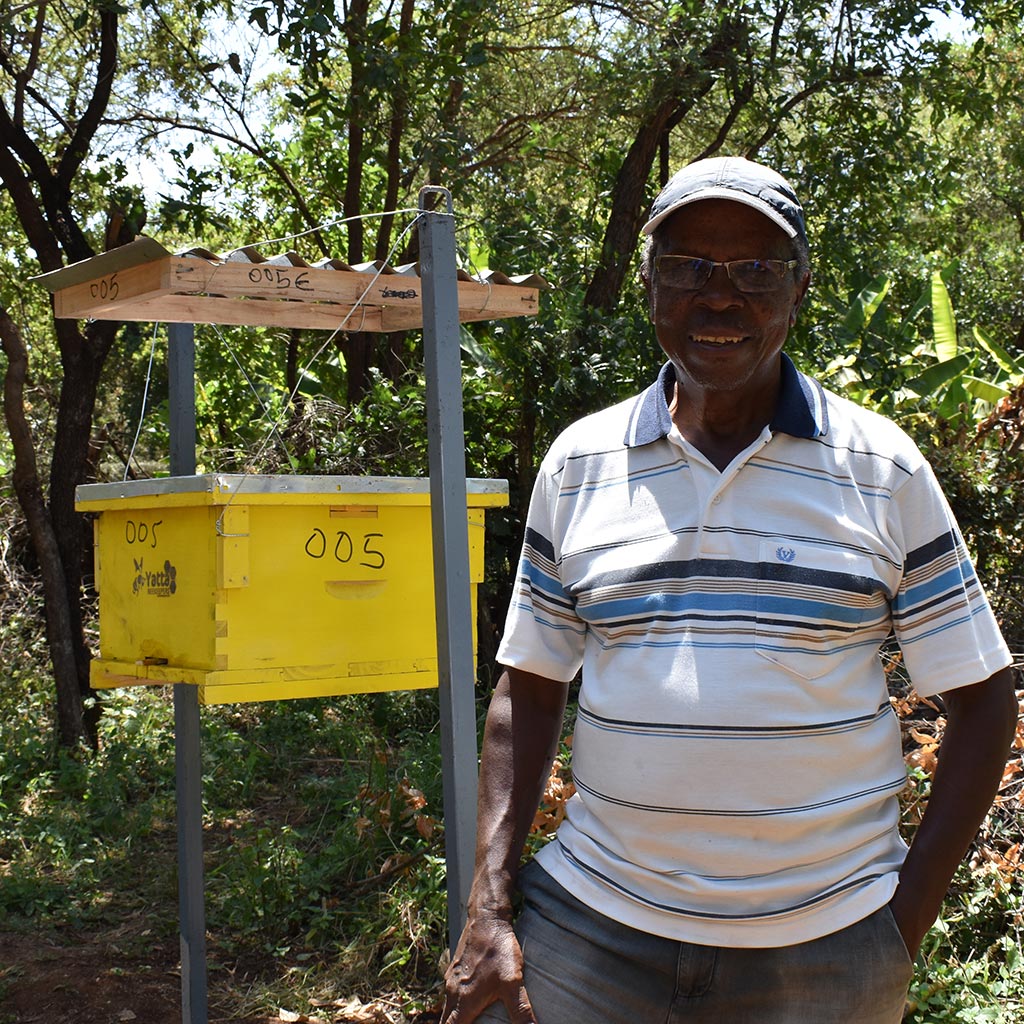 he design incorporates locally constructed beehives, which are strung intermittently between metal poles to compose a simple fence. When elephants bump into the fence and disturb the hives, the sound and threat of bees causes elephants to flee.
Saving Meru's Giants has installed beehive fences around ten farms in the community areas adjacent to Meru National Park. As with many nature-based mitigation measures, this method is simple and cost-effective.
Currently, wire fences are erected around farm plots bordering National Park where human populations have increased and elephants are knocking down fences and raiding crops including maize, fruits, and vegetables.
Now a total of 120 beehives have been installed – twelve beehives and twelve dummies, interconnected by wires, are placed around each one-acre farm.
When the elephants come to the farms looking for food and knock into the wire, the swarming bees deter them from stealing crops. We will be closely monitoring the effectiveness of the beehive fences during the next year, recording all events as they happen and watching, via camera traps, the behaviour of the elephants.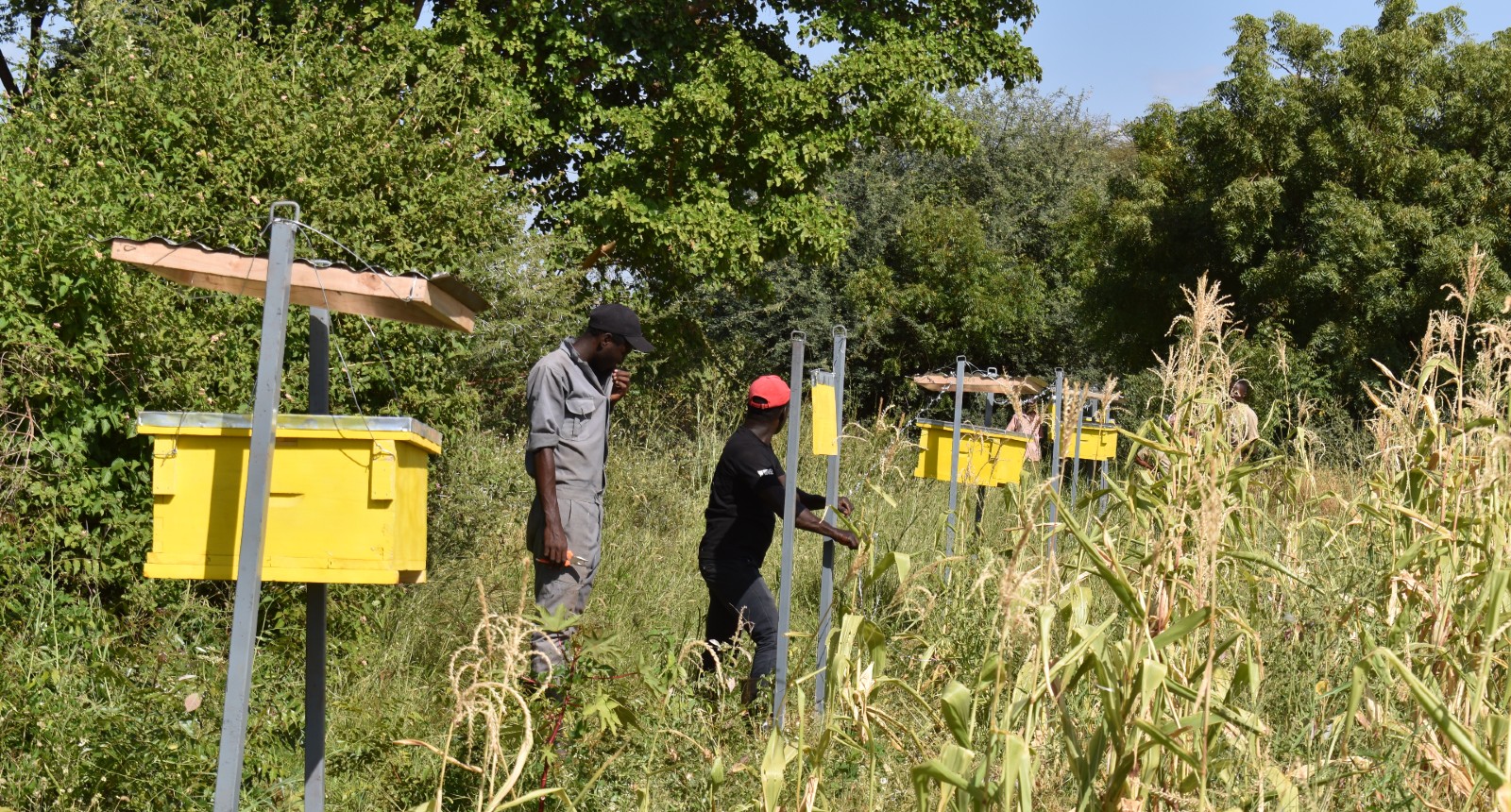 In the following year, we hope to expand the project and introduce ten more farmers to the benefits of beehive fencing. Since not all farmers in the Meru Conservation Area will be given beehives, the project will also encourage them to grow crops that elephants dislike, such as turmeric, ginger, onions, garlic, and sunflowers as complementary measures.
We are also educating the community about other low-cost and effective methods to deter elephants such as chilli bricks (bricks made of dung, water, and ground chilli, which elephants dislike), trip alarm fencing, and flashing lights.
John Mwalim Mureithi, one of the first recipients of Born Free's beehive fences said, "I take this opportunity to thank Born Free for initiating this beehive fence project and urge the ten beneficiary farmers to work hard as a team to ensure the project succeeds. It is very sad seeing elected leaders inciting community members to take action of killing elephants."
You can support Born Free's work in Kenya and fund more beehive fences, by donating to our End Wildlife Conflict appeal, or giving a Beehive Virtual Gift.