18 October 2022
ON TOP OF THE WORLD!
Born Free Kenya's Newton Simiyu recalls the highs and lows of scaling Mount Kenya as part of our Climb for Conservation.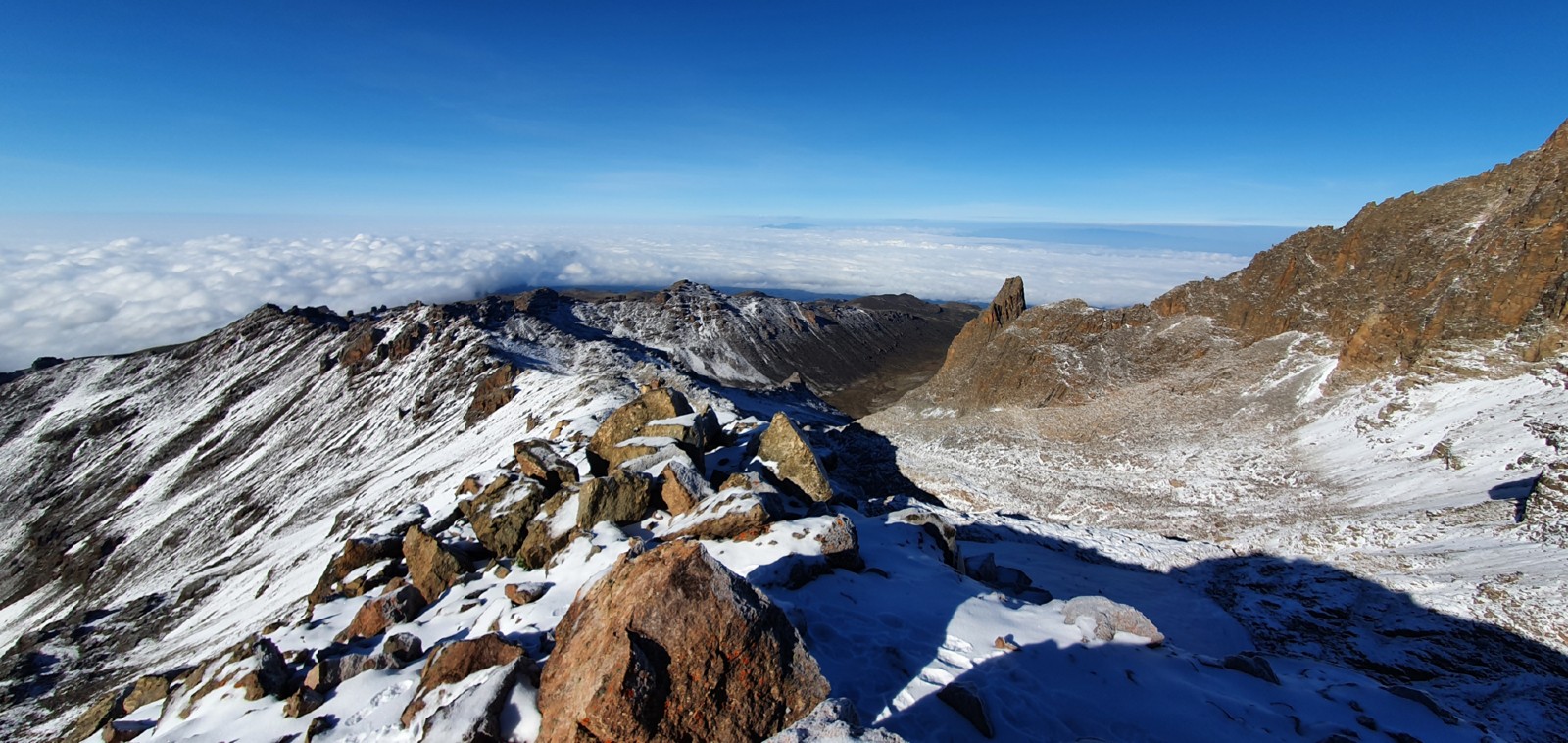 Back in March 2022, a vote of confidence by my colleagues saw me nominated to climb Mount Kenya as Born Free's charity representative for the Climb for Conservation challenge – the first of its kind to support our conservation work.
I was determined and believed that, come October, I would accomplish the mission to view the country from the Lenana peak of Mount Kenya. In preparation for this excursion, I did thorough background check which revealed that tackling Mount Kenya is not an exercise for the faint hearted; none the less I maintained a strong resolve and remained undeterred, I would not let this opportunity pass by.
My busy work schedule made preparing for the climb a tough balancing act as I had to sacrifice evenings, weekends, and resting periods to do several long-distance training sessions. I also climbed Mount Longonot and Kilimambogo hills to ensure I was fit enough to tackle Mount Kenya. Additionally, I had to make sure I had all the correct kit for this epic challenge! Part of the preparation also entailed getting to know the other members of the Climb for Conservation team virtually, before they flew into the country for the big challenge!
D-Day: On 3rd October 2022 at 8am, we kicked off the journey for the mountain climb from Longview Hotel in Nairobi. The 15-member team comfortably departed from the hotel for Mianzi camp on the outskates of Nanyuki town; only to be confronted by the ever-chaotic Nairobi traffic… it was almost like preparation for the rough climb ahead! We were very enthusiastic and filled with fantasies of conquering a mountain… but these notions, as we would later find out, were mere delusions whispered to us by our sense of self confidence!
We arrived at Mianzi camp, which is 2000m above sea level, at around 2pm where we were met by our guides Mr. Jackson Maina and Mr. Michael Gitahi. Upon arrival, our very first activity was to pitch tents where we would spend our first night. That afternoon we set off for a three-hour acclimatization walk, hoping to get to the Mau Mau cave, but this was not to be due to the heavy downpour and slippery trails. We headed back to camp for dinner and an early night, but unfortunately that wasn't to be, as the Tree Hyrax spoilt our one and only tent night because of their noisy gang wars!
"As they say, "the man who goes down Mount Kenya is not the one who went up it." Truly, the mountain changes you, beats out your arrogance and your pride. You really look at yourself in ways you have not done before. It is a spiritual place. It will chew you up, punish you but you will love the mountain for it."
Day one: The following morning we set off from Mianzi camp for Sirimon Gate at Mount Kenya National Game Reserve. Our drop-off point for the hike was located a few kilometres from Nanyuki town, Sirimon gate is at an altitude of 2650m. Here, Jackson introduced us to his team of seventeen porters and a chef that had been waiting for us.
We started preparing for the initial ascend which would see us trek for about 9km from the Sirimon gate all the way to Old Moses camp – the first camp which is at an altitude of 3300m; here we would have dinner and an overnight stay. The porters set off ahead of us with our luggage each carrying at least 15 kgs up the mountain. Other than the elephants and buffalo scare along this initial trek, this first climb was easy as it was on a fully tarmacked route winding uphill through a sparse forest.
After hiking for around four hours, we got to the Old Moses camp. The porters had already reached at the camp a few hours before us, and the chef prepared dinner. With nothing much to do after dinner, we all retired to our high school dormitory style beds looking forward to day two of the adventure!

(c) Sally Gunnell
Day two: We set out to cover a 14km trek from Old Moses Camp to our second camp, the Shiptons Camp which is at an altitude of about 4200m. The first part of our trek having been easy and bearable, I was deceived to imagine that the next leg would be a walk in the park… I was wrong! The exceedingly long walk to the camp proved to be difficult. The rapid shift towards a higher altitude served only to exacerbate the gruelling ordeal. It was day two and the mountain was already making its mark on our psyche, challenging us, almost taunting us, and establishing its dominance of us mere mortals.
It was on this stretch that we began the trek through heathland following the trail uphill, across the Ontulili river and progressing into moorland and passing liki river located on the floor of a glacier valley. We used this opportunity to rest and refill our water bottles before proceeding uphill and into the Mackinder's valley.
The hike to Shiptons Camp took us around eight hours. After withstanding light showers and snow fall, everyone was left exhausted. Our limited energy was spent having dinner before we retired to bed in our dormitory. By this time, majority of us had started experiencing the impact of operating on a high altitude also known as mountain sickness. Jackson, our team guide kept assuring us despite the freezing night temperatures which made sleep virtually impossible.
At this point it became clear that not all our team members would be able to summit to point Lenana, and four of our numbers descended from Shiptons Camp back to Old Moses and were transferred to the hotel in Nanyuki.
Day three: Summit Day! We were all up at 2am, dressed in summit gear and ready to tackle the remaining 3km climb to Point Lenana, then 3km back down to Mackinder Camp for our breakfast. The climb started on frozen spree and continued a rocky track with some minor scrambling.

(c) Newton Simiyu
We courageously manoeuvred our way up the steep snow-covered slopes in the dark for what seemed like an eternity. The cheery moods and enthusiastic spirits from team members seemed to have faded and all one could long for was to get to the peak. This is when the realization dawned on us that 'no one conquers the mountain' begun to earnestly sink.
The beautiful snow-covered slopes did not serve to distract us from the psychological and physical tribulations of climbing a mountain, the only energy left was for putting one foot in front of another, one step at a time.
Finally, we made it to Point Lenana at around 7.30 am, the scenes we met were those of a spectacular view and utter awesomeness. Mount Kenya towers above puffy white clouds, in its magnificence. We spent a few more minutes enjoying the view and taking photos, whilst mentally calculating how we would manage the steep descent to Mackinder camp. We all held our heads up high after accomplishing what seemed like mission impossible at first.
Soon after, we began descending the ridge of Lenana using the Naro Moru route. We trekked to the Austrian hut just below the summit. The ridge was quite narrow in sections, and we took our time with utmost carefulness this being a high-risk descent. From the Austrian hut, we continued down to Mackinder's camp (4160m) for breakfast and had a chance to relax before continuing our descent down to the Teleki Valley via the infamous 'vertical bog' to reach Met Station banda where we stayed in for the night.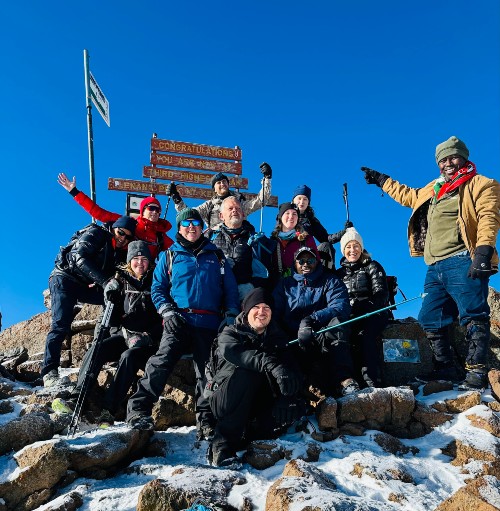 (c) Katharine Cordner
Day four: After an early breakfast we descended 9km through the rainforest to Naro Moru park gate – the pick point to Nanyuki. Here, we found our chauffeur ready to transfer us to the Anka Resort Nanyuki for a well-deserved rest and shower.
As they say, "the man who goes down Mount Kenya is not the one who went up it." Truly, the mountain changes you, beats out your arrogance and your pride. You really look at yourself in ways you have not done before. It is a spiritual place. It will chew you up, punish you but you will love the mountain for it.
It was an experience I shall never forget.

(c) Dan Dewhirst