Monkey rescue in ethiopia
MONKEY RESCUE IN ETHIOPIA
Four grivet monkeys are now safe at our Ensessa Kotteh rescue centre, after their dramatic confiscation from an amusement park in Addis Ababa.
Our team in Ethiopia, led by Head of Centre Bereket Girma, has helped the Ethiopian Wildlife Conservation Authority (EWCA) and local police with the confiscation of four grivet monkeys from a small amusement park on the outskirts of Addis Ababa. All four grivets are now safely at our Ensessa Kotteh rescue centre, a 43-mile drive from the facility.
Aware the EWCA was investigating the amusement park with a view to seizing the primates, Bereket had been monitoring the situation for some time. Together with Ensessa Kotteh's driver and mechanic, Melese Mekonen, he arrived at the park equipped with travel crates, blankets, food for the monkeys – three males aged four-five years and one female aged three – and an emergency care kit.
The three male monkeys had reportedly been kept at the facility for at least a year, tethered by chain or rope, often without shade. Almost continually on display, they were frequently handled for 'entertainment' and fed an entirely inappropriate diet of biscuits and fruit – high in sugar which can lead to numerous health problems. Fortuitously, on the day of the rescue as the team were in the process of carefully crating the primates, an individual unexpectedly arrived at the amusement park with the intention of selling the female grivet to the facility.
Born Free's Head of Rescue & Care Maggie Balaskas was delighted by the successful mission. "I am so glad we are able to give all four grivet monkeys a better home. Huge thanks to Bereket, Melese and the animal care team for all their work to respond so quickly and ensure the primates got to a place of safety."
The police are now gathering evidence in the hope a prosecution for the illegal keeping of the primates at the amusement park will go ahead. All four monkeys are undergoing a heath check at our rescue centre and will complete time in quarantine. The team are also starting to transition the grivets onto a more appropriate and species-specific diet.
The monkeys are naturally omnivorous, mainly feeding on fruit and grains in the wild, as well as leaves, roots and occasionally small reptiles, young birds and insects. Closely related to the better-known vervet monkey, the grivet lives in complex family groups in savannah woodland especially near rivers (they are good swimmers) and spend most of their time in trees.
Although not classified as Endangered by the IUCN (International Union for Conservation of Nature and Natural Resources), their habitat is threatened with destruction. In Ethiopia, monkeys are targeted for use in the captive industry, by private keepers who want to keep them as pets or by facilities like the amusement park and zoos for entertaining visitors. Interestingly, this 49cm monkey has a long history of being exploited by people, with grivets depicted on Egyptian tombs as household pets on leashes.
You can help provide food and care for the four rescued monkeys and support Ensessa Kotteh's remarkable work ongoing for wild animal rescue and conservation in Ethiopia by supporting our Safe Haven for Wildlife appeal.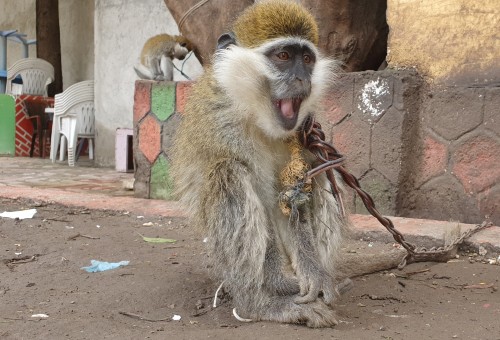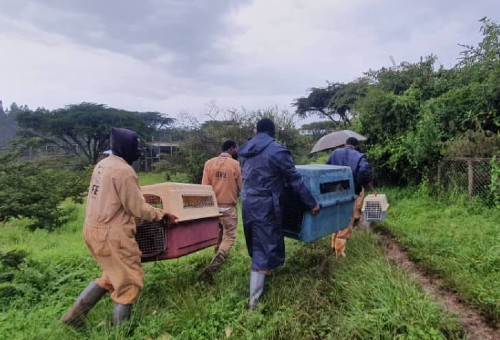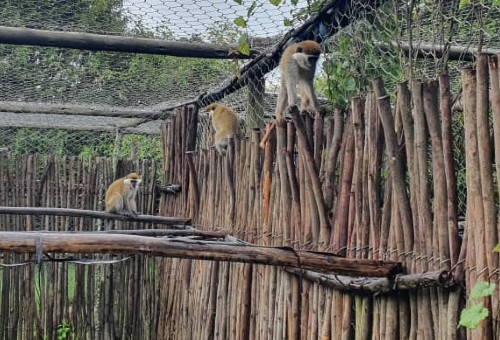 Images © Bereket Girma