MERU'S ENIGMATIC LIONS
Our field team in Kenya monitors the lions of Meru National Park daily, so they have come to know them all very well. Here, the team reveals the lions they enjoy looking out for the most.

G-coy
MOSES NYAGAH: G-COY AND MUKURI
Having worked in Meru for the past five years, I have lots of admiration for two of my favourite lionesses, G-coy and Mukiri. Both are tree climbers – a trait they have passed on to their cubs.
We have sighted them on more than 10 occasions climbing trees around Bwatherongi Plains, and rocks around Leopard Rock.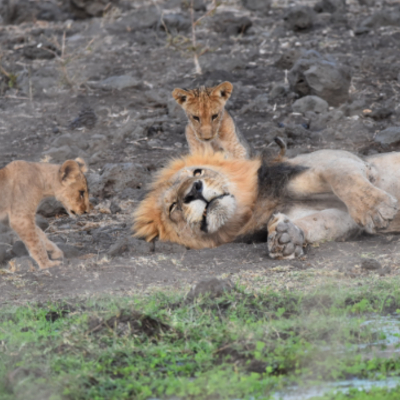 Mfalme
GITONGA MOSES & NEWTON SIMIYU: MFALME
Mfalme is quite an exceptional lion in Meru. Mfalme took over Elsa's Pride in 2017, ousting Simon, and siring six cubs. He then expanded his territory to the Mulika Pride, ousting George and Moja and sired another six cubs. However, in June 2019, two energetic young males, Solio and Mang'erete, conquered his territory.
Since then, Mfalme managed to woo two females to form the current Mulika sub-group and fathered two cubs, which we have observed him playing with.

Silver Eye
VICTOR CHERUIYOT: SILVER EYE
My favourite lioness is Silver Eye. Her name is derived from her distinctive silver-like left eye – possibly discoloured due to an encounter with a cobra that spat in her eye, but we're not sure.
Silver Eye's pride has six cubs, but it has been a challenge to tell which cubs belong to her. She has been lactating and we've seen her playing with all the cubs. She also took on a male cub from Elsa's Pride who ran away following the takeover of the pride by Solio and Mang'erete.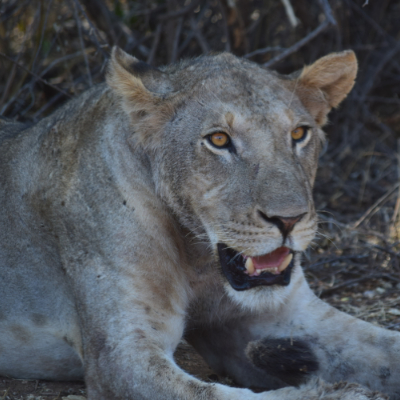 One of the lions from the NB Coalition
SHADRACK KIMEU & CAROLINE NG'WENO:
THE NB COALITION
The more the merrier, and the stronger – this is the survival tactic of the NB Coalition.
The coalition consists of four males aged three-and-a-half years old. Having lost their mother at two years old, they have had to learn fast and work together as a team to survive. They are also known as buffalo hunters for their remarkable reputation to kill buffalo; they never give up on their hunting quest.
Occasionally we have sighted them prowling buffalo, especially along the rivers. In 2018, they tried to take over Elsa's Pride but were overpowered by Mfalme due to inexperience. However, it's only a matter of time until they gain superiority over other males.
THE LAST LIONS OF MERU SHARE ON FACEBOOK SHARE ON TWITTER