MEET OUR TEAM IN MERU
Our team based in Meru National Park, Kenya, are out in the field every day monitoring lions
CAROLINE NG'WENO – WILDLIFE ECOLOGIST
Caroline joined the programme at the beginning of 2019, and has vast research and field experience. For the past 10 years, she has worked with various conservation organisations. Her passion is to understand how effective large carnivore conservation can be achieved in modern-day Africa through championing human-wildlife co-existence. Caroline's inspiration is the opportunity to constantly pursue new research questions in some of the most beautiful landscapes with some of the most big-hearted, souled people.

NEWTON SIMIYU – RESEARCH OFFICER
Newton co-ordinates the programme's field monitoring activities. He holds a BSc in Environmental Studies from Kenyatta University. He has a deep interest in conservation and enjoys working in the field as it offers him an opportunity to observe big cats up close. His favourite field activity is tracking lions to better understand their secrets, as they are quite elusive.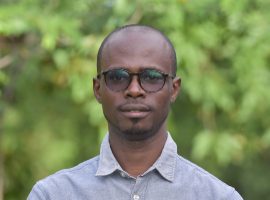 CHARLES NJOROGE – EDUCATION OFFICER
Charles was brought up at Kanjoo village, bordering Meru National Park. For 14 years, he worked with Kenya Wildlife Service before joining Born free. His passion is giving back to the community by giving them knowledge and information they need, so as to change their attitude towards conservation and so far he has seen positive change as community members embrace conservation education.
He is always happy to work with schools because the children are partners in conservation; interacting with them helps him know what they know about wildlife and our environment. These kids are the future conservationists!
MOSES GITONGA – RESEARCH ASSISTANT
Moses joined the team in 2015 and assists in collecting and recording valuable data that will help us understand more about human-carnivore co-existence and carnivore conservation dynamics. He is fascinated with technology, loves tracking lions and is an avid photographer. He helps with the collection of photographic ID profiles for Meru's lions. Moses loves being out in the field tracking lions or watching giraffe – his favourite animal.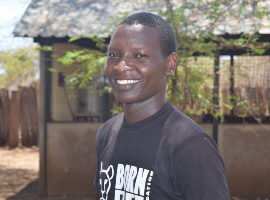 MOSES NYAGAH – RESEARCH ASSISTANT
Moses was born and raised in Meru. He worked as a volunteer at Ura gate primary school as an untrained teacher for three years, before joining Born Free in 2015 to carry out community education and outreach around Meru Conservation Area. Growing up surrounded by wildlife, he developed a keen passion for conservation. His community are hunters and gathers so it was a challenge to change their mindset, but over time he has won the hearts of not only his people, but also the communities around Meru National Park.
SHADRACK KIMEU – RESEARCH ASSISTANT
Shadrack worked as a volunteer for Born Free's de-snaring project for eight years and was startled by the number of animals captured with snares. Within this period, he recovered over 4,000 wire snares and apprehended six poachers. Shadrack was not willing to let species disappear on his watch, so he joined the Born Free team in 2015. He monitors lions and is an expert in detecting spoors and sighting lions.
VICTOR CHERUYOT – RESEARCH DRIVER
Victor is in charge of the programme's vehicles. Working with the team is a dream come true for Victor because he has a passion for conservation. He loves the landscape and every drive provides a unique experience.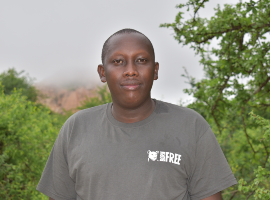 SHARE ON FACEBOOK SHARE ON TWITTER