Marching for lions in kenya!
9th August 2022
MARCHING FOR LIONS IN KENYA
Born Free is joined by over 600 supporters for a ROARSOME Walk on the Wild Side event in Meru, ahead of World Lion Day.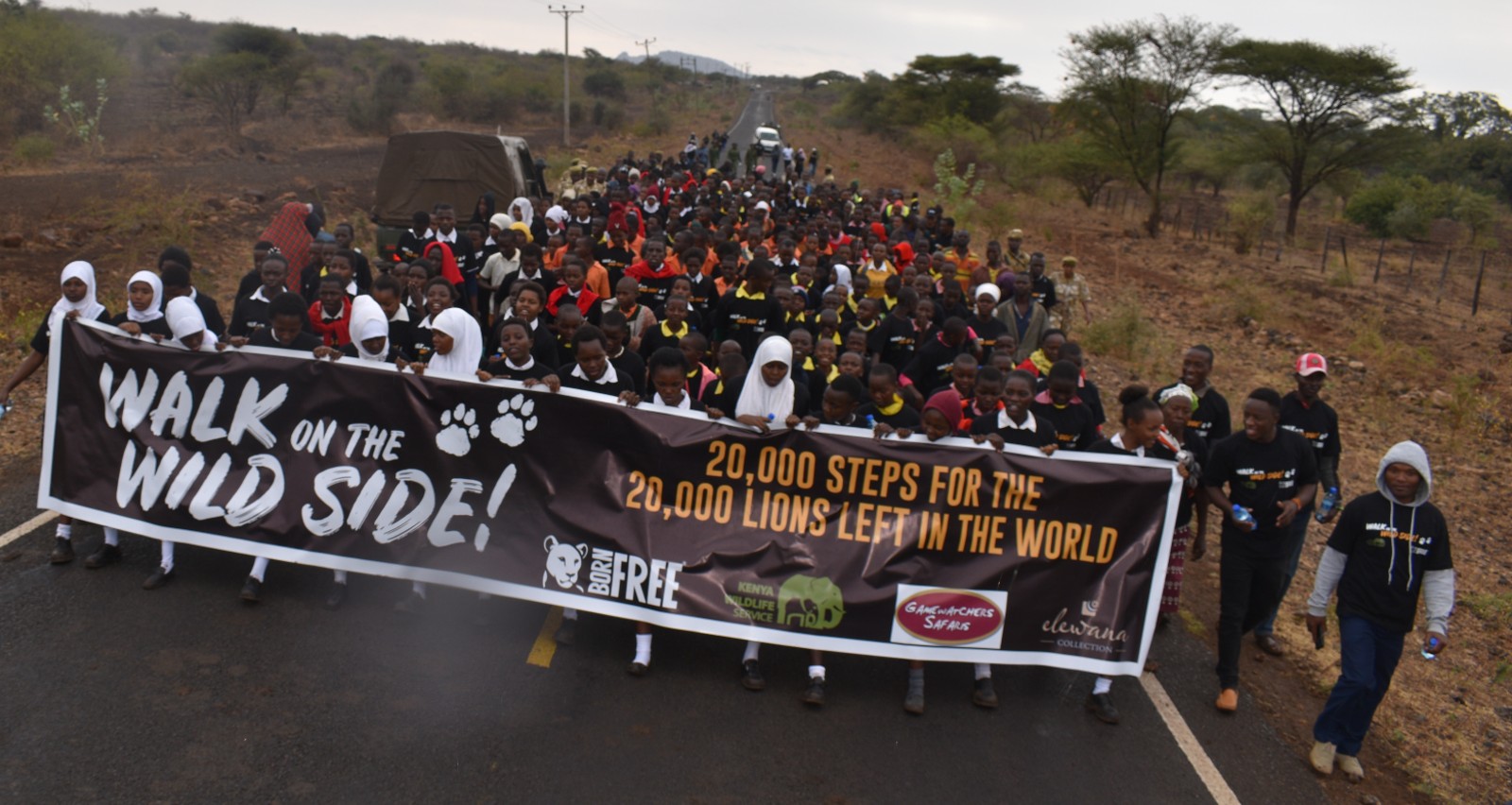 Born Free Kenya teamed-up with Kenya Wildlife Service, Elsa's Kopje boutique lodge, Ikweta Safari Camp, and Rhino River Camp eco lodge to complete the Walk on the Wild Side 20,000 step challenge, aimed at spreading our lion conservation message ahead of World Lion Day on 10th August.
They were joined by hundreds of members of the local community in Meru National Park and children from schools in the area, including Kanjoo Primary School, which has worked closely with Born Free for many years. Together, this 600-strong group completed the 20,000 steps – each step representing one of the 20,000 lions remaining in the wild.
The walk began outside the park, towards the Murera gate, leading up to the education centre, where tents had been set up outside. Participants ranged from older members of the community, right down to very young children, who wore their Born Free t-shirts with pride! One young girl named Esther Karembo, from Malaene primary school, showed incredible determination by taking part despite having lost her leg previously due to a snake bite.
During the walk, the team were alerted to five elephants who were grazing close to the route, so carefully worked out an alternative path, so as not to disturb them – a perfect example of how people and wildlife can co-exist.
Once the 20,000 steps had been completed, everyone was treated to refreshments and entertainment, which included poetry by some of the school children about the challenges lions face. The Born Free Kenya team then addressed the audience, alongside Kenya Wildlife Service and representatives from the other partner organisations, to highlight the roles we all play to support conservation in Meru.
Ivy Malemba, Fundraising and Communications Manager at Born Free Kenya, said: "We were all excited about 'Walking on the Wild Side' in Meru National Park, special to Born Free as it's where Elsa the lioness was released back into the wild and inspired our passion for wildlife conservation. Out of the 20,000 lions left in the wild, there are 72 in Meru who we fiercely protect through our lion monitoring activities. Together, we hope to raise awareness of the plight of lions and the importance of human wildlife co-existence and do hope you join us too to Walk on the Wild Side for Born Free."
This World Lion Day, over 100 of our supporters are also taking on the 20,000 step challenge!

SHARE ON FACEBOOK SHARE ON TWITTER