4 April 2022
LIONS TO NEWCASTLE!
Virginia McKenna OBE and Will Travers OBE welcome our 'Born Free Forever' exhibition to the Northeast, as our pride of 25 lion statues arrive at Exhibition Green.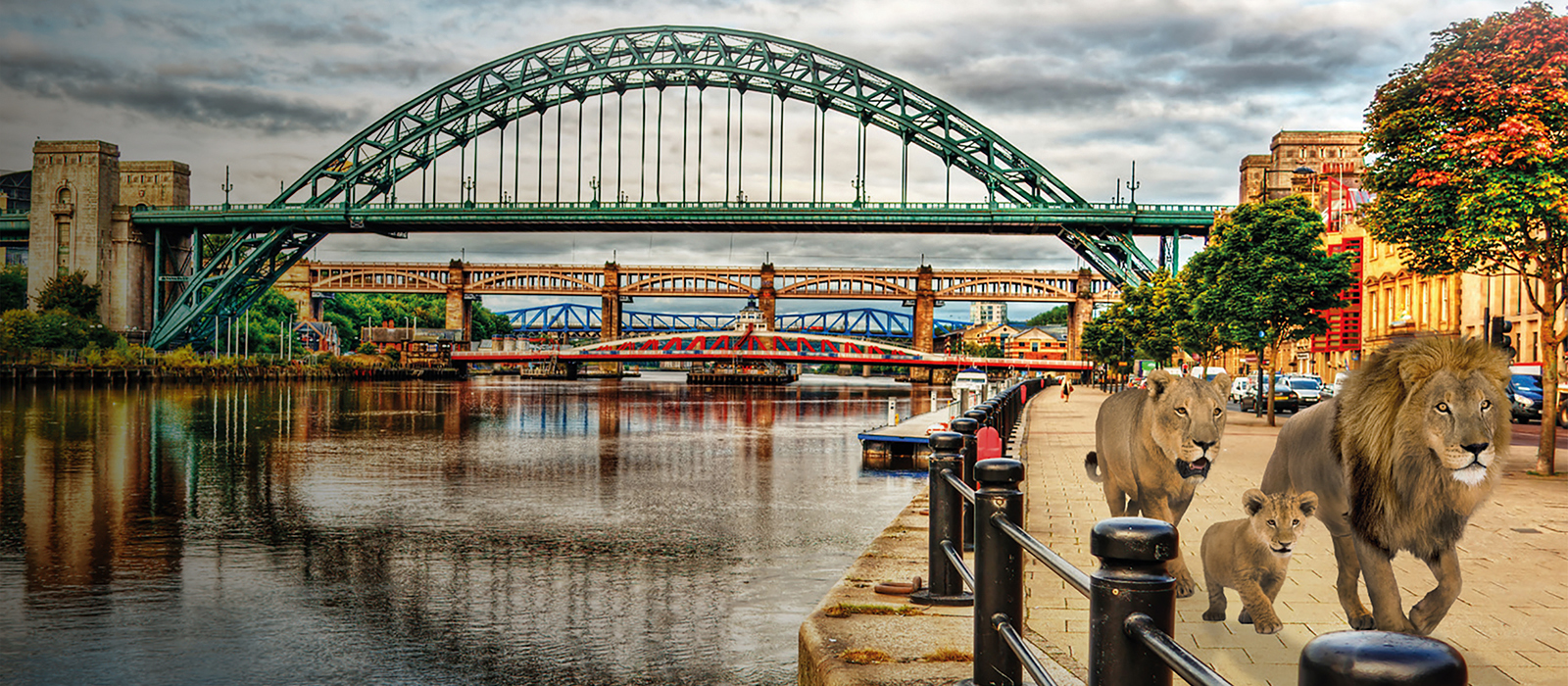 Born Free Forever has arrived in Newcastle, as we continue our UK tour to raise awareness of the catastrophic plight facing the world's wild lion population, and fight for the long-term survival of these majestic beasts. The free exhibition is the largest of its kind in the UK, and will remain in-situ until 30th June 2022.
It features 25 life-size bronze sculptures of lions, each with their own story, highlighting the grave threats facing these big cats both in captivity and in the wild. Such is the threat to wild lions, with numbers drastically declining from an estimated 200,000 a century ago to just 20,000 today, they could become extinct across much of their wild range within 30 years.
Brought to Newcastle in partnership with Urban Green Newcastle, the exhibition was opened today in Exhibition Park by Virginia McKenna and Will Travers OBE. They were joined by 10-year-old Tyne & Wear youngster Thea Caine, a Born Free Junior Ambassador, and fifty of her classmates from Burnopfield Primary School near Newcastle, who took part in a lion-based art workshop led by wildlife artist Jane Lee McCracken.
The unveiling of these extraordinary sculptures, created by internationally recognised Australian artists, Gillie and Marc, in the North East is particularly poignant for Virginia and Will. Born Free Forever is part of a year of action for lions in memory of Virginia's late husband Bill Travers MBE, who would have turned 100 this year, but for his sudden and tragic death in 1994. Trailblazing wildlife campaigner Bill was born and raised in Newcastle-upon-Tyne and we've named 2022 our 'Year of the Lion' in honour of our fearless co-founder. A Forever Lions Fund, set up in his memory, will use money raised from the exhibition and other donations to help protect wild lions, resolve human-predator conflict, care for rescued lions, and stop the slaughter of lions for trophy and canned lion hunting.
Virginia McKenna said "I am deeply moved to be bringing our beautiful lion exhibition Born Free Forever to the Northeast, the region where my beloved husband Bill was born and raised. He always remembered his roots, his loyalty and affection for the community never dimmed, and I know the people here will share his desire to save the majestic lion. I am proud that Born Free continues his legacy, each day, fighting for the freedom of every individual animal. And without doubt, I know he would be deeply proud of how the charity has developed, and grateful for the way it has evolved under the tireless leadership of Will and the determined efforts, over nearly four decades, of the Born Free team. I add my voice to his."
Will Travers added "Lions face many challenges, both in the wild and in captivity. We simply cannot ignore the calamitous decline in numbers for a moment longer. This life-size, outdoor, bronze sculpture exhibition, featuring iconic lions, including the world-famous Elsa on top of a 4×4, tells the true stories behind the issues they face. I encourage everyone to visit us in Newcastle, a city with deep family connections, not only to marvel at the exhibition and learn more about the plight of these emblematic and majestic creatures, but to help us fundraise and campaign so that there is a forever for lions."