Lions of Lockdown – one year on
10 February 2023
LIONS OF LOCKDOWN – ONE YEAR ON
One year after our Lions of Lockdown arrived at their new home in South Africa, we've been checking in with their carers to see how they are doing now, thanks to your fantastic support.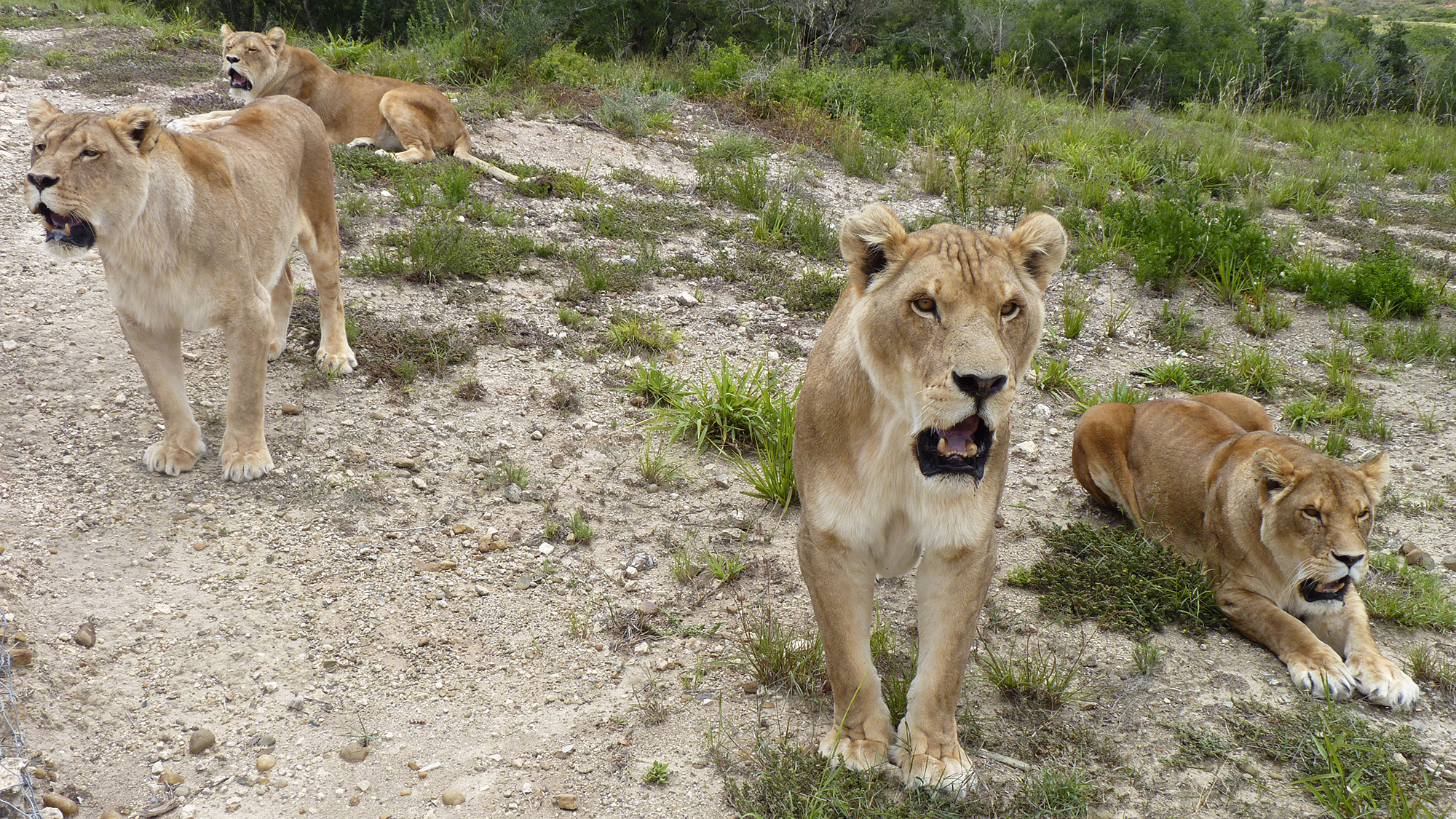 Today marks one year since four lions, surrendered to sanctuary by a circus in 2018, finally arrived at their forever home in Born Free's Julie Ward Centre on the Shamwari Private Game Reserve, South Africa, thanks to your kind donations and support. 
These lions were taken in by our friends at Tonga Terre d'Accueil in France after male lion, Louga, attacked the circus owner, resulting in the circus willingly surrendering them. Louga was joined by lionesses Saïda, Bellone and Angela. All four had lived at the circus in a small trailer for at least ten years, repeatedly having to perform tricks to 'entertain' the crowds, before being allowed sanctuary.
You may remember the footage of them taking their first steps on African soil on the 10th February 2022. You can see that footage here. This wouldn't have been possible without the generosity of you, our supporters, who donated towards the costs of their move.
One year on, the Lions of Lockdown – so named because their move to our sanctuary was greatly delayed due to COVID – are thriving in their new home. Continuing to live together, they have changed and ascertained their group dynamics a little since their arrival, but generally get on well. They are very settled and seem relaxed, enjoying their ancestral homeland.
Each of the four is very unique, with Saïda now the dominant individual who has demanded respect from the others. She seems to decide where the group goes and what they do. She also takes her food before the others, as a dominant lion would in the wild.
Angela, on the other hand, is reserved and quiet. It is believed by her carers that she may still be coming to terms mentally with her difficult past. Having said this, she will fiercely protect her food if disturbed, so definitely has the confidence to look after herself if needed.
Bellone is a follower, who seems happy to do whatever they others are doing. She stands back and watches, rather than necessarily getting involved. She is the most affectionate of the four.
Finally, male lion Louga is very respectful of the three lionesses, and allows them to do what they wish. He doesn't challenge Saïda, but is protective of his pride and their territory, scent-marking and clawing around their enclosure to ensure it is known that it is his.
"After facing many hurdles and the significant delays caused by the pandemic, we are delighted that Louga, Bellone, Saïda and Angela are settled in their new home.  We are incredibly grateful to each person who helped us give these lions a new life."
We are very happy that the last year for them seems to be one of contentedness and relaxation – such a far cry from their loud and no-doubt stressful lives for so many years before. It took a long time for them to be moved to their sanctuary home but it was worth the wait and all the effort to see how far these four have come.
Martin Miritiawo, Animal Care Supervisor at Shamwari, says: "The Lions of Lockdown seem to be a very close as a group. They are fascinating to watch and are all so different from one another. Louga is very protective over his girls."
Maggie Balaskas, Head of Rescue and Care at Born Free, added: "After facing many hurdles and the significant delays caused by the pandemic, we are delighted that Louga, Bellone, Saïda and Angela are settled in their new home. Having spent years being forced to perform in the circus, and living in a cramped trailer, they can now spend the rest of their days in peace under the watchful eye of our expert animal care team. We are incredibly grateful to each person who helped us give these lions a new life."