Lilongwe Wildlife Centre receives 'Outstanding International Sanctuary' award
Born Free congratulates our friends at Lilongwe Wildlife Centre – founded with our help in Malawi in 2007 – on winning a major award for their lifesaving wild animal rescue work. 
We're delighted to share the fantastic news that Lilongwe Wildlife Centre has been selected as the winner of the Global Federation of Animal Sanctuaries' (GFAS) 2023 Outstanding International Sanctuary Award. The awards will be presented at a virtual online ceremony on 27th October, so scroll down to book your ticket.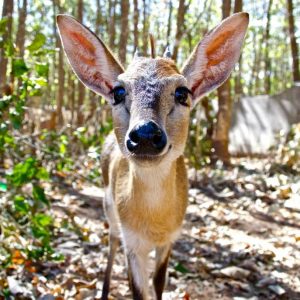 Born Free has a long relationship with Lilongwe Wildlife Centre, renowned for its work to rescue, rehabilitate and release sick, injured and confiscated wildlife – from pangolins to vervet monkeys, servals and hyena. Born Free has supported this facility since its inception in 2007, when we helped develop the sanctuary from a rundown former zoo, in the heart of Malawi's capital city. Midst a 180-hectare reserve of beautiful woodland, Lilongwe Wildlife Centre is Malawi's only wildlife sanctuary and home to around 200 animals.
Over the years, working with local people, the centre has developed into one of the country's leading wildlife charities, Lilongwe Wildlife Trust. The Trust has an international reputation for world-class standards as they operate high impact conservation projects, develop community outreach and education programmes especially amongst school children, and help tackle wildlife crime.
GFAS is one of the leading global bodies for accrediting ethical sanctuaries. Lilongwe Wildlife Centre has been accredited by GFAS since 2015 and this year was selected from over 200 other GFAS-certified sanctuaries for the award.
"What wonderful news, we're over the moon," exclaimed Born Free's delighted Rescue and Care Assistant Dr Andrea Donaldson. "It's a pleasure to work with Lilongwe Wildlife Centre and we are so glad, though not surprised, that their extraordinary work for wildlife is receiving the global recognition they deserve."
"We are honoured to be part of the GFAS family and thrilled to receive this award, which recognises the passion and expertise of our wildlife rescue team," said Jonathan Vaughan MBE, CEO of Lilongwe Wildlife Trust. "We'd also like to thank the many amazing donors and partners whose generosity makes this work possible."
"This year's award recipients truly embody and put into practice the GFAS philosophy of vision, dedication, and excellence in animal care," noted Valerie Taylor, Executive Director of GFAS. "Part of the GFAS mission is to recognize sanctuaries and rescue centres and raise awareness of their work, and the 2023 Award recipients serve as exemplary models of many important characteristics attributed to true sanctuaries, demonstrating professionalism, collaborative spirit, and leadership, all for the animals."
The awards will be presented at a virtual ceremony on 27th October which is open to the public.