How to end canned hunting
HOW TO END CANNED HUNTING
Born Free's recommendations for closing down canned hunting facilities and safeguarding the welfare of captive-bred lions.
Born Free's campaign to end canned hunting has gained backing from thousands of people around the world, including celebrities, politicians and some of social media's biggest influencers. Our petition has been signed by over 240,000 people and rising.
However, if we are successful in lobbying the South African government to end this barbaric industry, it follows that many if not all of the facilities holding the 8,000 or more lions for canned hunting and the bone trade, among other commercial activities, will no longer be financially viable. It is therefore imperative that the South African government resolves to avoid conflict with affected farmers.
Born Free's Head of Policy, Dr Mark Jones, said: "The cruel and cynical lion breeding industry, which supplies lions for canned hunting and the bone trade, must be ended. However, by allowing the industry to grow to the size it has, the South African authorities have created a massive problem, and must take the lion's share of the responsibility for doing the right thing by the animals on these farms."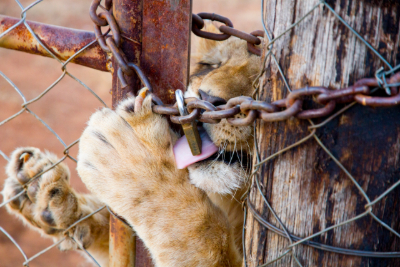 © Pippa Hankinson
Born Free urges the South African government to develop a clear plan in consultation with animal welfare experts and organisations, which would begin with an immediate cessation of further breeding, and enable the orderly wind-down of the industry while enabling farmers to establish other means of generating income.
Where facilities are deemed appropriate or can be upgraded, animals might be able to remain in their current facilities, with arrangements made for financing their lifelong care while avoiding any inappropriate commercial activities such as cub cuddling or lion walking. Where facilities are considered inappropriate, lions would need to be relocated to suitable sanctuaries and receive specialist lifelong care. In some cases, humane euthanasia may need to be considered for animals found in very poor health or condition.
Jones continued: "The onus must rest with the South African government to ensure that the exploitation is brought to an immediate end, and the remaining lions are allowed, where possible, to live out their lives free from suffering. We urge the authorities to act without delay, and by doing so to show the world that South Africa is a place where lions and other wildlife are valued for their own sake, not simply exploited for profit."
Please support us and take action now! Thank you.
BAN CANNED HUNTING PETITION TAKE ACTION 10 FACTS ABOUT CANNED HUNTING