ELSA'S KOPJE ANNIVERSARY
Born Free's Co-Founder and Trustee Virginia McKenna OBE, returned to Meru National Park in Kenya to mark 20 years since the opening of the safari lodge Elsa's Kopje – the birthplace of Elsa the lioness and home to Joy and George Adamson. Virginia reflects on her latest trip to this special place, which remains close to her heart
It is hard to believe it has been 20 years since I was at the opening of the beautiful lodge called Elsa's Kopje, in Meru National Park. The beauty of the view from the hill, the warmth of the welcome from everyone at the lodge, the friendliness of the hyrax that scamper around the trees, and the unique sense of Meru's history, have never faded.
Meru is, of course, where George and Joy Adamson taught Elsa the lioness to be wild and free. Where she mated and had cubs, where she truly became a lioness of two worlds. Her trust in George and Joy never faded and she returned to George in the camp to die. She was only five years old.
The managers of Elsa's Kopje, George and Theresa, wished to mark this 20th anniversary
in a very special and touching way. We had sundowners at George's Pool – a natural pool right at the top of a huge rock, where he brought the lions to swim. Lions which he, Joy, my husband Bill and I had managed to prevent being sent into captivity when the filming of Born Free had ended.
We visited the site of George's simple little camp where he then lived for four years. Poignantly, still lying on the ground are bits of old machinery from his Land Rover.
We visited Kanjoo School just outside the park which Born Free is helping to equip. We shared many moments of reflection and nostalgia with guests who had travelled there from far and wide.
Meru has a special feeling of peace. A genuine haven for wildlife – though challenged at the moment by the terrible lack of rain. The rivers are dry, the grass is brown, the animals few.
It is not only the wildlife that is struggling – the local people outside Meru's perimeter face the same dilemma.
Now I am home again they are all constantly in my thoughts as are the memories of my few unforgettable days remembering the past which is still so present.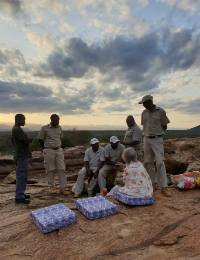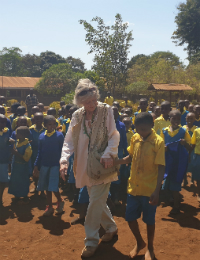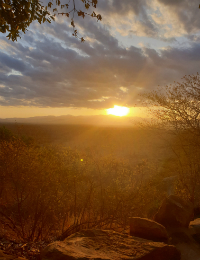 Today, Born Free operates the Pride of Meru programme to protect the area's wild lions and preserve the unique heritage of Meru National Park. The Pride of Meru project involves tracking and monitoring lions; deploying desnaring teams and working with communities to nurture tolerance and implement mitigation measures to reduce human-wildlife conflict.
Another key priority for our team on the ground in Meru is education, and we work closely Kanjoo School, which lies just outside the National Park. As one of our four partner schools, Born Free has helped with building classrooms, supporting a scholarship programme and providing books. As a result, more children have remained in school and been able to learn about co-existence and the importance of their wild neighbours.