Could you win our primate award?
COULD YOU WIN OUR PRIMATE AWARD?
We need your help – Born Free's annual Primate Society of Great Britain Grant is now open for nominations and we want to hear from you!
Born Free is delighted to announce the launch of our 2022 Primate Society of Great Britain Conservation Grant. Primate Society of Great Britain (PSGB) and Born Free offer an annual £1,500 grant to support range state nationals working with threatened primates.
Through our yearly grant for work on endangered primate research and conservation, Born Free has supported many young career conservationists in their hopes to help threatened wildlife. Over the years, our funding has contributed to the study and protection of a wide variety of species, including the red-bellied guenon, the white-thighed colobus, olive colobus, Barbary macaques, Preuss' red colobus, western chimpanzees, the Caquetá Tití monkey and most recently, the spider monkey.
The 2021 conservation grant was awarded to Eduardo Pinel, from Honduras, to fund a study into spider monkeys (Ateles geoffroyi) in Mexico. With their long limbs and prehensile tails, you can see how spider monkeys got their name! One of the largest New World monkeys, they are listed as Endangered on the IUCN* Red List of Threatened Species and are one of the world's 25 most endangered primate species. Across their range, spider monkey populations are declining, mainly because of forest loss, fragmentation and degradation, but also because they are a charismatic monkey species often taken to be kept as pets.
Eduardo set out to survey the vegetation and forest structure of spider monkey habitat in the Yucatan Peninsula, Mexico and we are thrilled to share his latest update with you. Eduardo has analysed forest cover and human activities, noting areas in the forest which are regenerating after disturbance.
Building on a novel approach, Eduardo is planning to carry out drone surveys to determine spider monkey presence in areas of the forest which are regenerating from disturbance and human activity. It is notoriously difficult to survey spider monkeys with traditional methods like walking transects because spider monkey groups frequently change size and composition through a process called fission-fusion dynamics. Therefore, the use of new conservation technology will help improve spider monkey estimates. Eduardo is also about to embark on his survey of trees, seedlings and saplings which spider monkeys eat, which is important to know about to make sure important tree species are protected. He will be working with a local botanist to correctly identify tree species. The results of his surveys will tell us more about spider monkeys in Mexico than we have known before!
"Thanks to the support of Born free and PSGB, I was able to start my project to understand the importance of spider monkeys in forest regeneration in the Yucatan Peninsula of Mexico," explained Eduardo. "At the same time I could evaluate the importance of these forests for the monkeys' long term conservation. I have also been able to meet very kind people with a great ancestral knowledge of the area and nature and visit incredible places."
We welcome applicants from across the world – could you be the next winner?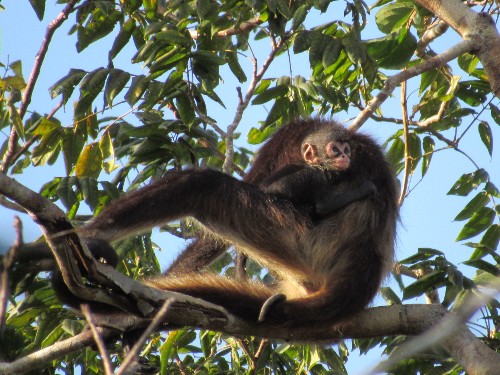 A spider monkey and baby.

Eduardo Pinel conducting his survey of trees.
SHARE ON FACEBOOK SHARE ON TWITTER