BORN FREE TIGER RESCUES
Meet The Special Tigers We Have Helped Over The Years Thanks To YOUR Support.
At Born Free, we believe every tiger matters. In fact, our very first rescue was six circus tigers from Kent in 1987, and flown to a forest sanctuary in India!
Our most recent tiger rescue was 15-year-old Sandro, an ex-zoo tiger rescued from Spain and taken – via a time at Natuurhelpcentrum in Belgium – to Centro Recupero Animali Selvatici della Maremma sanctuary in Italy earlier this year. Here he can live the rest of his life free from harm in a spacious, safe and enriching environment.
As we launch our Tigers In Crisis Appeal, we look back at the tigers we have helped so far…


1987
We rescued six tigers from a squalid trailer at Cross Brothers Circus, UK and flew them to a 15-acre forest sanctuary in India.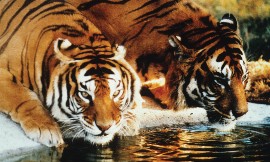 1996
Aided by Jenny Seagrove, Bill and Ginny the tigers were rescued from Belgian zoo. They enjoyed temporary home at a Kent sanctuary before Ginny made journey to our Bannerghatta tiger sanctuary, India in 2002.
1997
We rescued six tigers from a rusty beast wagon at a circus in Italy. They were brought to the Kent sanctuary and in 2001 the remaining five were flown to their ancestral homeland at our sanctuary in India.
1998
Roque the cub was rescued from a Spanish pet shop, following a large undercover investigation to expose the unregulated pet trade in Europe. After a stint in the Kent sanctuary he moved to our Bannerghatta sanctuary in 2002.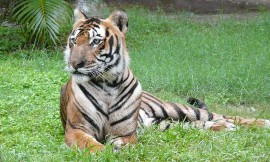 2008
Masti the wild tiger was caught by his leg in a steel-jawed trap in India. Following the amputation of his leg he was rehomed at our Bannerghatta sanctuary.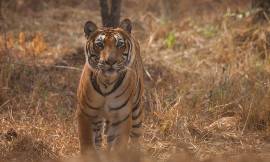 2014
Gopal, now aged 10, was given a home at our sanctuary in India after he was saved following conflict with people due to predation on cattle.
2021
15-year-old Sandro was rescued from a barren cage at Ayamonte Zoo, Spain (now closed), and taken to our friends at the Centro Recupero Animali Selvatici della Maremmasanctuary sanctuary in Italy.
SHARE ON FACEBOOK SHARE ON TWITTER