Born free forever lions roar into edinburgh!
6 October 2022
BORN FREE FOREVER LIONS ROAR INTO EDINBURGH!
Don't miss our magnificant pride of bronze lion sculptures as they round-off their UK tour with a stay in Scotland!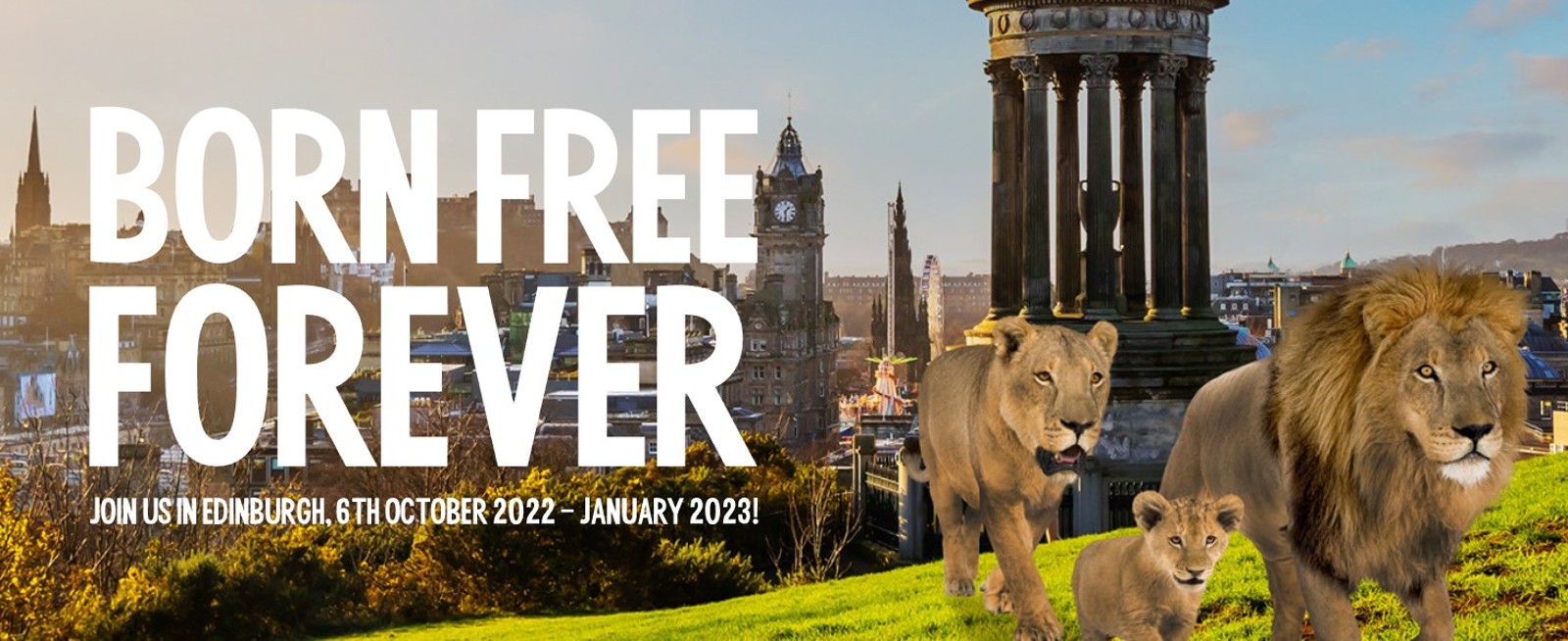 Born Free Forever has arrived in Edinburgh, as we continue our UK tour to raise awareness of the catastrophic plight facing the world's wild lion population, and fight for the long-term survival of these majestic beasts. The free exhibition is the largest of its kind in the UK, and will remain in-situ at The Meadows, until January 2022, with a mini-pride also available to see at St. Andrew Square Garden… and an exclusive competition!
The spectacular installation of 25 life-size bronze lions and cubs opened to the public today at The Meadows, with more than 50 local youngsters from the nearby George Heriot's School taking part in a lion-based art workshop, led by Scottish artist and designer, Jane Lee McCracken. For Edinburgh-born Jane, who is the Founder and CEO of Drawing for the Planet, the exhibition brings a vital message about the future of the species to the people of Scotland. When the film Born Free was made in 1960s, there were around 200,000 lions in the wild across Africa. There are now only 20,000 remaining, a devastating decline which, if not halted, could see them becoming extinct across much of their wild range within 30 years.
The opening of Born Free Forever in Edinburgh is hugely significant for Born Free, as it marks the culmination of our Year of the Lion, a year of action for lions in memory of Born Free's fearless founder, Bill Travers MBE, who would have turned 100 this year, but for his sudden and tragic death in 1994. Trailblazing wildlife campaigner Bill co-founded the charity in 1984 with his wife Virginia and eldest son, Will Travers OBE. A Forever Lions Fund, set up in his memory, will use money raised by the exhibition and other donations to help protect wild lions, resolve human-predator conflict, care for rescued lions, and stop the slaughter of lions for trophies and as part of canned lion hunting (the killing of lions in captive facilities from which there is no escape).
Don't miss this last chance to meet the Born Free pride, and find out more about the real-life lions who have shaped Born Free's history!

EDINBURGH EVENT DETAILS BORN FREE FOREVER FOREVER LIONS FUND