Born free forever lions roar into bristol!
4 July 2022
BORN FREE FOREVER LIONS ROAR INTO BRISTOL!
Conservation hero Ian Redmond OBE and wildlife advocate, actor Dan Richardson welcome our 'Born Free Forever' exhibition to Bristol, as our pride of 25 bronze lion sculptures arrive at Clifton Downs.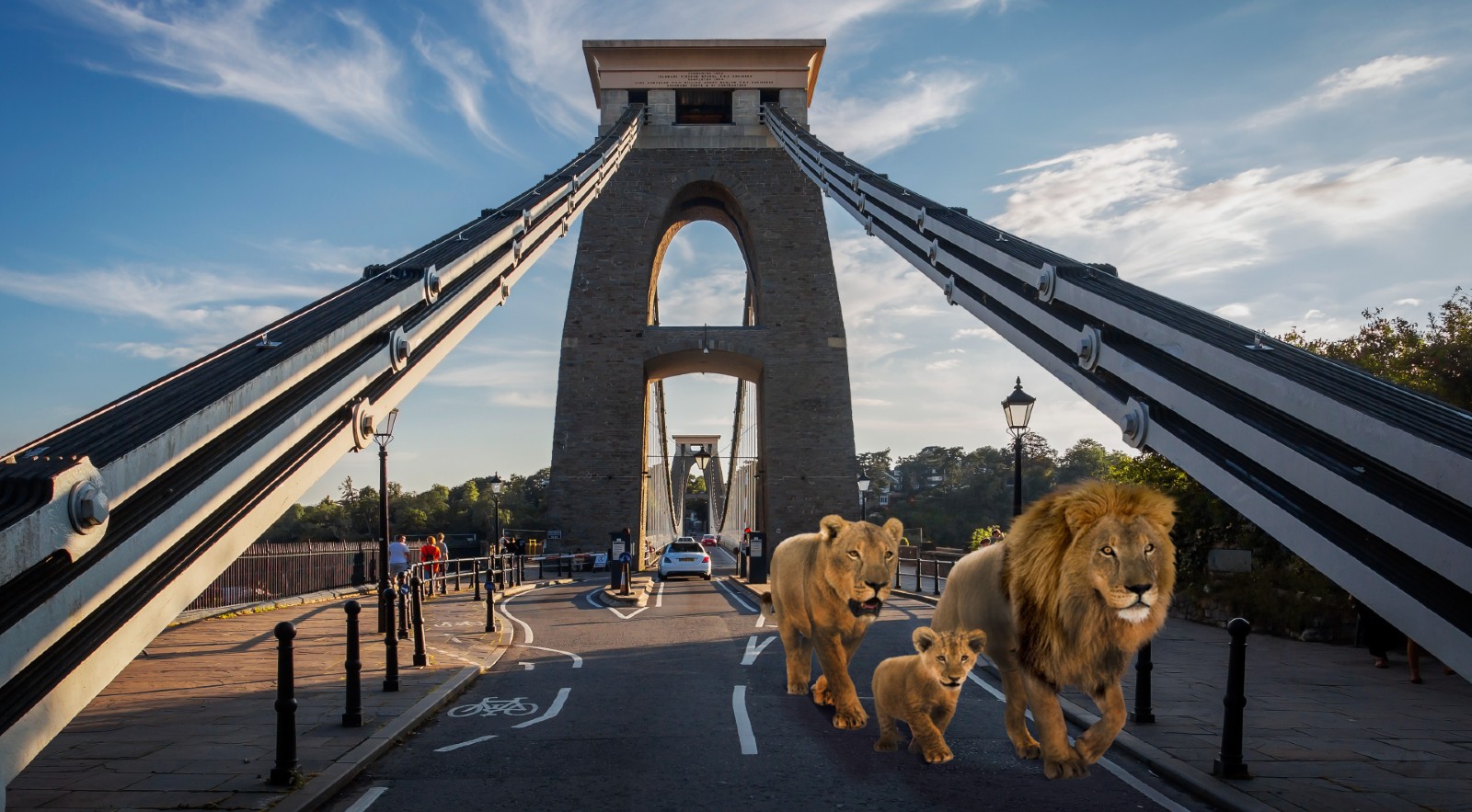 Born Free Forever has arrived in Bristol, as we continue our UK tour to raise awareness of the catastrophic plight facing the world's wild lion population, and fight for the long-term survival of these majestic beasts. The free exhibition is the largest of its kind in the UK, and will remain in-situ on the picturesque Clifton Downs until the end of September 2022.
The spectacular installation features 25 life-size bronze sculptures of lions, each with their own story, highlighting the grave threats facing these big cats both in captivity and in the wild. It was unveiled today by conservation hero and Born Free Senior Wildlife Consultant, Ian Redmond OBE, Born Free Patron, actor Dan Richardson, and Bristol City Council's Cabinet Member for Climate, Ecology, Waste and Energy, Cllr Kye Dudd.
For Gloucestershire-based Ian Redmond, a world-renowned conservationist, the exhibition brings a vital message about the future of the species to the people of the South West. When the film Born Free was made in 1960s, there were around 200,000 lions in the wild. There are now only 20,000 remaining, a devastating decline which, if not halted, could see them becoming extinct across much of their wild range within 30 years.
While in Bristol, we are also announcing our huge, summer fundraiser, Walk on the Wild Side. The charity is challenging everyone to walk 20,000 steps in a day by the 10th August, World Lion Day, with each of the steps representing a living lion left in the wild.
The opening of Born Free Forever in the South West, and the launch of Walk on the Wildside, are hugely significant for Born Free. Both events are part a year of action for lions in memory of Born Free's fearless founder, Bill Travers MBE, who would have turned 100 this year, but for his sudden and tragic death in 1994. Trailblazing wildlife campaigner Bill co-founded the charity in 1984 with his wife Virginia and eldest son, Will Travers OBE. Born Free has named 2022 'Year of the Lion' in Bill's honour. A Forever Lions Fund, set up in his memory, will use money raised by the exhibition and other donations to help protect wild lions, resolve human-predator conflict, care for rescued lions, and stop the slaughter of lions for trophies and as part of canned lion hunting (the killing of lions in captive facilities from which there is no escape).
Speaking ahead of the Bristol launch, Ian Redmond said: "This is such an impressive work of art! When I first visited it in London and saw how the public immediately interacted with each lion in different ways, it was clear how it inspires wonder at their magnificence, but concern for their conservation. I am so glad it has come to Bristol, where so many wildlife documentaries are made, so that the caring public learn about Born Free's 'Year of the Lion', and support our effective projects to rescue lions from appalling captivity, and help communities in Africa co-exist with this important apex predator, critical for the health of globally important ecosystems."