Born Free attends inaugural Wildlife Scientific Conference
Our Kenyan team was thrilled to present the impact of our conservation programmes at the first-ever Wildlife Scientific Conference, in Naivasha.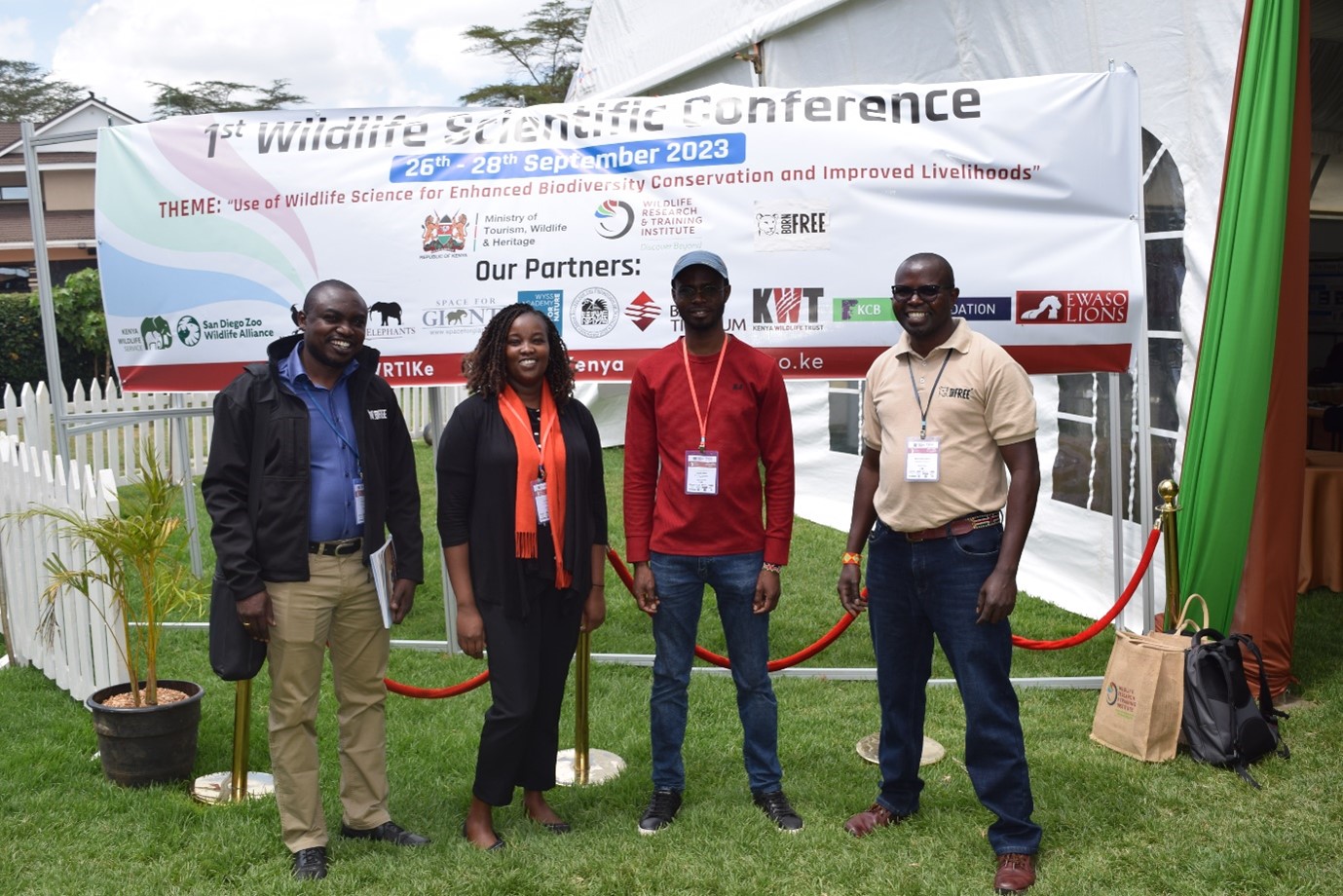 In September, the inaugural 'Wildlife Scientific Conference' was held in Naivasha, Kenya. The event brought together scientists, students, conservation managers, policymakers and stakeholders from across the planet. The conference was a fantastic opportunity for knowledge-sharing, presenting data and findings, discussing ideas to catalyse innovation and use of new technology, as well as encouraging investments in conservation.
The conference was organised and led by the Wildlife Research and Training Institute (WRTI) – a governmental organisation devoted to wildlife research and academic training in Kenya, in conjunction with partners including Born Free.
Following months of intense planning, the conference was held in Naivasha, Kenya, between 26-28 September. It was officially opened by the Prime Cabinet Secretary Honourable Musalia Mudavadi, on behalf of Kenya's President, Dr William Ruto, who welcomed all those attending and spoke of the successes and challenges facing wildlife throughout Kenya.
Born Free's Country Director, Tim Oloo, noted that: "It was a flipside of previous decades to walk into the first Wildlife Scientific Conference and see so many young Kenyan scientists as equals, regardless of their backgrounds. Young Kenyan scientists are transforming wildlife conservation in the country and region by providing science to inform decisions".
Over three days, there were an incredible 142 presentations which cut across a diverse range of themes and issues including wildlife population trends and dynamics, habitat restoration and connectivity, climate change and adaptability and human-wildlife coexistence in human dominated landscapes. There was never a moment without an engaging new idea or perspective and the diversity of themes meant there were presentations for everyone to enjoy.
We were thrilled to showcase our conservation programmes through three presentations and, firstly, our Pride of Meru Manager, Michael Mugo presented 'The social structure and demographic status of the lion population (Panthera leo) in Meru National Park, Kenya'. Michael highlighted Born Free's findings over the last nine years of lion monitoring, which include detailed records for the Meru's population of up to 90 lions, not least their unique behaviours. He explained how we are now investing more in conservation strategies, to mitigate human-lion conflict in community lands to protect these precious lions.
Next, our Saving Meru's Giants Manager, Newton Simiyu, presented our findings from social surveys across the Meru landscape in a talk entitled: 'Assessing the drivers of attitude, tolerance and perception of local communities on elephants and human wildlife conflicts around Meru conservation area'. Simiyu explained how we have begun to pick apart the complex factors influencing opinions towards elephants, and presented intriguing and important findings that we hope will guide Born Free's conservation work and help steer elephant conservation throughout Africa and Asia.
Born Free's third presentation was: 'Human-lion coexistence: Lessons learned from predator-proof bomas project in Amboseli-West Kilimanjaro', presented by Dr David Manoa, our Pride of Amboseli Manager. Manoa detailed the successes of the 'predator-proof boma' project, having overseen the construction of almost 400 of these reinforced livestock enclosures since 2010. The bomas provide a simple, humane and effective solution to human-carnivore conflict, and have helped protect people, livestock, and wildlife alike. The project has been so successful we are now planning on replicating this work in Meru.
Born Free's participation in the conference is a milestone, as the team brought to the table innovative approaches that have been successfully implemented and tested. Our work can positively contribute toward solving conservation challenges and help in the formulation of progressive ongoing conservation policies. The conference also provided a chance for the Born Free team to connect with peers and advance their knowledge base and research skills by learning about new technological approaches.
Linda Kimotho, Born Free's GIS Officer, said, "Being the first of its kind, the Wildlife Scientific Conference was a clear indication of the magnitude and richness of data held by the conservation stakeholders. My highlight was how satellite technology – a time and cost-effective approach in monitoring the status of the global ecosystems to inform policy formulation and support decision making – is transforming wildlife research. The government's support and willingness to adopt technology was overwhelming; a positive sign that conservation is at the top of its agenda."
Born Free takes pride in our participation and the assistance we provided to WRTI in bringing to fruition the first Wildlife Scientific Conference, which has established a firm foundation for future conferences in Kenya. It is planned that the Wildlife Scientific Conference will take place every two years. These events will strengthen collaboration across research institutions, conservation organisations and policymakers, enabling real positive change to protect and restore wildlife populations and habitats throughout the country.